The third Hunger Games movie (Mockingjay: Part 1) is coming to theaters on November 21st -- which means the world is going Katniss crazy once more. (Although, did we ever really stop?) Katniss is one of the most badass female characters of all time, after all, so it's not surprising people just can't get enough. We've heard of Hunger Games-inspired workouts, Katniss Halloween costumes, and now, we're pleased to introduce the newest craze (dreamed up by us): The Hunger Games vacation. We know what you're thinking -- who wouldn't want to spend their precious vacation days participating in a death-defying adventure, with a little (OK, a lot of) murder tossed in? We're kind of shocked it hasn't caught on yet, too. But seriously, not to worry -- we promise it'll be fun, because you can make this trip happen without the whole post-apocalyptic version of America thing. All you need is to let yourself get inspired by Katniss' warrior ways. Here's what we think Katniss would like to do on vacation, given the chance -- and what you can do, too!
Practice Your Archery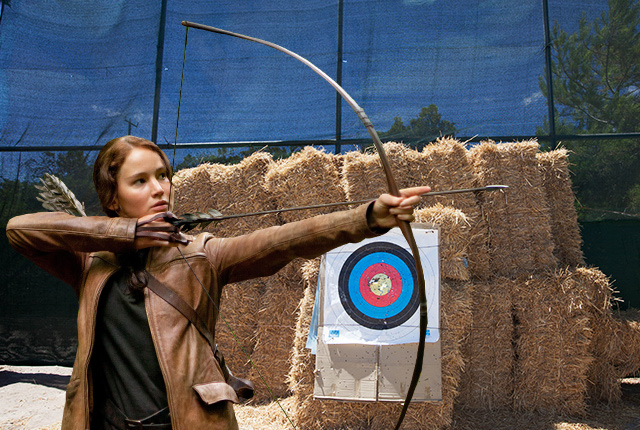 Anyone with even a passing familiarity with Hunger Games knows that Katniss has got some serious archery skillz. The first two movies led to a surge of popularity for the sport, particularly among young women. Luckily for all those newfound archers out there, they don't have to take a break from practicing on their next trip. (Do you think Katniss would take a break? That's not how victors roll.) Travelers can get in plenty of practice time at hotels and resorts all over the world, including Ashford Castle in Ireland, Princess Andriana Resort & Spa in Rhodes, and the Punta Cana Princess All Suites Resort and Spa in the Dominican Republic.
Hide From Your Enemies in a Tree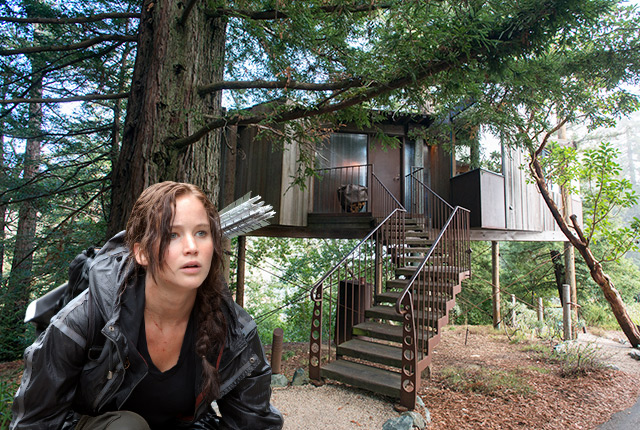 Katniss knows that there's a time to fight, and there's a time to hide. She did plenty of sneaking away in the first movie, including a particularly tense overnight hideout in a tree. We think Katniss would have been so much more comfortable in the tree if it happened to be home to a nice luxury tree house, like this one at the Post Ranch Inn in Big Sur. It would probably be a bit more conspicuous, though.
You Might Also Like:
Luxe Digs Where You Can Hide from Roving Hordes
Eight Stunning Tree House Hotels
Take a Scenic Train Ride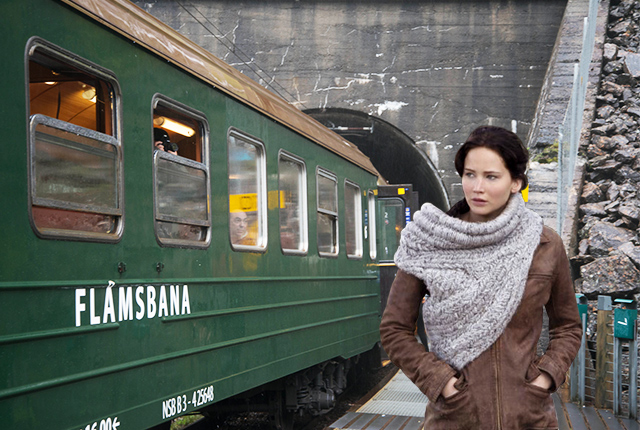 After the reaping in the first book, Katniss and Peeta go on a luxury train ride from District 12 to the Capitol — and they take the train around the country again on their victory tour in Catching Fire. They didn't get to enjoy it much the first time since they were headed toward near-certain death (but actually not, yay!), and the second time because of the burgeoning rebellion, so we think they'd both probably enjoy another go at it, sans the stress of impending doom. We would recommend the Flam Railway (Flamsbana), which is one of the most beautiful train journeys in the world. It's also one of the steepest, and the 12-mile journey goes through numerous mountain tunnels with hairpin turns, past waterfalls and rivers, and by green valleys with isolated farmhouses and misty fog. It ends in the tiny, adorable village of Flam, where visitors can hole up at the Fretheim Hotel before hopping on a fjord cruise.
Get De-Trackerjacked in an Underground Facility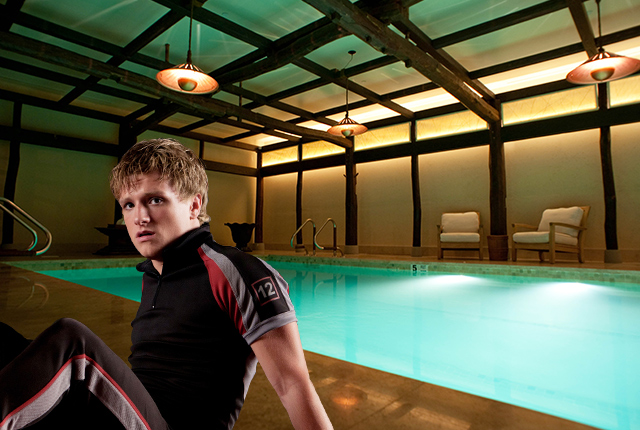 Spoiler alert! In Mockingjay, after Peeta gets rescued from the Capitol and taken to District 13, he's a 'lil brainwashed as the Capitol used tracker jackers to reprogram him into hating Katniss. They try to deprogram him in District 13, an underground community where the rebels live, but the whole experience sounded very stressful. We can't help but wonder if a more relaxing underground facility — like the stunning Shabui Spa at the Greenwich Hotel in New York City — might have made matters easier. We bet some of those relaxing body scrubs couldn't have hurt when they were attempting to calm him down. He and Katniss could have been getting along again much sooner.
Get in Fighting Shape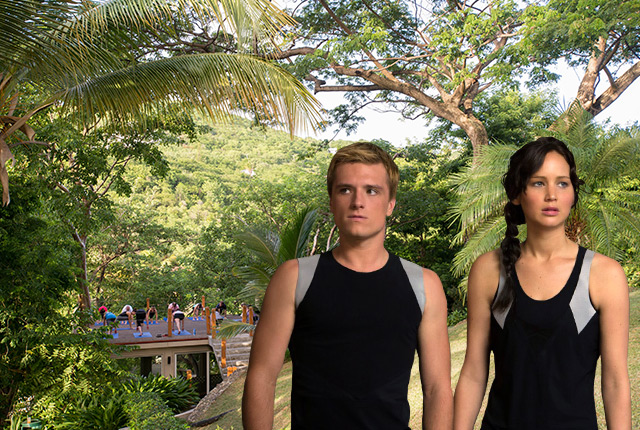 While those soft Capitol citizens are idling in luxury, Katniss was roaming the woods hunting to feed her family. And in Districts 1 and 2, young people train for years for the games. If you're not in fighting shape, you won't stand a chance in battle. We think some of the former victors in Catching Fire could have used a crash course before going back into the arena, and the gorgeous BodyHoliday LeSport in St. Lucia is the perfect place to get back into a fitness routine. The wellness-focused all-inclusive offers everything from yoga to calisthenics to gymnastics to — yep — archery again!
Use Tracker Jackers to Your Advantage
Tracker jackers are genetically engineered wasps with a highly poisonous, hallucinogenic sting. Katniss uses them as a weapon by sawing off a tree branch with a hive and letting them loose on her enemies — and while we've yet to find tracker jackers at a hotel, we've found plenty of properties that keep their own supply of honeybees. (We think most hotels appreciate the ready supply of fresh honey the bees supply, versus the option of using them as a deadly weapon. But hey — in a pinch, they might do.) Hotels with honeybees include the Alto Hotel on Bourke in Melbourne, St. Ermins Hotel in London, and The Fairmont Washington, D.C.
Stuff Your Face at a Feast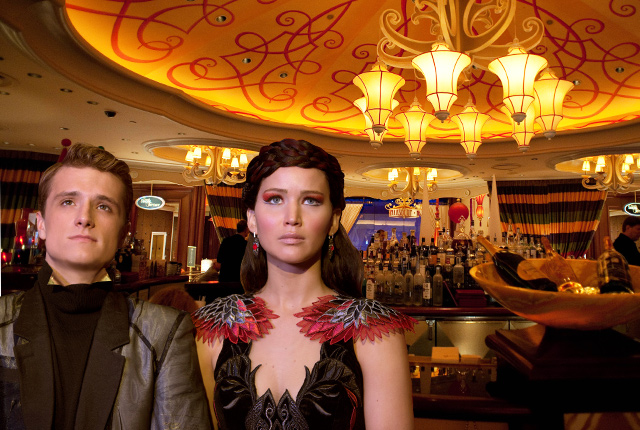 In the first Hunger Games, feasts are a way to lure the tributes to the same location (where they can fight and kill each other). Tributes who survive can escape with food and other supplies. In Catching Fire, Katniss gets to go to a real feast in the Capitol (where people take a special potion to make themselves vomit when they get too full so they can binge all over again). After years of going hungry, Katniss is overwhelmed by all the tasty food, but sickened by the excess. We think she'd have a similar reaction to the best buffets in Las Vegas, like the ones at the Bellagio and the Wynn.
Unplug From the Grid
In Panem, the Capitol is always watching. They have surveillance cameras everywhere to keep the citizens of the Districts in line, and of course the Hunger Games are filmed and broadcast everywhere. We bet Katniss is a bit tired of being watched. She'd probably enjoy the Haramara Retreat in Mexico, where there is no electricity (and therefore, no spy cameras) anywhere except for in the restaurant and yoga studio. The property is situated on 12 seaside acres of wild vegetation outside of Sayulita, and even cell phone service is pretty terrible here. Katniss could bring Haymitch along — the focus here is on detoxification and relaxation, so it would be a good spot for her drunkard mentor to take a break from the booze.
You Might Also Like:
Paradise Unplugged: Our 10 Favorite Tech-Free Havens
All Hunger Games images courtesy of Lionsgate. Underlying images from Oyster.com.
All products are independently selected by our writers and editors. If you buy something through our links, Oyster may earn an affiliate commission.