Let's face it: winters are tough. When it gets dark at 4:30 p.m. and there are sheets of freezing rain outside, it's hard not to fantasize about getting out of dodge. But choosing where to escape to can be overwhelming; with so many options, where does one begin? Luckily for you, planning vacations is one of our favorite things. We've selected some of our favorite winter getaway destinations and shared what we love about them -- as well as a top hotel pick for each.
Kauai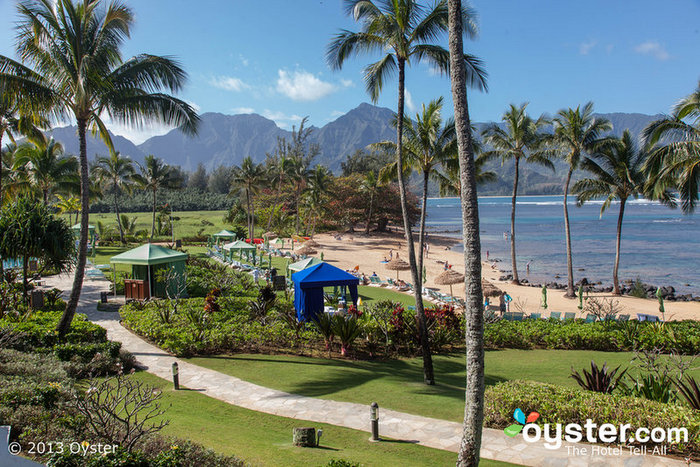 Why We Love Kauai: Kauai is less developed than its more popular neighbors, Oahu and Maui — and arguably more beautiful. Its lush terrain, placid beaches, and dramatic cliffs provide the backdrop for numerous Hollywood visions of untamed, other-worldly paradises. Raiders of the Lost Ark, the Jurassic Park films, and the 2005 version of King Kong were all filmed here. The 10-mile-long Waimea Canyon, the lava-rock seawater pool at Queen's Bath, and the remote, towering cliffs of the Na Pali Coast are among the world's most beautiful natural attractions.
Where to Stay: St. Regis Princeville
The 251-room St. Regis Princeville is considered by many to be the premier luxury option in Hawaii, and given the stunning setting overlooking Hanalei Bay, it's hard to disagree. Guests can expect warm, sophisticated decor, suites with personal butler service, world-class golf, and a memorable breakfast buffet on a terrace with gorgeous ocean views.
Belize
Why We Love Belize: Belize is most famous for its snorkeling and scuba diving, which are among the best in the world: The barrier reef off shore is second only to the Great Barrier Reef off Australia, and visitors can see turtles (both green and leatherback), nurse sharks, stingrays, and a variety of tropical fish. Divers swarm the Blue Hole, a large sinkhole. But we're also enchanted by the country's lush rainforests and Mayan ruins.
Where to Stay: Blancaneaux Lodge
One of two resorts in Belize owned by movie director Francis Ford Coppola, Blancaneaux Lodge enjoys a splendidly lush location beside a creek in the country's Mountain Pine Ridge. This fabulous hideaway features decent amenities (including horse stables), and wonderful wooden cabanas with thatched roofs and rustic luxe decor that includes colorful Guatemalan textiles. There are two pools, one of which is heated and overlooks the brook.
Los Cabos, Mexico
Why We Love Los Cabos: Located at the tip of Baja California, Los Cabos is known for its rugged oceanfront cliffs and scrub-covered hills. Many golf courses, restaurants, bars, and resorts can be found throughout Los Cabos. Plenty of beaches lend to a wide variety of outdoor sport options, including sport fishing, snorkeling, wind surfing, and scuba diving.
Where to Stay: Esperanza Resort
This beautiful, luxurious 57-room resort is one of the nicest in Los Cabos, and offers more of a home-y vibe than other high-end properties in the area. Handsome, spacious rooms start at 925 square feet, and are decorated in traditional Baja style, with authentic artwork and wood detailing. They come with high-end electronics and decadent bathrooms (some with Jacuzzi tubs), but the private terraces are arguably the highlight; all have at least partial ocean views (many have jaw-dropping ocean views), and some have Jacuzzis. The beach is secluded and gorgeous, but the large waves and rough reefs make it unfit for swimming. The resort's pools are top-notch, though, and pool staff offers free treats (like ice pops and fresh fruit) every hour.
Jamaica
Why We Love Jamaica: Friendly locals, jerk chicken, reggae, and blue, blue ocean with warm water…Really, what's not to like? This laid-back island has natural wonders (Dunn's River Falls), outdoor activities (cliff diving, anyone?), wild partying (for those who want it), and plenty of relaxing, gorgeous stretches of sand (Seven Mile Beach and Frenchman's Cove among them).
Where to Stay: Half Moon
Drawing everyone from Queen Elizabeth to 50 Cent, Half Moon strives for timeless, understated luxury (even at the swim-up bar). Stretching over 400 acres (including two miles of beach), the 230-room resort offers attentive service, quality cuisine, and seemingly limitless activities, including golfing and horseback riding.
Bermuda
Why We Love Bermuda: It's no wonder this island is a favorite of outgoing Mayor Michael Bloomberg: It's only a two-hour flight from the East Coast, and offers the feel of the Caribbean without actually being in the Caribbean. This string of beaches with pink-sand beaches and turquoise waters has lots of British tradition (judges still wear wigs), great snorkeling, and excellent golfing.
Where to Stay: Cambridge Beaches Resort & Spa
This 96-room, 30-acre resort trumps almost every other resort in Bermuda as far as style and sophistication are concerned. Of course, you'll pay some of the island's highest rates to enjoy it. But with its two stunning pools, expansive spa, four private beaches, three restaurants, and some of the most beautifully landscaped grounds around, you might just consider it a worthwhile investment.
Riviera Maya
Why We Love Riviera Maya: This stretch of coastline between Cancun and Tulum is famous for its nightlife and its beaches — not to mention its snorkeling (the world's second-largest coral reef is off-shore) and its archaeological sites (some of which date back to the 7th century A.D.).
Where to Stay: Banyan Tree Mayakoba
As one might expect from the ultra-luxurious Banyan Tree brand, the Banyan Tree Mayakoba is one of Playa del Carmen's most sought after resorts. All of the 164 villas feature sleek Asian-inspired decor and Mexican textiles — as well as walk-in showers, plunge pools, walled-in grass lawns, patios with hammocks, outdoor bathtubs, and fully stocked bars. The grounds, white-sand beach, and lagoon-like pool blend seamlessly with the surrounding nature. When you consider the high-end spa, plethora of outdoor activities — such as golf, snorkeling, and eco tours — and the fantastic dining, it's very hard to find anything wrong with this property.
Buenos Aires
Why We Love Buenos Aires: The capital of Argentina, Buenos Aires is home to many Argentine traditions and trademarks: The streets are lined by parrillas, or steakhouses, that serve up Argentina's famous beef; luxury boutiques sell leather clothing and pieces by high-end designers; the nightlife is dominated by the tango; and Evita's "Don't Cry for Me Argentina" balcony overlooks the central square, Plaza de Mayo. We also love its beautiful architecture and thriving cafe culture. And, as many are aware, winter in North America is summer in South America.
Where to Stay: Legado Mitico Buenos Aires
This charming, upscale boutique feels like a private home, with 11 beautiful, individually decorated rooms featuring hardwood floors, comfortable beds, and great amenities. Each room has been dedicated to a significant figure in Argentine history — such as Evita Peron, Che Guevara, General San Martin and Mafalda — and has themed decor to match. The cozy library is the perfect place to unwind after a long day of sightseeing, and in the warmer months guests can head up to the rooftop deck, complete with a six-person hot tub and lounge chairs.
To learn more about Kelsey Blodget, visit her on Google+
All products are independently selected by our writers and editors. If you buy something through our links, Oyster may earn an affiliate commission.