Most Romantic Hotels in Aruba
If you're looking for a romantic getaway, heading to a small Caribbean island should definitely be considered; the sunny weather, relaxing environment, and gorgeous beaches are ideal for couples. Aruba is a Dutch island that offers this and more, as travelers have plenty to keep busy both exploring the landscape and nightlife. We headed to the stunning island to check out the area's top hotels and evaluate how every feature stacks up against the competition, from the rooms to the pools to the restaurants. Take a look at our top romantic picks in Aruba, and get inspired!
See All Aruba Hotels
1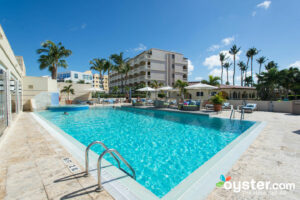 The Bucuti is a romantic, adults-only resort taking up a prime stretch of Eagle Beach in the Low-Rise hotel district. This intimate, 104-room property has 14 acres of beach, and the main activity here involves lingering on the sand under shaded palapas; there's also a chic infinity edge pool. The hotel has been open for 25 years, and the original owner can often be seen meeting with guests during check-in while they enjoy a free glass of champagne. Rooms have stylish furnishings and modern amenities such as iPod docks, laptop tablets, and free Wi-Fi. A free breakfast buffet is served daily, and there is a restaurant for lunch and dinner, though plenty more restaurants are within walking distance. The resort sees a high percentage of repeat visitors, so book early.
2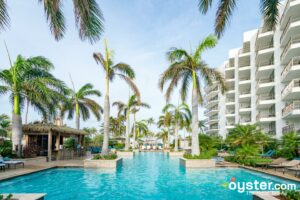 Although this classy resort draws a lot of families, it's subdued vibe makes it well-suited for couples as well. The comfortable rooms are bright and airy, and room service is available 6 a.m. to 12 a.m., convenient for couples hoping to enjoy a romantic night in. Couples can enjoy Mandara spa's standard treatments in private huts right on the beach, and there is pricey diamond jewelry for sale in the hotel -- perfect for a surprise gift (especially if that trip to the casino goes well).
3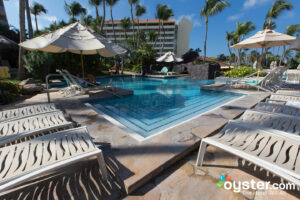 The Hyatt has some of the nicest rooms on the island -- a great pick for couples planning to spend a fair amount of time in the room. A picturesque, rippling lake next to the rock restaurant concourse is surrounded by lush landscaping, and a black swan can be seen gliding across its surface. The soft-sand beach is feet from the main lobby.
4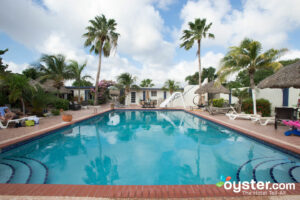 Club Arias Bed and Breakfast is a friend and family-run spot in the in Aruba's quiet southwestern village of Savaneta. Ten suites (and a tiny budget option, The Nook) are set within spacious and well-landscaped garden grounds with plenty of places to lounge. The entire property has a Mediterranean style, from the clay garden accents, to the large faux boulders and grottos, and down to the impressive hand-painted details covering walls, furniture, and signage. All suites include free cooked-to-order breakfast by Chef Gabriel, who also serves up pizza, pasta, wings, and private dinners. This is an ideal place for families or couples looking for local flavor or even just an escape from heavy tourist areas, but it's not on the beach and you definitely need a car.
5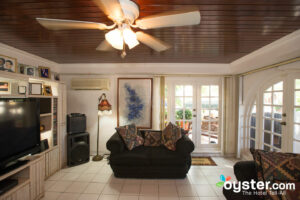 Walking distance to Aruba's High Rise hotel strip, the four-room My Aruban Home is the antithesis of its nearby resort-style neighbors -- and that's exactly what it's aiming for. Run by a retired husband and wife team, this spot is full of extremely mindful amenities like car rides to familiarize you with the island, guest-curated Aruba guides, and a barrage of in-room comforts all purposed at making you feel like a well-taken-care-of family friend. There's no pool, restaurant, or bar but it's the ideal place to feel like a local without lifting a finger -- or spending too much cash.
6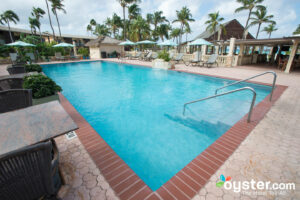 Toward the southern edge of the Low Rise hotel zone with garden grounds and the beautiful the backdrop of Eagle Beach's widest stretch of sand, Manchebo Beach Resort & Spa feels like a true getaway. It's only got 72 rooms, but this upscale boutique has gaggle of space and features that could cover a large resort -- from a mini-market and restaurants, to yoga, car rental, and a spa. However, more features for fewer guests translates to a pretty big nightly price; you can grab rooms at boutiques like Amsterdam Manor or even some High Rise hotels for less -- although, Manchebo's uncrowded, wellness-oriented vibe is tough to top.
7
For those in search of a truly intimate boutique experience on Aruba, the Boardwalk Hotel -- owned by a set of Belgian twins -- is an excellent mid-range choice. This peaceful 14-room property, tucked behind three massive Marriott properties and situated on a former coconut plantation, remains an oasis of calm. Adventure sport seekers have called this their secret vacation home for years, but the property also appeals to couples and families. The bright, spacious rooms -- more like apartments -- have fully equipped kitchens, fine linens, and private patios. Snorkel gear is provided free to guests, as are beach towels, coolers, chairs, and umbrellas. There's no direct beach access, but guests can walk to nearby Palm Beach (full of bustling restaurants, casinos and nightlife) or get in the car and head to a hidden beach recommended by the owners -- they know the local scoop, so guests should be sure to ask their advice
8
A giant, Arabian-themed castle on the beach, the Riu Palace feels less than authentic. Couples-heavy, the resort has two huge pools, a rowdy casino, a 24-hour sports bar, huge buffets, and a bustling beach. But service is lacking, and most rooms have outdated technologies.
9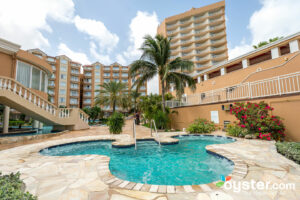 With 240 suites surrounding a large pool complex, Divi Aruba Phoenix Beach Resort is Divi's only tower property, just 11 minutes from the capital of Oranjestad. It's located on Palm Beach (not quite as wide as Druif Beach, where its sister properties are located), and guests will have easy access to the High-Rise district's restaurants, casinos and nightlife. Suites come in a range of sizes (studio, one, two, or three bedroom), and have fully equipped kitchens, flat-screen TVs, DVD players and balconies -- all with ocean views. The newer Beach Tower offers upgraded amenities such as stainless steel appliances and washer/dryer combos. The numerous features -- including two popular beachside restaurants, tennis courts, a modern fitness center, ballroom, and spa -- make this resort feel much bigger than it actually is.