Best Value Hotels in Nassau, New Providence Island
Take a look at the best value hotels in Nassau.
See All Nassau Hotels
1
Sandyport Beach Resort is a three-and-a-half-pearl hotel located in the pretty community of Sandyport Marina Village. Rooms are cozy and the features are excellent for this price range. The hotel's 72 guest rooms are neat and inviting, they're decorated with locally made linens and artwork. Many offer kitchenettes or kitchens as well as hot tubs and separate sitting areas. This resort has a number of stand-out features, including direct access to Cable Beach, its own private lagoon beach, Blue Sail (a buzz-worthy restaurant), and a fun pool bar. It's worth comparing rates with nearby Compass Point Beach Resort, which also has beach access and free breakfast.
2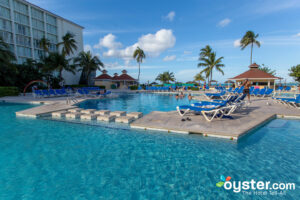 Breezes Resort & Spa Bahamas is a three-pearl resort located on Cable Beach. The resort's 391 guest rooms are big and bright, although decor is a bit bland and dated. The hotel has three appealing pools, five restaurants, a fantastic beach, as well as more unusual features such as a trapeze and a rock-climbing wall. Add to that a full schedule of land and water activities, along with four bars where the party often continues late into the night, and there's more than enough here to keep guests entertained. For those who like all-inclusive resorts, it's among the best value options on the island -- but it gets plenty of spring breakers in season. Kids under 14 are not allowed, so travelers seeking a more family-friendly option might want to check out Melia Nassau Beach Resort.
3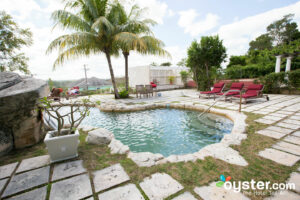 A Stone's Throw Away is a three-and-a-half-pearl hotel located along the north coast of New Providence Island. The guest house's 10 rooms and suites are beautiful and understated. They feature hardwood flooring and soft color palettes. The on-site restaurant offers striking ocean views and a free breakfast, but dinner is only served on request. The tiny pool set within the hotel's tranquil gardens is quite enchanting. Love Beach can be reached in a two-minute walk, but otherwise, aside from a few restaurants, there's little to do within walking distance. You may want to compare rates with Compass Point Beach Resort down the road, which has beach access and an ocean-facing swimming pool.
4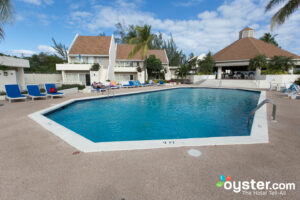 West Wind Club II is a three-pearl hotel located on popular Cable Beach, a 20-minute drive from downtown Nassau and within easy walking distance of restaurants. The hotel is composed of 54 two-bedroom villas, all of which include big living areas and full kitchens. The clean villas have an inviting home-away-from-home feel, but the decor could use an update. The on-site restaurant and outdoor pools are pretty average. Expect to pay extra for breakfast and Wi-Fi. As an alternative, Sandyport Beaches Resort also offers beach access and rooms with kitchens, plus the resort has a bit more personality.
5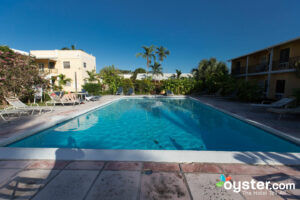 Orange Hill Beach Inn is a three-pearl hotel located on the northern coast of New Providence Island. The hotel's 33 guest rooms are simply decorated and practical; many feature either kitchenettes or full kitchens and some have partial coast views. There's an on-site restaurant and honor bar, appealing outdoor pool, as well as a peaceful beach right across the street. However, the lackluster decor could use a refresh throughout, plus entertainment and dining options within walking distance are limited. One cool perk: Staff makes a daily run to the grocery store and takes requests. As an alternative, Compass Point Beach Resort down the road is pricier, but rooms are much more stylish and the beach is better.
6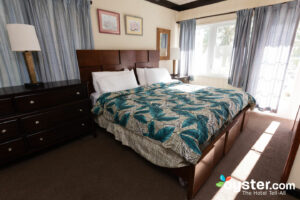 Coral Harbour Beach House and Villas is a two-and-a-half-pearl hotel located on picturesque Coral Harbour Beach, on the southwest coast of Nassau. The hotel's 16 guest rooms are clean and simple; many offer no-nonsense kitchens with stovetops. With a serene beach and cute restaurant that hosts live music, the hotel is ideal for guests who want to escape the crowds of downtown Nassau. Wi-Fi and continental breakfast are free. However, the location may be too isolated for some, particularly those without rental cars, though it's just a 15-minute drive to the airport. Another downside: no pool. It may be worth comparison shopping with Orange Hill Beach Inn, which is set on the north coast and has a pool, but can also have higher rates.
7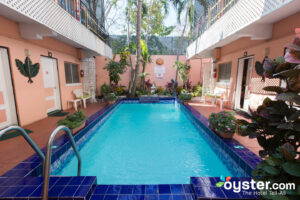 Towne Hotel is an older two-and-half-pearl property located in the heart of downtown Nassau, near Junkanoo Beach. The hotel's 46 rooms and suites are clean, but the dated and uncoordinated decor could use an update, and some bathroom maintenance issues need to be resolved. The hotel's small outdoor pool is rarely crowded, plus Talking Stick Bar and Restaurant's happy hour deals and free continental breakfast are nice perks. Low rates and a convenient downtown location are by far the most compelling features. Travelers who prefer a hotel that provides more than a simple place to sleep and swim might consider the large, modern rooms at nearby Sunset Resort Bahamas instead.
8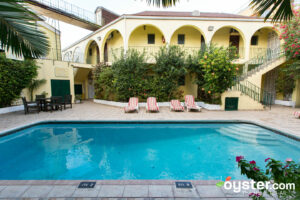 El Greco Hotel is a two-and-half-pearl hotel located just outside downtown Nassau. The hotel's 27 rooms offer flat-screen TVs and pool-view balconies or terraces, but the decor needs a major update. Aside from the large courtyard pool, on-site amenities are limited and location is this hotel's only stand-out feature. It's set across the street from Junkanoo Beach, and the buzzy restaurants and shops of downtown Nassau are found a short walk away. If your budget allows, the rooms at nearby Sunset Resort are much fresher and well-worth the higher rates.