Most Romantic Hotels in Bangkok
Bangkok may not be the first city that comes to mind when you think of romance — it's known for its chaotic traffic and seedy red light district, after all. But you'd be surprised by some of the romantic spots tucked away here, often offering beautiful river views. Thailand is a popular honeymoon destination and many couples spend the first, or last, nights of their trip here, so finding a romantic retreat is extremely important for many travelers here. These hotels are the most romantic our expert investigators encountered.
See All Bangkok Hotels
1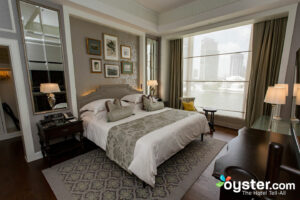 Considered the Grand Dame of Bangkok hotels, this luxury property sits along the banks of the Chao Phraya River, with knockout views from rooms as well as the hotel's elegant bars and restaurants. From the minute you enter the Mandarin, you can feel the romantic ambience. From the imposing lobby with its high chandeliers, to the quayside boat pier that also brings in guests, to the colonial and Victorian architecture that graces so many of the hotel spaces and bars, to the carpeted hallways with butlers on hand, everything here is done up to perfection. It's a premier spot for a romantic stay, and it's unsurprising that many locals choose to hold extravagant weddings here.
2
Despite being located in one of Bangkok's shimmering modern towers, the Oriental Residence Bangkok takes its style inspiration from a romantic vintage-chic with French countryside and vintage travel aesthetics. The pool deck -- an open-air space on the fourth floor -- is an elegant spot for couples to unwind, with tan cabanas shading the lounge chairs that flank the 66-foot aquamarine pool and overlook the lush embassy gardens that surround the hotel. Large, luxurious residences have full kitchens, convenient for love birds who want a romantic night in, and those who'd rather have a romantic fine dining experience can find it at Savelberg Thailand, the latest fine-dining French restaurant from Michelin-starred Dutch chef Henk Savelberg, or Cafe Claire, the hotel's French bistro, serving classic dishes with locally sourced ingredients in a charming, Parisian-inspired setting.
3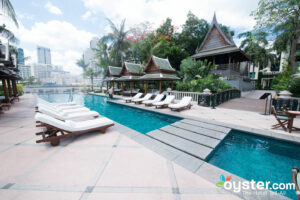 Couples come this luxury hotel for fine dining and spa pampering, and the large conference facilities attract Bangkok residents for weddings. Being on the river, there is less of a bustling business vibe than one might find elsewhere in town, and the riverside bar and creaking shuttle boat pier remind you that this is a place for slowing down. Numerous features include the Cantonese Mei Jiang fine-dining restaurant, the riverside Thiptara Thai, a huge swimming pool, an upscale fitness center, and the Peninsula Spa. Though its on the west side of the Chao Phraya River, a shuttle boat quickly brings guests to the east bank, where most of Bangkok's main attractions are located.
4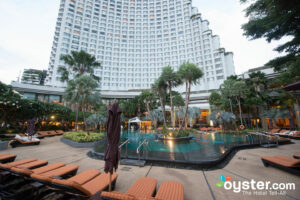 The Shangri-La Hotel, Bangkok is an elegant yet relaxed five-pearl property. Despite all the opulence, there's a pretty laid back vibe here, witnessed most at the happening main swimming pool out along the river. The Long Bar is a stylish spot with views of the river,  as is Next 2 Cafe, which has outdoor seating by the water and beautiful city views. Though some of the hotels lower on this list may have a slight edge over Shangri-La when it comes to the level of luxury, Shangri-La gets higher marks for romance because of its riverside location.
5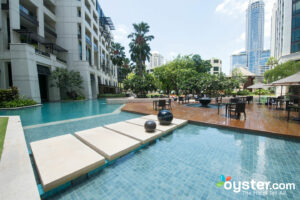 The Siam Kempinski is an over-the-top opulent hotel, from the statement lobby with palatial ceilings, large chandeliers, towering white marble columns, and an indoor fountain to the gorgeous grounds with lush gardens that surround a winding saltwater swimming pool. The property is both stylish and refined while at the same time giving off the feel of an island oasis retreat in the midst of the concrete jungle. Rooms feature spacious bathrooms and living quarters, with fine paintings, silk curtains, and views out to the lovely grounds and large pools. Some rooms give direct private access straight into the water, making the hotel feel far more like an island resort than anything in the middle of Bangkok.
6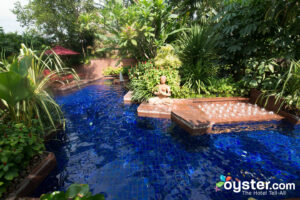 This luxury hotel has a central location on Sukhumvit Road, near excellent dining and drinking, but the property itself is relaxing thanks to the long pool that meanders through the lush gardens. Modern rooms have 300 thread count sheets as well as bathrooms with separate bathtubs and showers. There are also plenty of spots for couples to eat and drink on the premises, including the stylish Living Room bar, which plays host to live jazz music in the evening to go along with the signature drinks, and a Sala bar by the pool. There is a pretty fashionable air to the place, probably due in part to the dress code requirements in the restaurants (no shorts, singlets, or flip flops allowed).
7
While the scene at this luxury hotel may be stylish and regal, it is also relaxed, which families and couples around the pool and guests going to and fro between fitness center workouts and spa treatments can attest to. While the hotel's large size and bustling atmosphere detracts a bit from its romance, it's still a good option for couples for its spacious, elegant rooms, some with excellent views of the Bangkok cityscape. Couples will also likely appreciate the great dining options -- for gourmets, the snazzy Grossi Italian restaurant, delectable Summer Palace Chinese, and superb Fireplace Grill steakhouse lead the way. The hotel also features an excellent spa with soaking pools in the treatment rooms.
8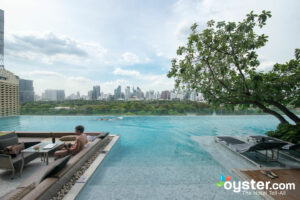 An impressive, modernist tower designed by a renowned Thai architect, Sofitel So Bangkok is a work of art in its own right; the interiors, created with Christian Lacroix, are similarly chic and stylish, oriented as they are around the themes of Water, Earth, Wood, Metal, and Fire. The most romantic feature here is probably the chic outdoor infinity pool, which has jaw-dropping city views. In addition, the Wellness Center includes a full-service spa that combines Thai and French spa and cosmetology techniques. Water, Wood, and Metal rooms feel sleek, understated, and minimalist, while the Earth decor is inspired by ancient Thai mythology, and its undulating blue walls lend a psychedelic effect. All rooms, though, are luxurious and modern, with flat-screen TVs and Apple TV entertainment systems, free minibars with local treats that are restocked daily, and large soaking tubs.
9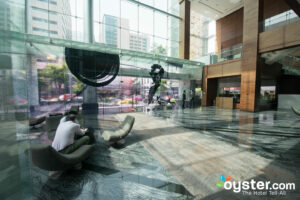 The Le Meridien Bangkok goes for unique design and decor, from the stylish, large tinted glass windows in the lobby, to the rooms, which feature floor-to-ceiling windows for viewing Bangkok's cityscape. Some of the rooms, along with the spa, feature circular beds, a novelty in Thailand, and there are plenty of other artistic touches to attract couples, such as photo exhibitions in the suave lobby bar and a sleek rooftop deck with a 20-meter lap pool (though it's not as impressive as the one at the Sofitel So).
10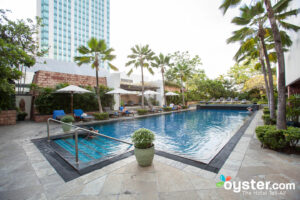 At the JW Marriott, each soundproofed room includes welcome fruit plates and minibars stuffed to the gills with drinks and snacks, and many rooms have gorgeous city views. Massages and facials, waxing and manis/pedis are covered at the spa, which also has a lovely steam room. The award-winning Marriott Cafe is just one of the eight restaurants/bars at the JW Marriott Hotel Bangkok. Japanese and American steak houses, Chinese, sushi, and pastries are also all available.
11
In a city where hotel rates are competitive and there are hundreds of options to choose from, this 76-room boutique hotel still manages to stand out. It's one of the best values for an upscale hotel in the city, thanks to its stylish, colorful, Chinese-inspired decor, tranquil vibe, and extensive freebies (welcome drinks, minibar items, scheduled tuk-tuk service to major sights, and Wi-Fi among them). The location in bustling Chinatown is ideal for those who want to experience Bangkok's famous street food, and there's a quality restaurant on-site as well as a swanky lounge for drinks and jazz. There is no pool, however. Still, it's an intimate and high-design pick for couples.