Most Romantic Hotels in Bath, England
The Georgian city of Bath in southwestern England is a home run for couples on a romantic getaway. The historic spa town is famous for its natural thermal waters, rambling countryside, splendid gardens, and straight-out-of-a-fairytale luxury hotels and country estates. Some of our favorites? An Old World mansion with a Michelin-starred restaurant, a petite Georgian guest house filled with fireplaces, and a classic English inn made from stone and timber. Read on for our complete list of Bath hotels offering the most intimate and truly special stays.
See All Bath Hotels
1
The sophisticated, 99-room Gainsborough Bath Spa is our pick for the top romantic getaway in Bath for a number of reasons. The hotel, set in Georgian and Victorian buildings in the heart of historic Bath, is beautifully designed down to the smallest detail, pairing elegant period and contemporary style throughout. Couples looking to spend a lot of time together in their rooms will likely appreciate high-end amenities, such as heated bathroom floors, Nespresso coffeemakers, and minibars stocked with free beer, soda, and bottled water. And those looking for pampering will be pleased that the spa is top-notch, and one of the only hotel spas featuring the area's famous ancient thermal waters, which guests have access to in a columned atrium in the hotel's spa. (There's also a couples treatment room for those who want to relax in each other's company). There are also great options or elegant dining and drinking in-site: The hotel's dining establishments include Johann Lafer's, an elegant, reservations-only, fine-dining restaurant; the classy Gainsborough Bar; and the Canvas Room, a cocktail lounge serving light fare, drinks, and afternoon tea. For couples who prefer the privacy of dining in, room service is available 24/7.
2
For couples who want to feel like aristocrats or royalty when visiting Bath, stay here. "Downton Abbey" is purportedly based on events that happened on The Royal Crescent, a famous street where British elite once resided, and today, celebrities are often seen milling about this 45-room luxury hotel's common areas, which include lovely gardens and classic libraries with oil paintings, velvet settees, chandeliers, and fireplaces. Due to the building's preservation codes, the rooms vary in size and structure, but all have sophisticated decor and marble bathrooms. Chocolates upon arrival and turndown service at night are just a few additional touches. The Royal Crescent Hotel's world-class spa is heaven. Built into separate carriage houses, it offers a sauna, steam room, dipping pools, and hot and warm wooden tubs. The award-winning fine-dining restaurant and bar The Dower House serves breakfast, lunch, and dinner, and afternoon tea is also available. Some couples may prefer the Royal Crescent to the Gainsborough for its grand, historic feel, though we think the rooms at the Gainsborough get the edge over those at the Royal Crescent.
3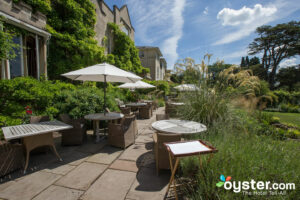 This lovely 33-room country estate turned hotel attracts an upscale clientele seeking privacy and close proximity to Bath. It's the best option in the area for couples seeking a countryside retreat, as it is located just north of the city center and surrounded by four acres of splendid gardens. All rooms have a classic British feel with cushy bedding and accents like antique bureaus, oil paintings, fireplaces, and paneled walls. Heated towel racks and fluffy robes are an extra touch. Though all rooms are pleasant, for the quietest and best experience, request one with garden views. The Bath Priory Restaurant is helmed by Michelin-rated Executive Chef Sam Moody and serves fine European cuisine made from fresh local ingredients; in fact, the biggest supplier is the hotel's own kitchen garden. The bar serves cocktails and wines from the hotel's cellar. The posh Garden Spa by L'Occitane isn't as memorable as the spas at Gainsborough or Royal Crescent, but it has a treatment room for two overlooking the garden, as well as an indoor pool, heated outdoor pool, steam room, and sauna.
4
Located in the Bath countryside, Bailbrook House beautifully marries palatial and pastoral. Rooms and suites are elegant and traditional; even the entry-level rooms feel like an upgrade. All feature bathrobes, slippers, in-room coffee and tea service, and mini-fridges with bottled water and fresh milk for coffee. The hotel's main restaurant, The Cloisters, has a classic British and romantic aesthetic, with vaulted stone ceilings and arched windows, and the Conservatory Bar and Lounge's floor-to-ceiling windows look out onto the countryside. Guests can opt for afternoon tea in the lounges as well, and order picnic lunches to enjoy on the hotel's 20 acres of land. Like Gainsborough, room service is available 24/7. The biggest downside here is the lack of wellness facilities -- there's no pool or spa -- and some guests may even find Bailbrook's larger proportions to be a deterrent: With 94 rooms, Bailbrook is one of the larger hotels we picked. Couples preferring a more intimate escape might try Bath Priory (above) or Paradise House (below).
5
Macdonald Bath Spa Hotel has classic English-manor ambience to spare. The gorgeous Georgian estate -- a regular pit stop of Winston Churchill's in its past life -- has a columned facade, stone staircases, and gardens filled with sculptures, fountains, and perfectly manicured hedges. The 129 rooms are classically decorated, though some guests have voiced dismay about the state of the furnishings. Still, they're comfy, with flat-screen TVs, stocked minibars, Nespresso coffeemakers, posh robes, and free Wi-Fi. Macdonald's spa isn't a total knock-out, like the ones at Gainsborough or Royal Crescent, but it has a steam room, sauna, whirlpool, health club, and outdoor hydrotherapy pool. The elegant, award-winning Vellore restaurant is open for breakfast and dinner only, while the more relaxed Drawing Room is a welcome setting for full afternoon tea, and the Colonnade and Rotunda bars are open for light fare and cocktails pretty much all day. These multiple drinking dining options, as well as its gorgeous gardens and regal vibe, earn this 19th-century English manor a spot in our top five.
6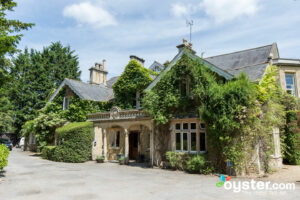 A romantic countryside retreat a few minutes from downtown Bath, this beautiful spa hotel occupies a vine-covered Georgian-style house that dates back to the 13th century. Its deluxe, two-treatment-room spa, small outdoor pool with cushioned lounge chairs, and acres of award-winning English gardens all pull their weight to keep the hotel's atmosphere incredibly peaceful and conducive to couples. Each of the 21 rooms is different, but expect that quintessentially English country look to be delivered via floral wallpaper, rich fabrics, comfortable bedding, and tasteful furniture (some of it shows wear). All rooms come with flat-screen TVs, robes, coffee- and tea-making facilities, and large windows with views of the gardens. The posh Tides Restaurant's renowned menu can be sampled either in the chic dining room with views of the garden, or alfresco. There are lots of outdoor activities for guests to partake in -- clay pigeon shooting, horseback riding, croquet, tennis, and even duck herding -- but tennis- and golf-loving couples may prefer Combe Grove Manor Hotel (two slots down), which has many of the same facilities as Homewood, but also tennis courts and a driving range.
7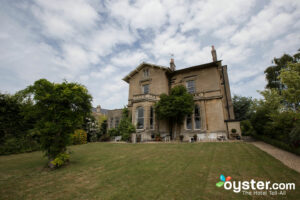 Everything about this exquisite bed-and-breakfast in the English countryside oozes charm and class. Once the country home of the Duke of Wellington, Apsley House Hotel has 12 uniquely decorated and pristine rooms; each has a separate theme ranging from the Romantic Room -- which has a four-poster canopy bed and Wedgwood blue colors throughout -- to the cozy and richly purple Vitoria Room. The spacious bathrooms are marble with heated towel racks and include rainfall showerheads and Molton Brown toiletries; some have sunken tubs and bidets as well. This beautiful country home's intimate scale means no restaurant, pool, spa, or gym, but this lack of common features should translate to more in-room alone time for couples staying here.
8
If we were ranking Bath's most romantic hotels based sheerly on garden grounds and sweeping wooded views, Combe Grove Manor Hotel would very likely be our top pick. However, its 42 rooms are a big letdown compared to the hotel's magnificent setting and common areas. Their decor is dated and worn, and overall elegance is several notches below the rest of the property's. Now that you understand our ranking, we'll extol Combe Grove's many virtues. It's set in the country overlooking the Limpley Stoke Valley, so it has magnificent views and English manicured grounds. Country-club style facilities include indoor and outdoor swimming pools, tennis courts, a 16-bay driving range, and a full spa with Turkish baths and sun terrace. The formal dining room serves breakfast, lunch, and dinner -- couples should appreciate the hotel's cutoff time for children in the evening. A bar and brasserie located in the domed cellars offers casual small bites and cocktails. There is also 24-hour room service. Despite the fact that its rooms disappoint when compared to the rest of the hotel, this 18th-century Georgian-style manor provides a relaxing escape. For a more consistently luxe country getaway, stick with Bath Priory or Bailbrook House.
9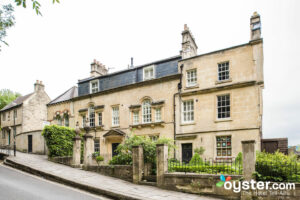 Yes, another adorable country house bed-and-breakfast, this one a 10-minute walk from city center. The upscale Paradise House is a great example of English manor hospitality; there's often a fire blazing in the high-ceilinged lounge, which has wingback chairs and arched windows. The property's half-acre of grounds do as much to establish the romantic atmosphere as the circa-1735 Georgian building itself: the gardens have bountiful perennial beds, an elegant pergola, and tables for two sprinkled about. The 11 rooms -- which book up quickly -- are homey and cozy, with electric kettles, flat-screen TVs, and comfy armchairs.
10
Opposite the tree-lined Queen's Square in central Bath, the 98-room Francis Hotel Bath consists of several Regency town houses, a lovely courtyard, and walled garden. The modern furnishings and sizable art collection -- which runs the gamut from period portraits to contemporary photography -- are unusual aspects of this property. Francis Hotel's modern/historic mix is a design direction that sets it apart from the largely traditionally decorated hotels in the area. Air-conditioned rooms feature snappy color schemes -- the overall vibe is posh, but with a fun twist. All rooms have flat-screen TVs, fluffy bath robes, C.O. Bigelow toiletries, and walk-in rainfall showers, and the pricier units have more elegant furnishings and amenities, such as four-poster beds and minibars. Brasserie Blanc has a French-inspired menu and offers room service, while the low-lit lounge serves cocktails and afternoon tea. For an in-town hotel with a spa, turn to our first two picks.
11
This 14-room boutique hotel isn't anywhere as ritzy as some of our higher picks; instead, privacy and personal attention secure this quiet escape a place on our list. The rooms are all different, themed around English literary history and decorated with details like canopies, ruffled curtains, and throw pillows. The seven acres of gardens surrounding the property are gorgeous, and there's a footpath that leads to town. (It's a hike, but a lovely one.) The drawback of such an intimate escape? No restaurant, bar, pool, or spa. That being said, the staff serves a delicious daily continental breakfast and will happily make you a drink to enjoy on the terrace.
12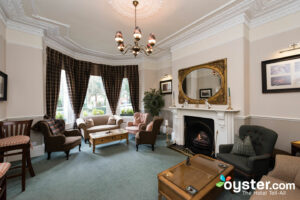 Bath has no shortage of historic properties. What gives the Ayrlington, an upscale Victorian bed-and-breakfast, an edge are its intimacy, country-estate atmosphere, and handful of truly unique rooms. The 18-room property is set in a walled-in garden with an ivy-covered pergola and Asian-inspired rock gardens. Inside, decor is homey and traditional; a 2014 renovation made upgrades while preserving original architectural features. The rooms vary vastly from simple entry-level rooms to beautifully themed rooms and suites: The Orchid Room pairs relief wainscoting with elegant blue wallpaper topped in a golden orchids print. The centerpiece of The Range is an actual vintage cooking stove. The 430-square-foot Grand Suite has a spectacular sunroom that opens onto a private patio. As an English Heritage listed building, Ayrlington lacks some features that are typical of higher-pearl properties -- for example, there's no elevator or air-conditioning -- but that doesn't usually stop its guests, predominantly couples, from returning again and again. And like many small historic hotels, the Ayrlington doesn't have a restaurant, but the heart of Bath is 10-minute walk away.
13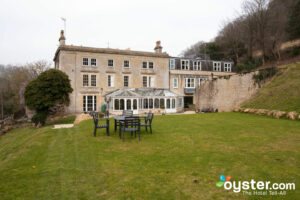 Waterhouse was originally built as a stone country house in the 1600s, and today it holds an attractive boutique hotel. This upscale property is situated in a secluded, picturesque valley that's a 15-minute drive from Bath's center. The modern annex that houses the property's 13 guest rooms isn't quite as charming as the original property -- thus the lower ranking -- but rooms are contemporary and tasteful with amenities like flat-screen TVs, mini-fridges, coffee/tea facilities, and free Wi-Fi. In addition to the reception area, the hotel has a library lounge, a tiny bar, modern dining area (for breakfast or dinner), and three acres of outdoor space. All 13 guest rooms can be rented as a unit for parties and weddings.
14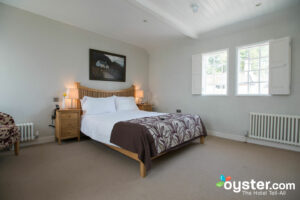 The Wheelwrights Arms is a charming and rustic country inn, about a 10-minute drive from the heart of Bath. There are seven lovely contemporary country rooms with en-suite bathrooms, flat-screen TVs, and free Wi-Fi, though some rooms are on the basement level. The on-site English pub serves breakfast, lunch, dinner, drinks, and snacks to locals and inn guests alike (breakfast is included in the room rate). The inn is popular among couples, many of whom want to get away from the city and experience quaint village life (the picturesque village of Monkton Combe provides the endearing backdrop here).