Best All-Inclusive Resorts in Belek, Antalya Province
Take a look at the best all-inclusive resorts in Belek.
See All Belek Hotels
1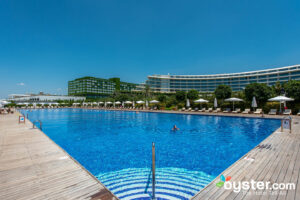 The 512-room Maxx Royal Belek Golf Resort takes luxury to the next level. The property is known for its top-notch services -- such as private helicopter airport transfers (free for villa guests), butlers accessible via its own app, and on-site chocolatier -- and high-end all-inclusive package, which covers top-shelf alcohol, food at any time of the day or night, and access to the spa. Food is excellent and varied, with a massive main buffet, a 24-hour restaurant, and five a la carte restaurants, three of which are free for all guests. Suites start at a whopping 861 square feet and feature everything from espresso makers to jetted tubs, free minibar items, and Etro toiletries. Villas have up to three bedrooms, private pools, full kitchens, and saunas and steam baths. The Regnum Carya Golf & Spa Resort is another excellent luxury pick in the area.
2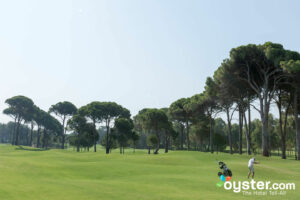 The 174-room, upper-middle-range Sueno Hotels Golf Belek is not your typical beachfront all-inclusive property -- it is quiet, relatively small, and has fewer kid-friendly amenities than most other resorts in the area. The focus here is on golf instead of on family fun, thanks to two outstanding PGA golf courses, a golf academy, and pro coaches. However, the hotel also offers free access to its high-end sister property Sueno Hotels Deluxe Belek, located within the same complex and featuring a large water park, several pools and restaurants, a stunning 24-hour kids' club, and a vibrant entertainment program. Rooms at the Golf are clean, but decor may feel a tad dated for the price.
3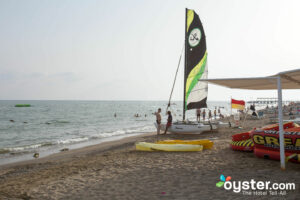 Located in a quiet beachfront area in Belek, the upscale Gloria Verde is a relaxed, friendly resort with good food, an excellent spa, and a full entertainment program. Features such as a kids' club, several pools -- including one with slides for children -- and a lovely sandy beach make it a good option for families. The vibe, though, is mellower than at other family-friendly resorts in the area, and its free shuttle to the hotel's three golf courses draws many golfers in the winter. Rooms are clean, with simple, slightly bland decor in earth tones, and large balconies with serene garden views. It's one of the few hotels in Belek that has half-board rates, but the all-inclusive package offers better value overall.
4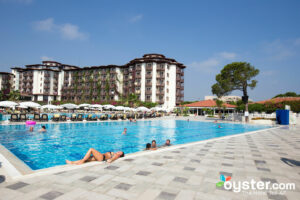 The luxury 455-room Letoonia Golf Resort delivers a lively family vacation on a well-manicured, 75-acre property along the Acısu River with a bridge to a private beach. Family-friendly entertainment abounds at this all-inclusive resort, with kids' clubs (although teenager activities are lacking), a wide range of sports facilities, themed Shrek and Michael Jackson performances, and outdoor pools, including water slides, and adult-only pools -- which aren't always kid-free. Six restaurants serve international fare and nine bars are on-site. Rooms are pleasantly furnished and bungalows feature beautiful wooden carved ceilings; some also have sea-facing balconies. For couples there's a full-service spa and indoor pool, but those seeking a more romantic setting may prefer the Kempinski Hotel The Dome.
5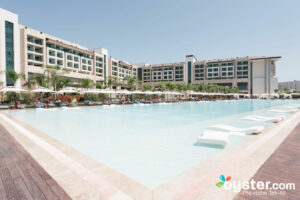 While there are plenty of luxury resorts in Belek, the Regnum Carya is one of the best -- the Maxx Royal Belek Golf Resort is one of the only properties that can compare. It's not only its outstanding features that make it special -- including several beautiful pools, two golf courses, excellent dining options, and top-notch wellness and fitness centers -- but also its many high-end services, such as private helicopter rides, standard fast-track service at the airport, and even three FIFA-standard soccer fields. This opulent property oozes peace and tranquility, but also features lively family-friendly areas and plenty of amenities for kids. Rooms are elegant and stylish, with luxurious touches such as marble bathrooms with separate showers and tubs, huge flat-screen TVs hidden away in mirrors, and turndown service with chocolates and handwritten notes.
6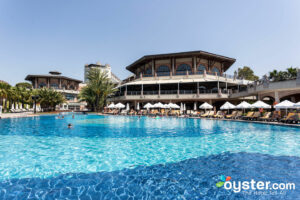 The Papillon Zeugma Relaxury is a luxury property with a private stretch of beach, good food, and beautiful indoor and outdoor pools. Its 362 rooms are elegant and stylish, with a chic brown and teal palette, wood floors, and great amenities such as free minibars (refilled daily free of charge), sleek walk-in rain showers, and electric blackout blinds. The gorgeous, high-end spa offers dozens of treatments -- including some for kids -- as well as free access to a marble hammam, a sauna, and a steam room. The buffet restaurant serves an excellent spread for all three meals during the summer, but there have been complaints of limited choices in the off-peak season. Golfers may want to consider the Gloria Serenity Resort, which has three on-site courses.
7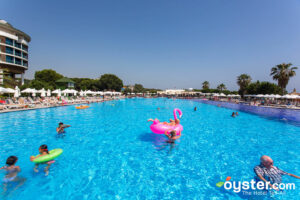 The 559-room Voyage Belek Golf & Spa is a four-pearl all-inclusive resort situated right on the beach. There's wide appeal here, for both families and couples seeking romance. Mostly modern rooms and villas include free Wi-Fi and extensive minibars, plus all feature balconies or terraces. Some rooms overlook the sea and others have direct access to the Laguna Pool. Dining and bar options are plentiful, and most get good reviews. The private beach is a big draw, as are the gigantic indoor and outdoor pools, and water park. The activities list is long, and includes water sports, golf, tennis, and indoor and outdoor games, though fees will apply for some. There's also an attractive spa and modern fitness center. Alternatively, Spice Hotel & Spa has similar features, but a more Middle Eastern style that may appeal to some travelers.
8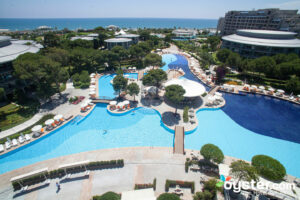 Known for having hosted President Obama during the 2015 G-20 meetings, the 600-room Calista is one of the Belek's grand dames. It is not as new or sleek as most of the other resorts in this price range, but it keeps guests coming back year after year with excellent food, beautiful pools, and lots of options for both families and couples. Rooms have a traditional, classic style that may not appeal to everyone, but they're all well-equipped and comfortable, and have spacious balconies with pleasant views. Villas are a tad more contemporary and luxurious, and come with great extras such as butlers, turndown service, and private or shared pools. Maxx Royal Belek Golf Resort is a wonderful alternative for those wanting something even more luxe.
9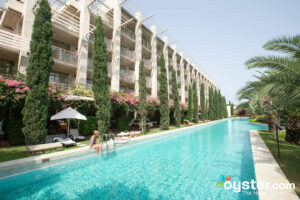 The 369-room Gloria Serenity is easily one of the most relaxing properties in the area. Although not officially an adult-only hotel, it does not have any amenities for children (but tons are available at its neighboring sister property Gloria Golf Resort), and its sprawling grounds make for a serene atmosphere. Rooms are upscale and elegant, with a neutral palette and a few splashes of color, free minibars stocked with snacks and liquor (replenished daily free of charge), smart TVs, and great bathrooms with separate jetted tubs and rain showers. Villas are particularly luxurious, and feature private pools, spacious living areas, and gardens with loungers. The hotel's spa is one of the most stunning around, all decked out in wood and stone, and offering a wide array of indoor and beachside treatments. The hotel's three on-site golf courses are well-known in Turkey and abroad.
10
The 554-room Bellis Deluxe is a luxury beachfront hotel set amid pine trees in Belek, an area known for its many excellent golf courses. Rooms are stylish and well-equipped, with free minibars (replenished daily), LED TVs, and balconies, some with full sea views. Villas are particularly luxurious, with large private pools, full kitchens, and three en-suite bedrooms. Besides all the amenities expected of a family-friendly all-inclusive -- such as several pools, varied dining options, a spa, and a kids' club -- the resort features a lovely on-site zoo complete with a horse riding academy, and a pleasant indoor pool heated year-round. The beach is particularly nice at the Bellis, with a long wooden pier lined with cushioned loungers, and beautiful cabanas with mini-fridges and free drinks and snacks. However, Standard Rooms are a tad small for the price, and there is a charge for a la carte restaurants.
11
The 515-room Gloria Golf Resort Belek is a luxury beachfront property catering to families and golfers with three renowned courses, an extensive kids' program, several pools, and a small zoo. All-inclusive food gets excellent reviews for variety and quality, and the spa offers an array of treatments, an indoor pool, and an outdoor pavilion. Stylish, elegant rooms have garden views and come equipped with great amenities such as free minibars (replenished daily), smart TVs, electric kettles, and free, reliable Wi-Fi. Villas offer more space and are set in a quieter part of the hotel overlooking a river. For a little more money, the hotel's neighboring sister property Gloria Serenity Resort is even more stunning and has larger rooms.
12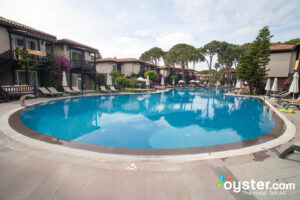 Sitting on a private beach in Belek, the 363-room Papillon Ayscha is a luxury family resort with a social atmosphere thanks to evening entertainment, themed outdoor parties, a sports complex, and kids' clubs. The property features outdoor pools and a water park with heated pools, plus a modern gym in the spa. All-inclusive restaurants and bars are throughout the property, including the beach and pool, where there are usually long lines. Modern rooms and suites feature charming butterfly designs and balconies or terraces, some of which give sea views. The hotel is a solid luxury choice, but guests looking for a quieter vacation should check rates at Kempinski Hotel The Dome.
13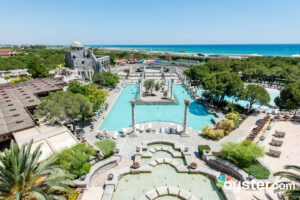 The 421-room Xanadu Resort Hotel is an upper-middle-range, family-friendly property with a long, private beach and lovely setting along a serene canal. This bustling all-inclusive offers plenty of amenities for children -- including several pools, two kids' clubs, activities for teens, carnival rides, and two water parks -- but it also has peaceful, adult-only areas for those looking to get away from it all. Food is excellent at all of the restaurants, and snacks and drinks are available 24/7. The spa offers a wide array of body treatments and services, and has a soothing atmosphere with candles, oil burners, and soft music. Rooms, although comfortable and well-equipped, are underwhelming for the price, with somewhat dated decor and simple bathrooms. This is a great pick for a fun family vacation, but those seeking something cheaper may prefer the IC Hotels Santai.
14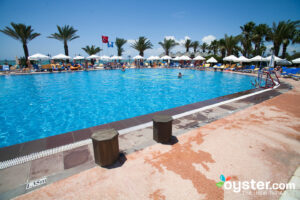 The 507-room Papillon Belvil is an excellent upper-middle-range pick for families with young children. The kids' club is one of the best in this price range, complete with a large water park with slides for all ages, activities for babies, toddlers, and teens, a big playground, a soccer field, and even its own restaurant. Rooms are a little generic (and non-renovated units are in need of an update), but all feature nice amenities such as free minibars, LED TVs, and electric kettles. In-room Wi-Fi is only available in a handful of rooms closest to the lobby. The spa offers a wide array of treatments for a fee (including some for children!), and all guests get free access to a hammam, a sauna, and a stream room. Food gets good reviews at both the buffet and the a la carte restaurants, but some guests have complained that the breakfast spread is a bit repetitive. Those seeking a quieter family-friendly hotel may want to compare rates at the Gloria Verde Resort and Spa.
15
The 455-room Sueno Hotels Deluxe Belek is one of the best luxury options for families in the area. The property is known for its massive outdoor pools and great water park, plus the 24-hour kids' club is a highlight for parents who want to mix family fun with alone time. Rooms are stylish and elegant, and feature high-end amenities such as Bulgari toiletries, pillow menus, and free minibars with beer (plus liquors in suites). Many suites have large private pools, and villas feature private hammams, saunas, fitness equipment, and butlers. Aside from a beautiful beach with cabanas and a pier, the hotel has several other outstanding features, including a beautiful and expansive spa; two PGA golf courses; and a great all-inclusive package that covers top-shelf liquors. For an even more luxe property, consider the Maxx Royal Belek Golf Resort.