Most Romantic Hotels in San Pedro, Ambergris Caye
Take a look at the most romantic hotels in San Pedro.
See All San Pedro Hotels
1
Xanadu Island Resort is a simple, relaxed property with 20 spacious units resting on a pretty stretch of beach along Ambergris Caye, minutes from central San Pedro. There is no restaurant on-site, but there is a six-stool outdoor bar, the condo-style rooms feature full kitchens with stainless-steel refrigerators and stoves, and a number of shops are a short walk away. The small freshwater pool is surrounded by lush tropical landscaping and has ocean views. The hotel also offers free kayak and bike rentals, and excursions can be arranged through the on-site tour desk. Golf cart rentals are available and there is free and reliable Wi-Fi throughout.
2
Opened in 1998 and located on a private island near Ambergris Caye, the luxury Cayo Espanto's seven air-conditioned villas have wraparound porches, private docks, and ocean-view plunge pools. Interiors are rustic Caribbean, with details like cement floors and exotic hardwood furniture. All villas have two assigned butlers and the resort's chef visits daily to discuss (and tailor) the menu for guests. Sadly, Cayo Espanto's beaches are small and shallow. The resort is seven minutes by water taxi to San Pedro, Ambergris' Caye's commercial hub. Travelers looking for a property with a great beach and a sleek ocean-view pool should consider the villas at La Perla del Caribe, though rooms there aren't quite as lovely.
3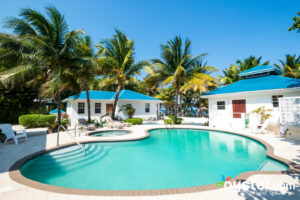 Travelers seeking a quiet hotel with a relaxing atmosphere that's still relatively close to town needn't look further than Cocotal Inn & Cabanas. Cocotal is an intimate three-pearl property with eight rooms, a small pool, and a beautiful beachfront location. All rooms are equipped with full kitchens, and come in studio, one-, and two-bedroom varieties. Guests can take advantage of the hotel's free bikes and kayaks, and can also rent golf carts for trips into town. Cocotal's best feature is its hands-on manager, Ben, who lives on-site and consistently goes out of his way to ensure guests enjoy their stay. Travelers looking for a similar hotel that's located within San Pedro town should check out Caye Casa, which has nicer rooms and similar amenities, but pricier nightly rates.
4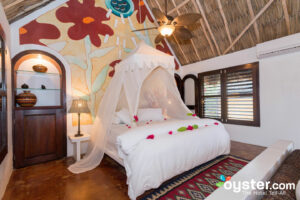 Arguably the swankiest resort on Ambergris Caye, the four-pearl Matachica Resort & Spa excels at combining Belizean charm with modern opulence. Its 27 individual thatched-roof casitas are painted in eye-popping hues and feature romantic elements like canopied beds and two-person hammocks. Grounds are meticulously kept, but still maintain a laid-back island vibe thanks to sandy pathways and open-air buildings. All-inclusive rates are available, and top-notch amenities include a stunning mosaic tile pool, a beautifully maintained beach, and an excellent on-site bar and restaurant, but the lackluster spa and tiny fitness center fall flat. Matachica is located five miles north of San Pedro town on Ambergris Caye, which is a bit far for travelers who anticipate spending a lot of time in town. As an alternative, Ramon's Village Resort is located within walking distance of local shops, bars, and restaurants in San Pedro, but isn't nearly as posh as Matachica.
5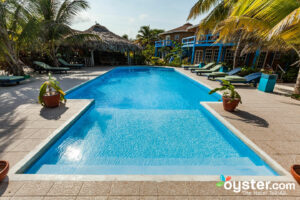 The three-pearl White Sand's Cove Resort is a laid-back, 14-condo seafront property that's a 15-minute drive from Ambergris Caye's San Pedro Town. The spacious condos with homey, beach-inspired decor -- a handful have ocean views. The resort's sleek, ocean-view pool is rarely crowded, and while the resort has a jetty to jump off for swimming, there's no proper beach. Guests usually spend their days diving or exploring the island and mainland tourist sites. White Sands Bar and Grill serves up a tasty international and Belizean menu -- but not breakfast -- with locally sourced and homegrown ingredients. Freebies include morning coffee, kayak and bicycle usage, and Wi-Fi. Travelers looking for somewhere a bit livelier with its own dive shop might prefer Captain Morgan's Retreat.
6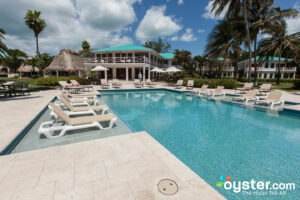 With its tropical seaside grounds, sophisticated vibe, and colonial styling, the three-and-a half pearl Victoria House is one of Ambergris Caye's more romantic options. Its 42 rooms and villas mix traditional details with modern touches like flat-screen TVs, air-conditioning, and glass-brick showers. However, it's worth noting that State Rooms can be loud and small, and some rooms lack TVs. There are two pools, including a sleek infinity option, which is helpful as the sea here is unswimmable with sea grass, a common problem in the region. The bar's happy hours are a big plus, and the hotel's freebies include kayaks, stand-up paddleboards, and bicycles. Alternatively, Las Terrazas Resort is a little more a swish and has a South Beach vibe, though its beach is also underwhelming.
7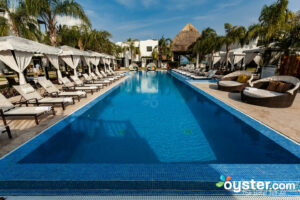 With its sleek pool, free welcome massages, and sophisticated beach vibe, the upscale Las Terrazas Resort and Residences feels more South Beach than San Pedro. Its 39 air-conditioned rooms -- many with ocean views -- are decorated in blacks and browns with granite-countered kitchens and king-size poster beds. The saltwater infinity pool is a big plus, considering the beach isn't great for swimming due to sea grass. A poolside bar has happy hour specials and a weekly rum tasting, for a fee, and freebies include kayaks, Hobie cats, and stand-up paddleboards. Fishing gear can be rented and the resort's tasty, attractive restaurant will clean and prepare your catch. For a more tropical vibe and two giant pools, it's worth considering Coco Beach Resort, which has similar rates but far less style.
8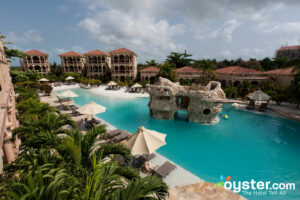 Coco Beach Resort is a sprawling three-and-a-half-pearl resort north of Amgerbris Caye's San Pedro Town. Its 58 rooms and suites -- many featuring ocean views -- have bright, beachy interiors with wicker furniture, plush sleeper sofas, and flat-screen TVs with premium channels, though noise can be an issue. The resort's sandy beach -- like most in the area -- is prone to sea grass and the two huge saltwater pools with sandy, zero-entries are an attractive aquatic alternative. One has a swim-up bar while the other includes a waterslide. The resort's three restaurants are decent, but close too early for late diners. Those looking for a resort that feels more South Beach than San Pedro should consider Las Terrazas Resort instead, though it will be more expensive.
9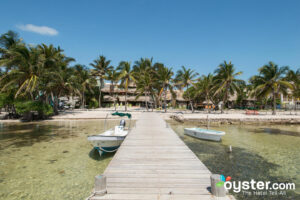 Undoubtedly the nicest boutique hotel in San Pedro Town, upper-middle-range Caye Casa entices guests with its beautiful decor and quiet atmosphere. The property's eight rooms are bright, airy spaces decorated with vibrant colors, local artwork, and island-inspired furniture. Caye Casa's room types range from standard hotel rooms to multi-bedroom casitas with full kitchens, separate living spaces, and large outdoor balconies. The hotel has a tiny plunge pool and a sandy lounge area, and is across the street from a teensy beach. It's within walking distance of San Pedro Town's shops and restaurants, but still manages to feel quiet and secluded. The hotel doesn't serve any kind of breakfast and some rooms are tight on space. Travelers looking for larger rooms and more of a resort atmosphere might prefer Las Terrazas Resort, though its pricier than Caye Casa and far from town.
10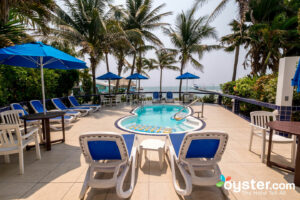 Blue Tang Inn is a charming beachfront property with a convenient location in San Pedro. The three-pearl hotel is within walking distance of almost everything San Pedro has to offer, including restaurants, bars, dive shops, and supermarkets. The 14 (slightly dark) rooms resemble studio apartments, and each has a full kitchen, dining table, futon, and one or two queen-size beds. The hotel has a tiny pool and a manmade beachfront, but like all beaches in San Pedro, the beach is used as a thoroughfare for golf carts and pedestrians. Guests can take advantage of the hotel's boat, Sirena Azul, by booking private sailings and snorkel tours. Note that the area around the hotel can be noisy at night. Travelers looking for a quieter location might prefer Cocotal Inn & Cabanas -- a similar property north of town that tends to offer more affordable nightly rates.
11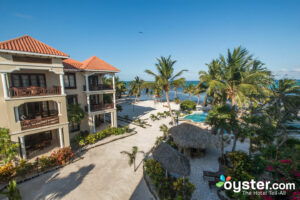 La Beliza Resort is an upper-middle-range property with 18 apartment-style rooms on a secluded beachfront. The hotel's one and two-bedroom units feature rich mediterranean inspired decor with lots of island accents, and are equipped with full kitchens, large living rooms, and outdoor balconies with partial or full ocean views. Many guests spend their days relaxing around the freeform pool or along the hotel's stretch of beach. That said, there's nothing of interest within walking distance of La Beliza, and the hotel is a whopping eight miles north of San Pedro town, which equates to a 45-minute golf cart ride on the island's potholed roads. Being this far from town can feel isolating, which may appeal to some travelers and distress others. Those looking for a quiet property that's a bit closer to the action in San Pedro might prefer Grand Caribe Belize, though it's significantly pricier.
12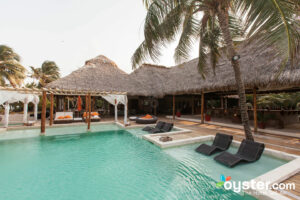 El Secreto Hotel is a secluded four-pearl boutique hotel on the northern shores of Belize's Ambergris Key. Its eight rustic-chic villas with lake, ocean, or garden views have vaulted thatched ceilings, air-conditioning, private whirlpools, and outdoor showers. The hotel's posh infinity pool is done with marble accents and built-in lounge chairs, all with views overlook the sea. The restaurant, El Secreto, serves an international and Belizean menu that -- despite its expensive prices -- gets mixed reviews, and the hotel's beach is frequently littered with debris. Freebies include kayaks, Hobie Cat sailboats, stand-up paddle boards, and Wi-Fi. For a romantic getaway, El Secreto ticks most of the boxes, but those wanting more action closer to town it's worth considering the condos at Captain Morgan's Retreat.