Best Business Hotels in Berlin
Since the fall of the Berlin Wall, Berlin has become a popular travel destination for its unique culture and thriving art, food, and nightlife scene. It's also a popular locale for business travelers, with an easy-to-navigate train system. So if you're heading to the German capital for a business trip and need a place to stay, you've come to the right place. Take a look at our expert top business picks in Berlin and get inspired!
See All Berlin Hotels
1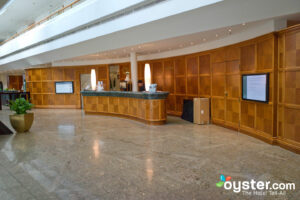 This 558-room luxury property is a popular pick among business travelers, featuring 45,000 square feet of meeting space and a conference center. It has a convenient location in central Berlin, overlooking the Zoological Gardens and a short walk from the famous Tiergarten. Contemporary rooms have sophisticated decor, spacious bathrooms, flat-screen TVs, and stocked minibars; some have great views of the gardens. The InterContinental has all of the amenities you'd expect from a big, upscale chain: an extensive spa, indoor pool, fitness center, and two restaurants (including one with a Michelin star). While this hotel is a solid business pick in Berlin, there are pesky fees for Wi-Fi and for use the sauna in the fitness center.
2
The Ritz-Carlton is a popular hotel for business events, with 18,300 square feet of event space, including a garnd ballroom and the Curtain Club cigar lounge. The rooms are gorgeous in a classically elegant way, featuring mahogany furniture, rich curtains, plush bedding, and massive marble bathrooms with separate soaking tubs and showers. Modern amenities include touch-screen controls and large flat-screen TVs. Wi-Fi is available, but it comes with a pesky additional fee. The hotel has plenty of amenities, including a large spa, indoor pool, sauna, and fitness center. There are also several dining and drinking options on-site, along with 24-hour room service.
3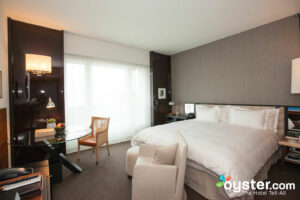 The prestigious location and upscale atmosphere draw travelers to this luxury Hyatt in Berlin's city center. It's right off the historic Potsdamer Platz, a triumph of post-Cold War business development, and within walking distance to many of Berlin's attractions. It's an expensive hotel in an expensive part of town, with views of the city from minimalist rooms and a rooftop terrace. Vox Restaurant gets high marks with its international cuisine, sushi, and extensive sake and wine selection. Frugal travelers should beware that the fees can stack up, especially for those who need to be connected online.
4
The 275-room Crowne Plaza Berlin Potsdamer Platz is an upscale business hotel in the city center that was formerly an old post office. It is not however, right off of the popular public square as the name suggests, but rather a 15-minute walk away from it and the surrounding attractions. It's far more convenient to events at the nearby Tempodrom and business travelers will find everything they need here, except for free in-room Wi-Fi. Facilities include a spa and sauna along with a stylish restaurant and hip bar, though service doesn't always meet expectations for an advertised luxury hotel. The modern rooms have Japanese-inspired decor and great rainfall showers; the rest of the hotel has an Art Deco vibe.
5
Catalonia Berlin Mitte is a trendy 131-room, four-pearl business hotel in central Berlin. Rooms are tasteful and modern, with industrial-style decor, comfortable beds, flat-screen TVs, and sleek bathrooms. The hotel has an urban industrial theme, which is carried through from the lobby to the restaurant and the graffitied walls of some of the corridors. There's a nice restaurant and cocktail bar on-site, a fitness center, and two meeting rooms. There's not much to see in the immediate area, but there is an underground station across the street and some of the city's major sights are within walking distance.
6
The Estrel is a mammoth conference hotel with 1,125 rooms and suites. This complex also has five restaurants, two bars, a summer garden, and a concert venue with a performance every night. Simple, modern rooms are on the large side and have minibars, flat-screen TVs, and work desks. The hotel has a variety of public spaces, including a spacious lobby, outdoor biergarten, and indoor atrium bar. There is also a well-equipped fitness room and a business center. All of these amenities are an effort to make the complex as entertaining as possible, as the Estrel is quite far from the bustle of Berlin's center.
7
The luxury Pullman Berlin Schweizerhof, near Tiergarten Park and the Berlin Zoo, offers 383 spacious beige-toned rooms and suites. The amenities swing for the fences with HD flat-screen TVs with satellite channels, video on demand, Nespresso machines, and wide desks with ergonomically designed chairs. Adding to the all-out luxe, the 24-hour glass-enclosed fitness center has a handful of cardio machines and free weights overlooking a heated, indoor lap pool. There's also a spa with a sauna and Turkish bath. The hotel has a sleek bar and a restaurant with an outdoor terrace. Wi-Fi is free as well, though some report it's spotty.
8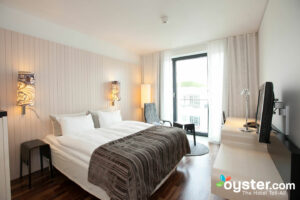 Located near a popular square with a variety of entertainment, dining, and shopping options, Scandic Berlin Potsdamer Platz is an upscale, chain hotel with 564 modern rooms. The hotel offers the staples of the Scandic chain including a 24-hour snack and coffee area, a fitness center, and children's play area. A breakfast, lunch, and dinner buffet is available for a fee, and the hotel has a modern, funky bar area with an à la carte menu. The hotel pays extra attention to sustainability, including an air-conditioning system that some guests may find to be inadequate.
9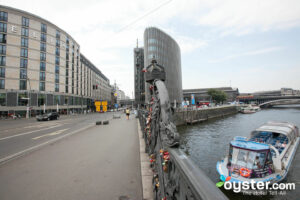 A good fit for business travelers, the Meliá Berlin is an upscale chain hotel with 364 rooms, located next to River Spree and close to a train station. The hotel has a tapas bar/restaurant, a separate restaurant serving international cuisine for lunch and dinner, and a breakfast buffet including hot and cold dishes for a fee. An exclusive floor that's suited to business travelers called "The Level" has its own reception, private lounge, and two computers with free Internet access.
10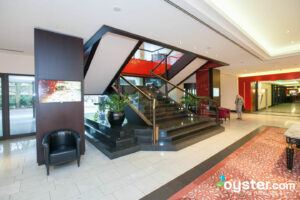 With more than 400 rooms, including suites, the Steigenberger is one of the largest hotels in Berlin's city center, but unlike many hotels of its size that err on the side of generic uniformity, the upscale Steigenberger offers personality in its design, along with some special amenities that include a large, locally sourced breakfast spread, two fine-dining restaurants that highlight regional fare, and a lounge with regular live music. It also has an indoor swimming pool under a domed roof, a sauna, spa, and fitness center, plus ample meeting and event space. The hotel is within easy reach of Berlin's busiest shopping area and the Berlin Zoo. All in all, the Steigenberger offers great value at a reasonable price.
11
Geared mostly toward business guests, Andel's Hotel is located outside of Berlin's main city center, but most attractions can be reached easily by car or S-Bahn, two stops of which are situated outside of the hotel. With parking on-site, several huge meeting rooms, ballrooms, and presentation areas, a fitness center, and three saunas -- plus a whirlpool, Andel's offers more amenities than most in its price range (that are located in the city center), but there's nothing of much interest to visit within walking distance. It's a hip, modern hotel well-suited to anyone who doesn't mind traveling by car or S-Bahn to visit the sights.
12
The four-pearl Esplanade is located on Landwehr Canal, within a 10-minute walk to Tiergarten Park. It's a bit far from many tourist attractions, but there's a sightseeing bus pickup spot a short walk away. The property has a spa and small indoor pool as well as dining options, including a breakfast buffet with a large variety of foods, an upscale fusion restaurant, and a bar serving traditional German fare and ales. The popular Harry's New-York Bar is also on-site, serving an extensive list of international drinks.