Best Boutique Hotels in Bodrum
Many hotels in Bodrum — a legendary Turkish beach getaway on the Aegean Sea — are sprawling, self-contained resorts and all-inclusives geared towards families. Travelers looking for a more intimate stay would do well at these small, sophisticated, and upscale properties, deemed by Oyster's hotel experts to be the best boutiques in Bodrum. Take a look at the best boutique hotels in Bodrum City and the coastal towns of Golturkbuku, Turgutreis, Torba, and Yalikavak.
See All Bodrum City Hotels
1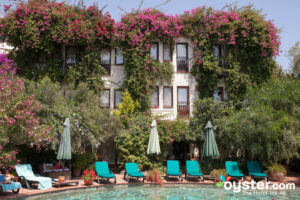 Despite its central location in Bodrum, the upscale boutique El Vino Hotel is a serene and romantic urban oasis. The reception, the rooms, and the rooftop restaurant are housed in a charming whitewashed, bougainvillea-covered building tucked away in an intimate garden. The 20 lovely rooms are individually decorated, and have such architectural features as exposed brick walls, vaulted ceilings, or hardwood floors. All are equipped with free Wi-Fi, minibars, air-conditioning and flat-screen TVs, and some have small patios with wooden furniture. The main pool is set in the middle of the beautiful gardens and the rooftop restaurant serves excellent Turkish and Mediterranean cuisine and organic wines. Along with breakfast, the hotel offers a number of other great freebies, including afternoon tea service, outdoor parking, Wi-Fi, and shuttle service to its private beach area in Turkbuku.
2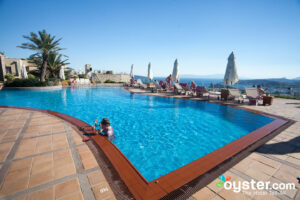 Nestled on a hilltop outside of central Bodrum, the adult-only Marmara Bodrum wows at first sight with a combination of Mediterranean sophistication and funky artsy and design details. The hotel owns an extensive contemporary art collection that is displayed both in common spaces and rooms, including paintings, sculptures, and small-scale installations. The 97 elegant rooms have hardwood floors and one-of-a-kind artwork, plus amenities like smart TVs, iPod docks, robes, and minibars stocked with full-sized bottles of liquor, sodas and water. The hotel has two quiet pools, one of which offering views of Bodrum City, its famous castle, and the Aegean Sea. Marmara's rooftop restaurant serves excellent Mediterranean and Turkish cuisine in a stylish dining room with a large deck overlooking the city and the sea, and its two pools offer plenty of space to relax in the sun. The hotel also features a high-end spa with a hammam, body treatments and salon services, and a well-equipped fitness center with panoramic views.
3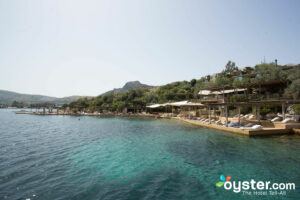 Tucked away in lush gardens full of bougainvillea and olive trees, the coveted Macakizi Hotel Bodrum has boho-chic interiors and an Ibiza-meets-Cote d'Azur vibe. The seafront boutique is a favorite hangout for Turkish and international jet-setters and celebrities, and for good reason: its beach club is one of the most famous nightlife spots in Bodrum, its restaurant is known for outstanding Mediterranean cuisine and serene views, and its spa offers top-notch services, with outdoor massage huts overlooking the Aegean. Compared to these outstanding features, the small outdoor pool is a bit underwhelming. Macakizi's 74 simple yet stylish rooms have upscale amenities, large windows opening onto balconies or terraces, and beautiful bathrooms with rainfall showers.
4
The 96-room Grand Yazici wows at first sight. Set high above Bodrum City, the sophisticated luxury boutique -- set in expansive gardens full of palm trees and flowers -- offers panoramic city and sea views. The highlight at this design-conscious property is its large, beautiful infinity pool, complete cabanas and loungers. There are additional indoor and outdoor pools at the stunning spa, decorated in a sophisticated white, gray, and turquoise color scheme with wooden accents and marble finishes. The wellness center offers salon and body treatments, and features an excellent fitness center complete with a movement studio and personal trainers. Rooms have parquet floors, small balconies, free Wi-Fi, and appealing bathrooms (standard rooms lack coffeemakers, however).
5
This luxury wellness resort is inspired by the Hanging Gardens of Babylon, one of the Seven Wonders of the World, and features pretty green grounds with palms, cypress trees, and flowers on a hillside that slopes down to the sea. The 117-room beachfront hotel has an extensive wellness center with a spa, fitness center, and a wealth of classes such as yoga, meditation, and mind and body healing. Health-conscious dining options include a gourmet raw food restaurant and an eatery catering to an alkaline diet -- plus guests can opt for buffet-style dining or Mediterranean fare. The resort offers both indoor and outdoor pools, and direct access to a private beach. Luxurious suites, villas, and penthouses feature stylish contemporary decor and marble bathrooms, many with whirlpool tubs and balconies with sea views.
6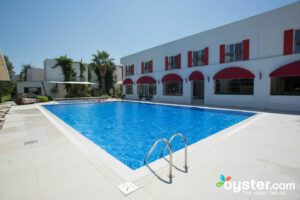 Set in a lovely beachfront area in quiet Torba, the aptly named Casa Dell'Arte is a destination unto itself. Original paintings, sculptures and installations from the owner's impressive private collection are displayed throughout, making the property a world-class gallery as well as the top luxury pick in the area. The property is divided into two main areas: the adult-only Residence section is elegant and romantic, while the family-friendly Village has a more casual atmosphere. The 48 rooms throughout both sections are stylish, with a soft neutral palette that highlights the artworks displayed, and high-end amenities such as L'Occitane toiletries and LCD TVs. The hotel is known for its lovely beach club, but it also features a great spa, plenty of daily activities -- such as art workshops, group yoga, and morning walks along the bay -- two private yachts for overnight trips, and two pools.
7
The 4reasons hotel+ bistro is a charming family-owned boutique located a five-minute drive from central Yalikavak. Its 20 rooms are simple but stylish, with a blend of rustic and modern Mediterranean decor that includes handsome hardwood details and amenities like free Wi-Fi, flat-screen TVs, and minibars. This is a tranquil spot, with a spacious pool big enough for a swim, a wooden deck for yoga, outdoor massage facilities, and a lounge with books and a fireplace. The hotel's position on a hillside allows for wonderful views of the surrounding area, and the pool bar is a favorite among guests for sunset drinks. There's also a restaurant serving excellent Turkish and Mediterranean cuisine.