Best All-Inclusive Resorts in Brazil
Take a look at the best all-inclusive resorts in Brazil.
See All Brazil Hotels
1
This upper-middle-range all-inclusive resort offers plenty of features and services aimed at both couples and families with kids. The extensive grounds -- which are cut through by a river -- offer a lovely stretch of beach. Three restaurants and bars offer 24/7 food and drink; there are two outdoor pools with kids' areas; a full spa offers a variety of treatments; and there are plenty of sports courts as well as outdoor activities and water sports offered. The property could use some updating as the interiors are dated and lackluster, and some facilities, like the gym, are unattractive. However, the 236 guest rooms are clean and all offer private balconies as well as amenities like flat-screen TVs and free Wi-Fi. For something similar, compare with Hotel Praia Dourada, for cheaper rates and slightly fewer features.
2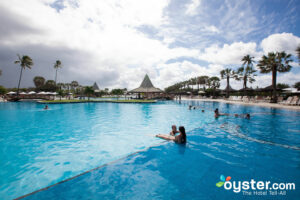 If an all-inclusive luxury resort experience is what you're after, Vila Galé Marés might not measure up to the posh Iberostar Praia do Forte just up the road, but for about half the price,Vila Galé Marés is well over half as good. As evidenced by the sizable crowds -- mostly middle-class Brazilian families with young children -- the more affordable value isn't exactly a secret. If you're in Brazil to explore the culture and architecture, this resort is not ideal, considering that it's situated about an hour outside of Salvador. But because it's located on a quiet beach with a beautiful expanse of swimming pools and tennis courts, along with a special kids' club and plethora of on-site restaurants, it's suitable for relaxation, with a chance to explore the outdoors.
3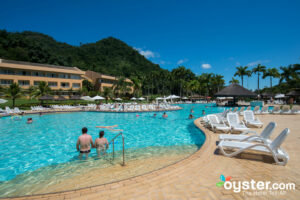 The 319-room Vila Gale Eco Resort de Angra is a three-pearl option located on a gorgeous beachfront property surrounded by the jungle. The location is remote, about a 20-minute drive from Angra dos Reis, but the natural setting is hard to beat. Spacious rooms look tired, but have air-conditioning, flat-screen TVs, and mini-fridges. Some feature beautiful sea views. The resort is especially popular with families because of its extensive offerings for children, including their own restaurant, pool, kids' club, and playground. Meals are available half- or full-board, or all-inclusive, and there are five restaurants and six bars. Unfortunately, food here gets mixed reviews. The huge outdoor pool is popular, and there are many activities indoors and out. For a less expensive family-friendly option nearby, check out Promenade Angra dos Reis instead.
4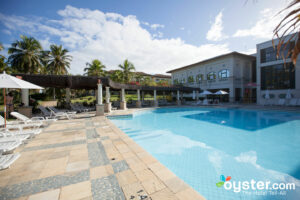 Once part of Marriott's Renaissance chain, the upper-middle-range Sauípe Fun is now part of the Brazilian Costa do Sauípe complex. It's undergone a makeover that's entailed playing loud, upbeat music in the pool area 24/7 -- discouraging many guests from choosing a room with a pool/beach view -- and serving second-rate food at its all-inclusive buffets. Isolated on its own resort grounds, Sauípe Fun is steps away from a beautiful beach, thus best suited for families or groups of friends wanting to spend most of their time swimming and sunbathing.
5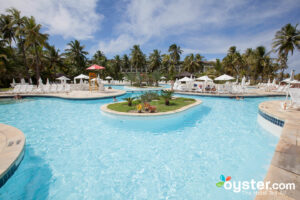 For those looking to escape to a tropical beach resort with their family, friends, or business associates, the Sauípe Park is paradise, with everything from a private beach to a golf course, pond, and full-service spa. Although the 404-room property is within walking distance of an authentic village -- Nova da Praia -- it is isolated in its own resort complex that doesn't provide much flavor or ambiance from real Brazilian culture. Still, the beach is spectacular, and kids have plenty to keep them occupied with their own play area and pool. Because the grounds are equipped with a large conference center, it's also a convenient option for events and business gatherings. Just be aware that the airport is about an hour and a half drive away and that the resort is packed around holidays.