Best Boutique Hotels in Brazil
Take a look at the best boutique hotels in Brazil.
See All Brazil Hotels
1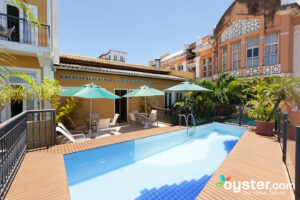 The upper-middle-range Hotel Casa do Amarelindo is a beautifully restored boutique gem in the historic center of Salvador, set amid colorful colonial buildings. This charming three-and-a-half-pearl property looks out over All Saints Bay, and its small rooftop pool is a rarity in Pelourinho. Other notable features include a traditional restaurant serving up home-style fare and a tropical garden bar. The 10 rooms are simple and stylish, with African-colonial decor and amenities like air-conditioning, free Wi-Fi, and Nespresso machines. The French owners live on-site, making things feel even more familial. This is a hotel for tourist couples and solo travelers; children under 14 aren't permitted. Downsides? The hotel can be tricky to find and there's no parking. For a similar experience, travelers could check out the six-room Aram Yami Hotel.
2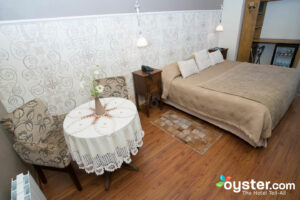 This family-run, upper-middle-range bed-and-breakfast located in a quiet residential section just outside of downtown Gramado is a darling little romantic escape with -- as the name implies -- delightful gardens. Intimate and friendly, the property has 12 rooms that vary in decor and size, but all have individual charm and modern amenities like minibars, air-conditioning, flat-screen TVs, and free Wi-Fi. The bathrooms are showers only but generally are very clean. There is no on-site restaurant, but the free daily breakfast is top-notch. An easy 10 to 15 minute walk to the city center, this hotel is well-positioned for exploring area attractions, as well as for enjoying a relaxing respite.
3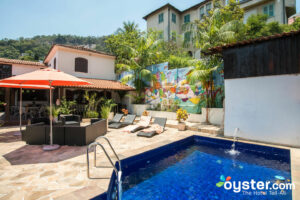 The 10-room Casa Cool Beans is a quaint, colorful bed and breakfast in the Santa Teresa district of Rio De Janeiro. The mid-range inn is unique and welcoming, with a lovely pool and plenty of open-air space for relaxing and enjoying the sunshine. Rooms are simple, but spacious and decorated with vibrant art by local artists. Wi-Fi and breakfast are free, and as guests must be 18 or older, the property tends to appeal to international couples and single travelers. Santa Teresa is an older, cobblestoned part of town, known for its art and history. It's a lovely place to explore, but it's not the safest place to walk around at night. Guests seeking a more centrally located property could try the Windsor Martinique Hotel.
4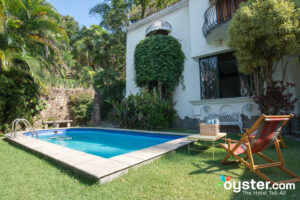 The three-pearl Casa Beleza offers a tropical hideaway from the sometimes overwhelming and crowded beach scene of Copacabana and Ipanema. It's located in the bohemian Art District of Santa Teresa, often called the Montmarte of Rio. The mansion was built in the 1930s and was once a former residence of the governor of Rio de Janeiro. Today, the guesthouse offers four well-decorated guest rooms. The owners live at the main building and they are helpful and knowledgeable about the local tourist, music, and art scene. The house is surrounded by a lush tropical garden with occasional parrots, toucans, and monkeys passing by the outdoor swimming pool. Free breakfast and Wi-Fi helps to keep costs low.
5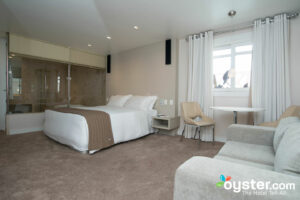 The 15-room ModeVie Boutique Hotel is a mid-range property in downtown Gramado that offers a chic alternative to the chalet-style hotels in the area. Swapping Bavarian decor for clean, modern touches, this adults-only property is streamlined but still romantic. There's a delicious free breakfast served until early afternoon -- a bonus for late sleepers -- and a stylish, small bar off the lobby, plus an attached wine and cheese shop. Rooms include lots of tech toys such as large flat-screen TVs, iPads, and major sound systems; some rooms also have whirlpool tubs and balconies. While there is no gym or pool, there is a small, no-frills spa. Parking is street only, but bicycles are available for guest use, and most everything is walkable from this charming downtown hotel. Those looking for a family-friendly option could try the Hotel Ritta Höppner.
6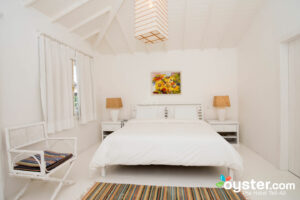 La Chimere has a cozy, home-like lobby-lounge and stylish white rooms filled with light. This mid-range pousada offers rooms in three categories, and some come with tiny balconies. All rooms feel bright and spacious, and feature stylish white walls, floors, and ceilings that are high and vaulted. Bathrooms are equally sleek, if small. The pousada features a small pool and an adjacent courtyard, but there's no park and the restaurant does not serve lunch and dinner. The Brazilian buffet breakfast is included in the room rate, however, and free Wi-Fi is available in all areas.
7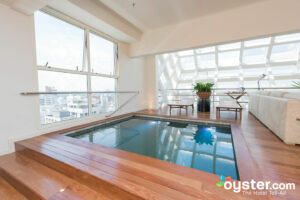 The 57-room Hotel Emiliano is a luxurious hotel in the upscale Jardins area. Despite being a boutique, the hotel has numerous features -- a spa, a 24-hour fitness center, a restaurant and two bars, a staffed business center, and even a rooftop helipad for guests arriving in style (though no pool). The mod rooms are sexy and sleek: Picture wood-paneled walls, clean lines, Charles Eames furniture, and high-tech marble bathrooms (the toilet has buttons.) However, some may find the minimalist style in the lobby and restaurant a tad stark. Nonetheless, this is a fabulous hotel with with excellent freebies (including a 15-minute massage), and the location is a short drive from downtown Sao Paulo.
8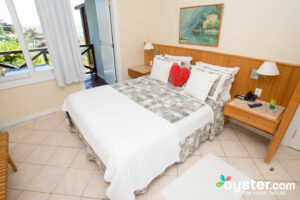 The Pousada Santorini is one of the most beloved options in the resort town of Búzios, thanks to its personalized and friendly service, spacious rooms with balconies, and superb hillside location. All of the nine total suites offer lovely views and fresh, simple decor -- but bathrooms in some are a bit dated and cramped. The swimming pool area has a tropical feel and also features phenomenal views. Adjacent to it is a small steam room. A home-style hot buffet breakfast -- which is included in the room rates -- is served in the Uruarama Café, which also offers meals until early evening.
9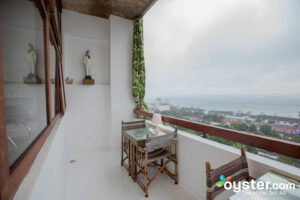 Given Salvador's dearth of high-end hotels, the Aram Yami is small but comfortable, rustic but bright and classy, replete with a refreshing pool and fresh breakfasts of warm baked goods and tropical fruit. The property is also within a 15-minute walk of the main square in Bahia's historic center and offers sweeping views of the harbor. Though lacking an on-site restaurant and spa, this boutique venue is one of the loveliest hotel options in the city, particularly for couples wanting to explore the area and have a romantic retreat.
10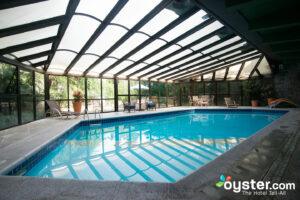 The 79-room upper-mid-range Hotel Casa da Montanha is a family-friendly hotel with plenty of antique charm in downtown Gramado. Natural wood accents and country-lodge decor give this property a warmth, and homey rooms include flat-screen TVs, minibars, and air-conditioning. Special themed suites, like the Christmas Suite, are a highlight. The hotel has a kid's play area and indoor pool as well as a sauna, whirlpool, and fitness center. The hotel serves a free daily buffet breakfast with plenty of choices, and has an on-site restaurant and bar. On the whole, this is a solid choice for those wishing to experience all the area has to offer within minutes of area attractions.
11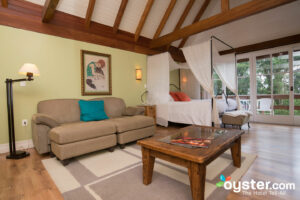 The 17-room Boutique Hotel Varanda das Bromelias is an upscale, romantic property located in Planalto, just outside of downtown Gramado. Owned by a glass designer, the hotel is a stylish and artistic retreat that's especially suited for couples. Rooms of varying sizes have a sophisticated, homey ambience plus modern features like flat-screen TVs, minibars, and air-conditioning. There is a small heated indoor pool, a fitness center, game room, and a full-service spa with a sauna and whirlpools on-site. The free daily breakfast buffet is served until late, afternoon tea is included, and valet parking is free. This property is such a popular pick that it often books up months in advance.
12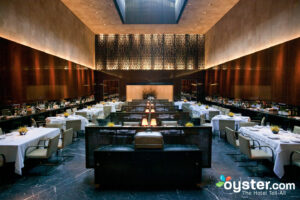 The 60-room Hotel Fasano is a luxury boutique in the upscale Jardins neighborhood. It offers impressive features, including a solid fitness center and an intimate, Zen-like spa. In addition, there are several popular restaurants and bars: The Italian fine dining restaurant is highly acclaimed, Baretto bar offers excellent live music, the lobby bar has art deco style, and the casual restaurant serves three meals a day. Rooms have cool, retro-modern decor -- including funky leather furniture and striped rugs -- as well as flat-screen TVs, DVD players, and iPod docks. Business travelers may also want to consider the nearby (and very similar) Hotel Emiliano, though it lacks Hotel Fasano's chic indoor pool.
13
Pousada Aguas Claras Buzios is located along a road leading towards the end of the Armacao dos Búzios Peninsula. This mid-range pousada offers older Classic rooms, as well as fresh Atual rooms in an annex that was built in 2013. The newer rooms are modern, quite spacious, and offer a solid value with large flat-screen TVs and plenty of storage space. Classic rooms include many of the same amenities, but have more dated decor and tired bathrooms. On-site features include a pool and kids' pool. The restaurant serves a Brazilian-style buffet breakfast that is included in the room rate. Wi-Fi is free throughout, as is parking.
14
On a hillside overlooking the Atlantic Ocean, Vila d'este has stunning waterfront views from its pool, whirlpool, on-site restaurant, and some rooms. With its lush grounds, this stylish upper-middle-range hotel feels like a romantic hideaway. The 19 rooms have airy, light decor, and a handful have ocean views. The on-site restaurant offers a free breakfast buffet and other a la carte meals. Despite the views, this property is not on a beach, and guests must travel to other beaches in the Búzios area in order to lay out on the sand. Travelers looking for an elegant beachside location in this neighborhood could try the Hotel Le Relais La Borie.
15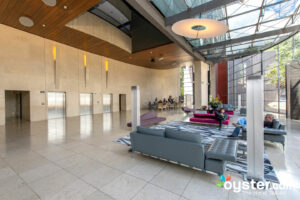 The 95-room Hotel Unique is a trendy pick near Sao Paulo's equivalent of Central Park. The rooftop bar, restaurant, and pool all overlook the park and have beautiful skyline views. The all-white rooms have a bit of a South Beach vibe and feature sexy open bathrooms with separate showers and soaking tubs (though some guests might think they lack privacy). In-room amenities include big flat-screen TVs, different pillow treats every day, and 24-hour room service. Hotel highlights include a large, open lobby with patterned rugs, funky furniture, and a nice lobby bar. An indoor pool, fitness center, steam room, and sauna are all available on-site. While this boat-shaped hotel is not located in the most central neighborhood, it is near attractions such as the Modern Art Museum, Ibirapuera Park, and restaurants.