Best Kid-Friendly Hotels in Brazil
Take a look at the best kid-friendly hotels in Brazil.
See All Brazil Hotels
1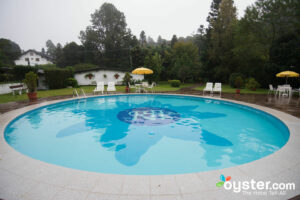 The 29-room Hotel Ritta Höppner is an upper-middle-range, family-owned property in Gramado, located around the corner from the famed Mini Mundo (Small World), and guests receive free admission. This family-friendly property has a large outdoor pool, kiddy pool, and on-site kids' club complete with outdoor playground. Couples are catered for as well, with separate chalets that offer private pools. All rooms have homey decor and amenities such as flat-screen TVs, minibars, and climate control; some have extras like whirlpool tubs, kitchenettes, and balconies. This Old World Bavarian hotel features a lovely restaurant, a free daily breakfast buffet served in a pretty conservatory, and afternoon tea as well as room service. A small fitness center, massage room, and sauna are also on-site. But the location is a bit of a hike to downtown and other area attractions. For a more central property, travelers could try the Hotel Casa da Montanha.
2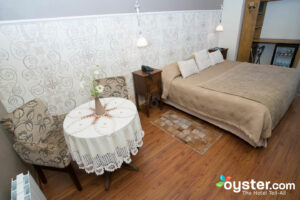 This family-run, upper-middle-range bed-and-breakfast located in a quiet residential section just outside of downtown Gramado is a darling little romantic escape with -- as the name implies -- delightful gardens. Intimate and friendly, the property has 12 rooms that vary in decor and size, but all have individual charm and modern amenities like minibars, air-conditioning, flat-screen TVs, and free Wi-Fi. The bathrooms are showers only but generally are very clean. There is no on-site restaurant, but the free daily breakfast is top-notch. An easy 10 to 15 minute walk to the city center, this hotel is well-positioned for exploring area attractions, as well as for enjoying a relaxing respite.
3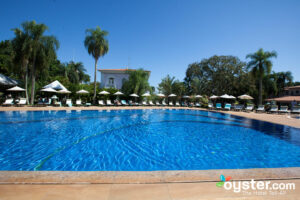 The 193-room Belmond Hotel das Cataratas is a luxury property with possibly the best location for visiting Iguacu Falls. It's the only hotel with direct falls views, and guests have access to the park when it's closed to the public -- a huge plus given the crowds that it draws. Rooms are decorated in a classic Portuguese colonial style with tropical accents, and some have falls views. Two restaurants, plus a bar with live music nightly, keep everyone fed and entertained, while the outdoor pool is heated for year-round use, and the spa provides relaxing treatments. Fitness and business centers, plus a tennis court, are other pluses. For travelers who want to be on top of the falls, this is the only option, and the rates reflect that.
4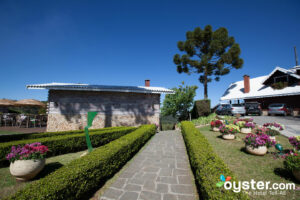 An upscale alpine-style pousada, the Alto da Boa Vista has a distinctively Swiss feel right down to its live St. Bernard mascot. The graceful alpine-style chalets come with free Wi-Fi and flat-screen TVs, and some have fireplaces, jetted tubs, Japanese ofuro baths, and/or balconies with mountain views. There are free breakfast and a deck with a hot tub; outdoor activities such as hiking and horseback riding can be arranged. However, it's more expensive than some of the smaller pousadas in the area.
5
The 48-room Hotel Bangalos da Serra is a family-friendly, upper-middle-range hotel with beautiful grounds in a quiet area outside of Gramado. With a focus on sustainability, the property is almost farmlike, with expansive green gardens and live animals on-site, a great feature for families with kids. Rooms and bungalows are simple and homey, with minibars, flat-screen TVs, and climate control; some even have charming wood-burning stoves. There is a nice outdoor pool with a children's pool, a small fitness center, and a game room plus a restaurant and bar open for breakfast, lunch, and dinner. The tranquil location is great for unwinding, but guests will need a car to tour the area sights.
6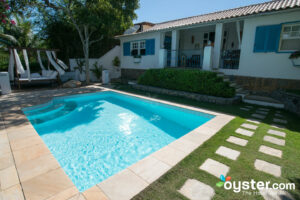 The Casa Buzios is a charming old villa (pousada) located a few steps from the Orla Bardot ocean boulevard that runs through downtown Buzios. The villa was constructed in the 1940s, making it among the oldest buildings in the area, and it features a more recently built annex. Each of the six guest rooms is unique in terms of size, shape, and character. The public areas are charming and offer an interesting combination of French and African artwork and memorabilia, along with contemporary art pieces. There's also a lush tropical garden with a pool. Breakfast, Wi-Fi, and parking are included.
7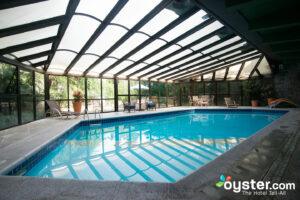 The 79-room upper-mid-range Hotel Casa da Montanha is a family-friendly hotel with plenty of antique charm in downtown Gramado. Natural wood accents and country-lodge decor give this property a warmth, and homey rooms include flat-screen TVs, minibars, and air-conditioning. Special themed suites, like the Christmas Suite, are a highlight. The hotel has a kid's play area and indoor pool as well as a sauna, whirlpool, and fitness center. The hotel serves a free daily buffet breakfast with plenty of choices, and has an on-site restaurant and bar. On the whole, this is a solid choice for those wishing to experience all the area has to offer within minutes of area attractions.
8
Pousada Aguas Claras Buzios is located along a road leading towards the end of the Armacao dos Búzios Peninsula. This mid-range pousada offers older Classic rooms, as well as fresh Atual rooms in an annex that was built in 2013. The newer rooms are modern, quite spacious, and offer a solid value with large flat-screen TVs and plenty of storage space. Classic rooms include many of the same amenities, but have more dated decor and tired bathrooms. On-site features include a pool and kids' pool. The restaurant serves a Brazilian-style buffet breakfast that is included in the room rate. Wi-Fi is free throughout, as is parking.
9
This upper-middle-range all-inclusive resort offers plenty of features and services aimed at both couples and families with kids. The extensive grounds -- which are cut through by a river -- offer a lovely stretch of beach. Three restaurants and bars offer 24/7 food and drink; there are two outdoor pools with kids' areas; a full spa offers a variety of treatments; and there are plenty of sports courts as well as outdoor activities and water sports offered. The property could use some updating as the interiors are dated and lackluster, and some facilities, like the gym, are unattractive. However, the 236 guest rooms are clean and all offer private balconies as well as amenities like flat-screen TVs and free Wi-Fi. For something similar, compare with Hotel Praia Dourada, for cheaper rates and slightly fewer features.
10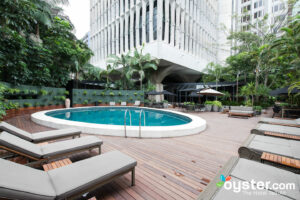 The 220-room Tivoli Sao Paulo Mofarrej is a luxurious option near the downtown area and Avenida Paulista. Rooms are decorated in neutral colors and feature flat-screen TVs, stocked minibars, and 24-hour room service, but bathrooms are on the small side. Suites and collection rooms might be worth the upgrade as they feature butler service. Hotel highlights include a spacious, light-filled lobby with a glass roof, a small outdoor pool (with odd orange tiling) surrounded by cabanas, and an upscale spa by Banyan Tree. There are several dining and drinking options on-site, including the top-level restaurant with beautiful city views. Family features include welcome gifts for kids and a policy where children under six eat free in the restaurants.
11
The mid-range, 30-room Hotel Pousada Experience João Fernandes offers a dual identity. The body belongs to a hotel, but the soul beats to the rhythm of a small "pousada" (guest house). In any case, it offers a great location just a five-minute walk from the popular João Fernandes beach. The hotel changed ownership in 2013 and renovations were completed in mid 2015. It offers basic but clean rooms that all come with furnished balconies and views. Breakfast is included in the room rate and Wi-Fi is free in all areas.
12
An upscale farm-stay property in the country between Itatiba and Braganca Paulista, Hotel Fazenda Dona Carolina offers a secluded location and plenty of recreational opportunities. Housed in a Portuguese colonial-era coffee plantation built in 1872, the hotel evokes Old South America. Couples can appreciate its romantic feel, while families are attracted to its wide array of outdoor activities, particularly its horseback riding and lake with kayaking, fishing, and zipline rides. The hotel also has a large outdoor pool, full-service spa, tennis court, and soccer field. A farm-style breakfast is served every morning, and is included in the room rate. While not the all-out five star luxury experience it advertises, the hotel will likely please travelers who want an upscale rural vacation with a pool, spa, and lots of activities.
13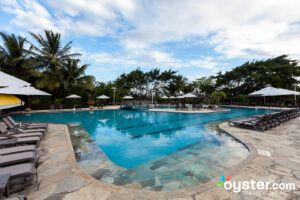 The 206-room Hotel Deville Prime Salvador is an upscale hotel located close to the beach in Itapua and about a 15-minute drive from the airport. However, it's at least 45 minutes from Salvador's city center and the Pelourinho district. Rooms are spacious and modern, and feature air-conditioning, flat-screen TVs, and free Wi-Fi. Those on upper floors have balconies with nice views of the sea. A restaurant serves all meals, including a free breakfast buffet, and there are bars in the lobby and by the huge outdoor pool. The fitness center is well-equipped, and there's indoor and outdoor recreation plus corporate event space. Travelers preferring to be right on the beach could check out the Gran Hotel Stella Maris Resort instead, which is even closer to the airport.
14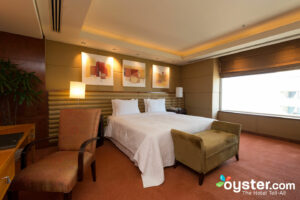 This upscale hotel is an excellent option in Sao Paulo for business travelers. It's part of the massive CENU business complex, and provides underground access to a shopping mall and the convention center. Business-friendly amenities include everything from 13,000 square feet of meeting space and a staffed business center to cell phone rentals and 24-hour room service. And though it does not have a kids' club (very few hotels in Sao Paulo do), the Hilton is a surprisingly kid-friendly business hotel, with children's menus in the three restaurants and children's video rentals. Plus, though it's a bit dated, kids will likely enjoy the indoor pool, which is part of the large 24-hour fitness center. Rooms are spacious, and also well-equipped for business travelers, featuring large work desks, flat-screen TVs, and marble bathrooms. Rooms have a chain-like look with a color scheme of whites and beiges, but they still feel sleek and contemporary.
15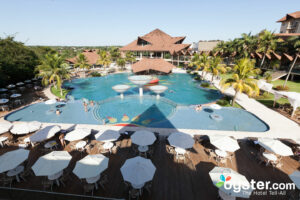 This upper-middle-range resort is situated on large, well-maintained grounds in Foz do Iguaçu. There's not much in the area, but it's about a 40-minute drive to the Iguazu Falls. Features cater to leisure travelers : outdoor and indoor pools, spa and fitness facilities, and a kids' club. Conference facilities attract business travelers, plus there are two restaurants and several bars, including a pub with bowling lanes. The 300 clean and spacious apartments and suites have flat-screen TVs and minibars, but the free Wi-Fi can be weak in some units and though there are balconies, they're not furnished. Travelers seeking proximity to the waterfalls and who don't mind splurging should check out the Belmond Hotel das Cataratas.