Best Value Hotels in Brazil
Take a look at the best value hotels in Brazil.
See All Brazil Hotels
1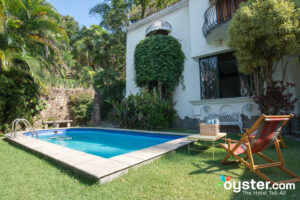 The three-pearl Casa Beleza offers a tropical hideaway from the sometimes overwhelming and crowded beach scene of Copacabana and Ipanema. It's located in the bohemian Art District of Santa Teresa, often called the Montmarte of Rio. The mansion was built in the 1930s and was once a former residence of the governor of Rio de Janeiro. Today, the guesthouse offers four well-decorated guest rooms. The owners live at the main building and they are helpful and knowledgeable about the local tourist, music, and art scene. The house is surrounded by a lush tropical garden with occasional parrots, toucans, and monkeys passing by the outdoor swimming pool. Free breakfast and Wi-Fi helps to keep costs low.
2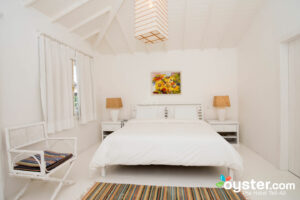 La Chimere has a cozy, home-like lobby-lounge and stylish white rooms filled with light. This mid-range pousada offers rooms in three categories, and some come with tiny balconies. All rooms feel bright and spacious, and feature stylish white walls, floors, and ceilings that are high and vaulted. Bathrooms are equally sleek, if small. The pousada features a small pool and an adjacent courtyard, but there's no park and the restaurant does not serve lunch and dinner. The Brazilian buffet breakfast is included in the room rate, however, and free Wi-Fi is available in all areas.
3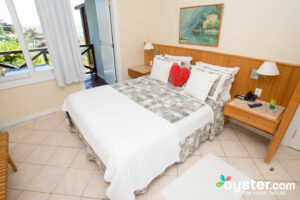 The Pousada Santorini is one of the most beloved options in the resort town of Búzios, thanks to its personalized and friendly service, spacious rooms with balconies, and superb hillside location. All of the nine total suites offer lovely views and fresh, simple decor -- but bathrooms in some are a bit dated and cramped. The swimming pool area has a tropical feel and also features phenomenal views. Adjacent to it is a small steam room. A home-style hot buffet breakfast -- which is included in the room rates -- is served in the Uruarama Café, which also offers meals until early evening.
4
Pousada Aguas Claras Buzios is located along a road leading towards the end of the Armacao dos Búzios Peninsula. This mid-range pousada offers older Classic rooms, as well as fresh Atual rooms in an annex that was built in 2013. The newer rooms are modern, quite spacious, and offer a solid value with large flat-screen TVs and plenty of storage space. Classic rooms include many of the same amenities, but have more dated decor and tired bathrooms. On-site features include a pool and kids' pool. The restaurant serves a Brazilian-style buffet breakfast that is included in the room rate. Wi-Fi is free throughout, as is parking.
5
The 56-room Ipanema Inn is a two-and-a-half-pearl property whose best feature is its location, just a two-minute walk from the beach and close to shops, dining, and nightlife. Its spartan, minimalistic rooms are on the small side, but they are modern, clean, and come with flat-screen TVs, minibars, and safes. Some have views of the beach, and suites add terraces or balconies. The on-site restaurant is highly regarded, and it serves a free breakfast buffet daily, as well as lunch and dinner. For travelers who want to be in the thick of the action and close to the beach, Ipanema Inn is a solid choice. It's worth checking out Arpoador Inn, though, a mid-range property that sits directly on the beach closer to Copacabana. It has a bar and similar rates.
6
The Pousada Boutique Bella Nina offers a tranquil, residential location near Brava and Forno Beaches. This value pousada (the term for a Brazilian guest house) is stylishly decorated, cozy, and feels like a home-stay. There are an outdoor pool and cheerful lobby with indoor and outdoor seating. Seven private guest rooms are spacious and decorated with romantic florals, some come with balconies, and some have distant ocean views. Breakfast is included in the room rate, and Wi-Fi is free in public areas, though most rooms don't pick up the signal.
7
The Pousada Bucaneiro is a romantic, mid-range option in a quiet residential area that's still within walking distance of beaches and downtown Búzios. The pousada offers 20 spacious and bright Standard and Superior Rooms, the latter come with cozy verandas, though bathrooms are a bit small. Features include tasteful and elegant public areas and a beautiful tiered swimming pool surrounded by blooming frangipani trees, bougainvilleas, and a massage tent. Brazilian breakfast is included in the room rate and free Wi-Fi is available throughout the hotel.
8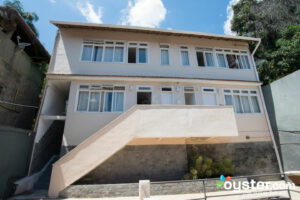 The Bossa in Rio is a popular hostel in the bohemian Santa Teresa district, a 10-minute walk from the vibrant Lapa area in Centro. It's housed in a mansion dating back to 1916 (with a recently built, modern annex). Clean, comfortable dorm rooms are available, and the hostel also has roomier private suites with high ceilings, some with balconies that look out on Centro and the Guanabara Bay. There's also a lobby with a clean, well-equipped communal kitchen and both breakfast and Wi-Fi are free. However, guests should be prepared to climb a lot of steps, as there's no elevator.
9
Corais e Conchas is a family-friendly option in Buzios, with generally affordable rates. This pousada offers two rooms for kids' activities, a well-equipped playground, children's pool, nursing room, and even a kitchen for parents. Some of the 38 spacious and air-conditioned rooms come with hot tubs and/or balconies. However, some of the in-room decor looks dated, particularly in rooms housed in the older part of the hotel. Those wanting something more modern should request a room in the new annex, added in 2012.
10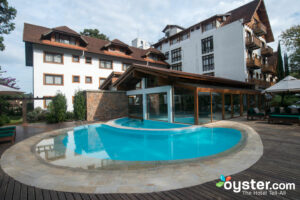 The 84-room, upper-middle-range Bavaria Sport Hotel in Gramado is an affordable chalet-style choice with plenty to keep kids and adults happy. Rooms vary in size and style, though all are mostly simple and have wood floors, simple Ikea-style furnishings, and flat-screen TVs. The property includes a heated indoor/outdoor pool, mini-golf, tennis courts, and a bright fitness center. A cozy on-site restaurant offers a free and generous daily breakfast buffet and there is a bar and lounge on-site. For an even more family-friendly escape, guests should consider Hotel Bangalos da Serra, which has expansive grounds and live farm animals for children to feed.
11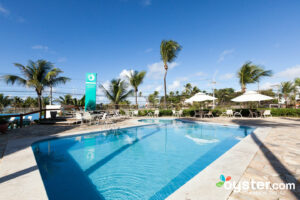 The upper-middle-range Mar Brasil is modern (having been updated in 2010), clean, and comfortable, directly across from the beach and 15 minutes south by car from the airport. It is one of Salvador's best value hotels but not terribly convenient for travelers wanting to explore the historic downtown area, which is about 30 minutes away by car. Still, as former home to poet Vinicius de Moraes, the place has culture and character. The 66 rooms are immaculate and breezy, and there's also a meeting area for business functions and two swimming pools to appease families and traveling couples wanting a safe and relaxing retreat.
12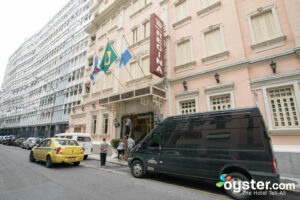 Hotel Regina is an historical mid-range hotel located in Catete, just a block away from Flamengo Park and the beach. It originally opened in 1922 and was the scene of local high society for its first 20 years; a renovation in 2008 brought modern updates. Today, the six floor property offers 117 quiet and clean rooms in three different categories, all come with a flat-screen TV and minibar. A sumptuous buffet breakfast is served in the Goya Restaurant -- included in the room rate -- and a la carte meals are available for lunch and dinner. The rooftop features a spa, steam room, and a tiny fitness center -- but no pool.
13
The two-and-a-half-pearl Arpoador Inn offers an outstanding location overlooking the eastern tip of Ipanema Beach (known as Arpoador Beach in the area), surrounded by shopping and dining, and within a short walk of Copacabana Beach and the area's nightlife. The hotel's vibe is straightforward and quaint, with a few artful touches. There are 50 simple and bright rooms with flat-screen TVs, a free breakfast, and a seafood restaurant on site. The sandy beach is right behind the hotel and is an excellent spot to watch the sunset or surf. While it has fewer facilities than the nearby Orla or Miramar, the Arpoador Inn offers good value for money.
14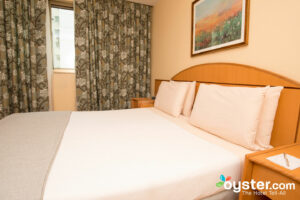 The Windsor Martinique offers a convenient beach location just a short walk from the Posto 5 area at Copacabana Beach. This mid-range hotel gets high marks for its location, cleanliness of rooms, and helpful front desk staff. Standard and Superior rooms are comfortable (though Standard rooms are small) and include 21-inch flat-screen TVs, minibars, and safes. Free breakfast buffet and Wi-Fi keep overall costs low, while a tiny rooftop swimming pool, bar, full restaurant, and small fitness center are nice extras.
15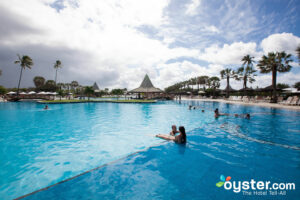 If an all-inclusive luxury resort experience is what you're after, Vila Galé Marés might not measure up to the posh Iberostar Praia do Forte just up the road, but for about half the price,Vila Galé Marés is well over half as good. As evidenced by the sizable crowds -- mostly middle-class Brazilian families with young children -- the more affordable value isn't exactly a secret. If you're in Brazil to explore the culture and architecture, this resort is not ideal, considering that it's situated about an hour outside of Salvador. But because it's located on a quiet beach with a beautiful expanse of swimming pools and tennis courts, along with a special kids' club and plethora of on-site restaurants, it's suitable for relaxation, with a chance to explore the outdoors.