Best Value Hotels in Cancun's Hotel Zone
Considering that Cancun is one of the top destinations for travelers seeking a gorgeous beach getaway, it's no surprise that hotel rates can be high. The city sees crowds of people drawn to the pristine waters, bustling nightlife, and great snorkeling. Fortunately, there are plenty of budget-friendly stays that offer a good bang-for-your-buck. We visited the area's top hotels and evaluated each to see which provided the best value to travelers. Here are our expert picks for the best value hotels in Cancun's Hotel Zone.
See All Cancun Hotel Zone Hotels
1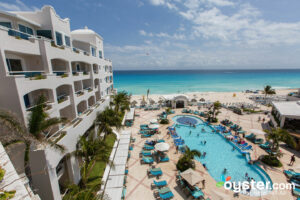 The upscale, all-inclusive Panama Jack Resorts in the Hotel Zone is one of the best values in Cancun. The competitive prices draw a fair number of partiers, and there are lots of poolside activities such as tequila volleyball. But the resort draws plenty of families as well, thanks to its two pools (neither very large or with a swim-up bar), kiddy splash park with a pirate ship and slides, and evening entertainment. Multiple restaurants and bars include buffet and Italian options, and food receives mostly positive reviews. Updated in 2017, the 458 rooms are stylish and beachy, all with hammock-equipped terraces (some with stunning views) and showers.
2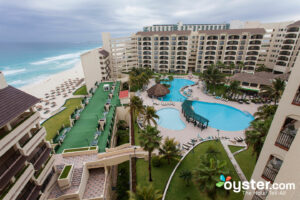 Families, as well as a slightly older clientele, enjoy coming to this resort, which is slightly south of the center of Cancun's Hotel Zone and a 20-minute ride to the airport. As with other properties in the Royal chain, the hotel is a time-share that also offers rentals to non-members. The grounds themselves have curried favor with guests for being consistently clean and well-maintained; yet the decor, inside and out, is slightly more dated than surrounding hotels, with a pastel stucco exterior and a somewhat worn-looking pool area. The relatively low room prices reflect this. 179 rooms in a series of eight-floor buildings are laid out around a pool; guests have commented that lower floors may get noise from outside and the on-site restaurant.
3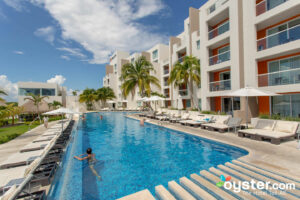 The Real Inn Cancun is a modern, upper-middle-range business hotel on the lagoon side of the Hotel Zone. The 160 rooms are modern, and features include a thatched-roof restaurant as well as a lagoon-view pool and fitness center. Prices are similar to those at the nearby Aloft Cancun, which is attached to the Cancun International Convention Center, but the pool here is a bit larger. Beaches are within walking distance, but nightlife and shopping aren't.
4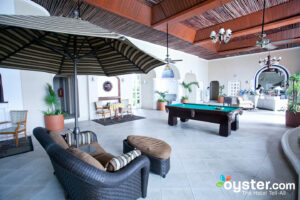 The 27-room Mia Cancun sits on the white-sand beach of the Hotel Zone. The terracotta and wood-beamed rooms are pretty typical -- most feature old tube TVs, furniture is sparse, and the only "flair" is thin floral comforters on the hard beds. But aside from some street noise in street-facing rooms, the hotel is a relaxing alternative to the mega-hotels that line the beach; the beachfront pristine pool with ocean views is not teeming with kids or underage partiers and the restaurants serve up nice affordable meals.
5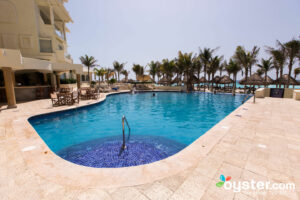 The 116-room Avalon Grand Cancun is the larger counterpart to the Avalon Baccara next door. With two large pools, tworestaurants, two bars, a spa, and a fitness center, it delivers a resort feel, with the highlight being its oceanfront location. Overall, the hotel is a good value for those looking to stay on the beach in the Hotel Zone, but don't expect anything over-the-top -- the fitness center is small, and although all of the rooms feature kitchenettes, balconies, and flat-screen TVs, the decor is bland, with thin bedspreads and dated furniture.
6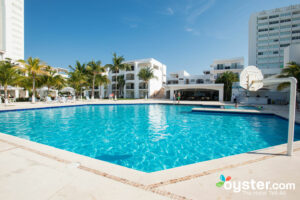 Sandwiched between high-rise hotels on either side, the Beachscape gives a relaxed and well-priced alternative. This mid-range hotel has a large pool, two restaurants, and free parking and Wi-Fi. But the star attraction is the beach: A gorgeous, broad swath of white sand with calm waters. The downside here is the 138 guest rooms, which suffer from dated decor, unappealing bathrooms, and some parking lot views. But they are spacious, and larger suites can comfortably accommodate families. All in all, the hotel makes an appealing, well-priced home base for someone that wants to spend their time down on the beach or exploring. Nearby Temptation Resort and Spa offers more updated rooms, but it's a much trendier property.
7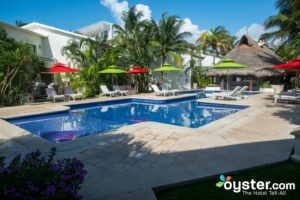 The 47-room Laguna Suites Golf & Spa is a family-run, mid-range property with a quiet atmosphere, especially in contrast to many noisy and lively Cancun hotels, and it's ideal for those seeking a peaceful retreat. Guests can upgrade to an all-inclusive option if they wish, but it doesn't come as standard like in many other properties in the area. Rooms are spacious and have a separate living and dining area, but the decor is dull and uninspired. There aren't a great deal of facilities on-site, other than a small pool, restaurant, and spa, and the beach is five minutes away, too, so those considering the Laguna Suites will need to be happy to get out and explore the area.
8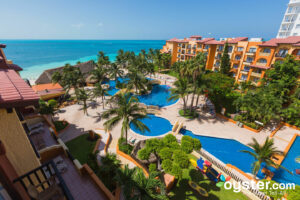 Compared to neighboring properties, the 179-room Fiesta Americana is a small hotel that offers a great value for families. It's less party-oriented than most of the Hotel Zone properties, and has a wide range of activities and amenities designed for travelers with kids: a kiddy pool, a playground, a kids' club; plus large, clean, multi-room suites with at least a kitchenette with a mini-fridge and a microwave. The large pool, the nice beach, the spa, the spacious fitness center with sauna, and the central location are perks as well. But it's an aging property, so expect a few flaking walls, as well as only the most basic resort amenities for adults.
9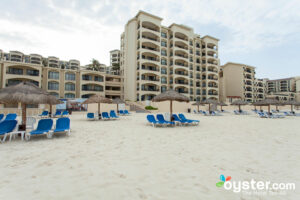 The Royal Caribbean is popular with retirees as well as families with children of various ages. It is one of the few Royal resorts that has not instituted the policy of requiring all-inclusive packages for non-time-share guests. This means that, while fewer amenities are included in the room price, guests are more free to explore what other nearby properties and restaurants have to offer. As with the other Royal venues, each group is assigned a concierge whose job is to sell time-shares to non-members. Overall, the facilities are clean and beach well-maintained, but service is reportedly less oriented towards non-time-share guests than at other Royal properties.
10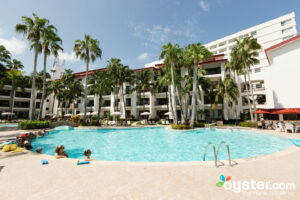 The Royal Cancun (not to be confused with the Royal In Cancun) is a mid-level hotel with a convenient location and plentiful amenities. Although the decor is fairly generic, each of the 288 suites offers fully stocked kitchens, dining tables, updated furniture, and spacious balconies. Perks here include a kids' center for the little ones, a large outdoor pool, and a vast, clean, white-sand beach. There's decent dining on-site, but many visitors choose to stock their kitchens at the market instead. With lovely landscaping, these low-rise units are a good alternative to some of the megaresorts in the area.