Best Luxury Hotels in Capri
If you're planning a Capri getaway and have a flexible budget, you might as well go all out, and stay somewhere as jaw-droppingly stunning as the island itself. We've evaluated every feature of Capri's most splendid hotels to help us determine which properties are the best of the best. Take a look at our top picks!
See All Island of Capri Hotels
1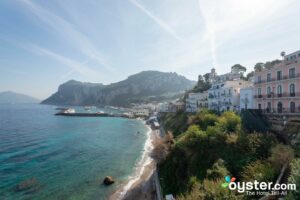 Built in a restored late nineteenth-century villa, this exclusive boutique hotel sits high on a cliff overlooking the Bay of Naples. Most of the 22 large, lush rooms -- beautifully decorated in classic Capri blue, white, and coral hues -- have terraces or balconies. Another five-pearl property to consider could be the Capri Tiberio Palace, which has lower rates but a slightly less sophisticated look.
2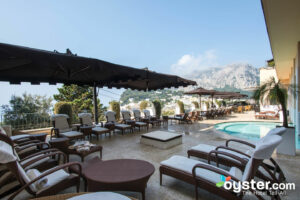 Located five minutes from Piazzetta's shops and restaurants, the 46-room Capri Tiberio Palace has a beachy, travel-inspired decor; a ritzy bar and restaurant; and a host of freebies (minibar, WiFi, breakfast buffet). The tiered, indoor/outdoor wading pool is striking, but guests have noted that the water is often quite cold. Travelers willing to spend more should consider J.K. Place Capri, a five-pearl, preppy-glamorous property with a large outdoor pool.
3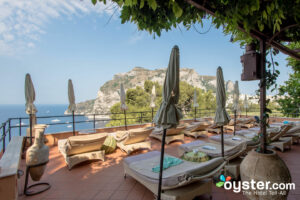 Reachable only on foot, this seriously upscale, seriously peaceful clifftop villa on the southern edge of Capri offers some of the best views on the island. Although it's incredibly elegant, the terra-cotta-toned and natural stone facades clad in colorful bougainvillea give it a rustic vibe. Most of the historic retreat's 44 rooms include enchanting views of the Tyrrhenian Sea, while suites prove particularly luxurious. An excellent breakfast and dining choices, together with two swimming pools and poolside bar and spa, make Punta Tragara one of the finest hotels in the area (with prices to match).
4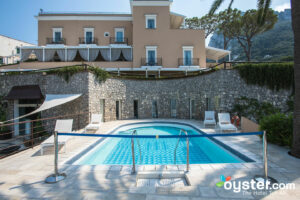 Beautifully manicured grounds dotted with hammocks and romantic sea views are two hallmarks of this hilltop property. The 21 guests rooms have a variety of decor -- some have romantic appeal with four-poster beds and rich drapery, while others have sea motifs -- and modern bathrooms. Its restaurant is tasty, yet pricey, but that is offset somewhat by free breakfasts. The spa offers a sauna, Turkish bath, whirlpool, and indoor pool, and there's a small, tile-floor outdoor pool on the sundeck.
5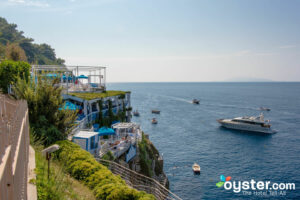 This 79-room property atop Anacapri is far removed from the tourist crowds. Its lobby, eateries, and rooms are airy, spacious, and filled with natural light and distinct artistic touches. There are two open-air Mediterranean restaurants -- one set right on the cliff with a thatched ceiling and simple wooden bright blue furniture; the other looking out on to the lawn and pool, with white linens and cushy seating. The hotel's water-based features consist of an outdoor pool with underwater windows, an indoor pool, hot tub, steam room, and a private beach club with direct ocean access (Capri Palace provides free shuttles to and from).
6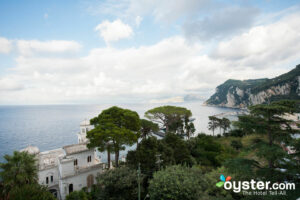 Set halfway between Capri's famed Piazzetta and Marina Grande, this ornate 11-room villa is brimming with gorgeous furnishings and period details. Guest rooms are just as attractive, decorated with art nouveau flair and equipped with iPod docking stations, iPads, and satellite TV channels. There are plenty of spots from which to enjoy the spectacular sea views, including the rooftop Champagne lounge and hot tubs. Other wow factors include superb service, made-to-order meals, free shuttles, reserved beach space, and a breakfast with no cut-off time. For an upscale property with a more modern look, travelers could try La Minerva.
7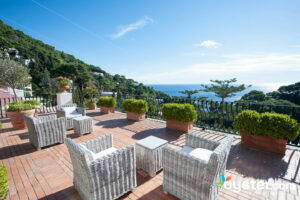 Although its located in the center of Capri, the intimate, inaccessible-by-car La Minerva is on a quiet side street away from the tourist bustle. The family-run boutique hotel's pool, gardens, and rooftop terrace offer sweeping sea views, and most of its rooms have beautiful balconies or huge terraces. Visitors can expect an airy island atmosphere (whitewashed walls, hand-painted blue majolica flooring, arched doorways) and remarkable personal attention.