Best Boutique Hotels in Charleston
Oyster knows what travelers look for in their hotels. When we review properties around the world, we evaluate how every feature stacks up against the competition, from the rooms to the pools to the restaurants. So if you're planning a trip and need a place to start, you've come to the right place. Take a look at our top boutique hotel picks in Charleston and get inspired!
See All Charleston Hotels
1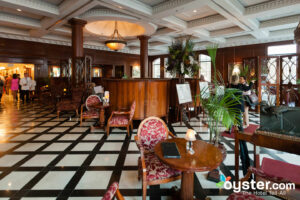 This luxurious property is located across the street from the City Market, in the heart of the most upscale area of the Historic District. It seems there's been more effort put into some of the gorgeous bathrooms (with Hermes toiletries, separate showers and tubs) than into the elegant but somewhat plainer standard rooms. The Concierge Level is definitely worth the extra dollars, with more opulent rooms and wonderful amenities. The great pool area, the solid rooftop bar and the fine steakhouse are some of the highlights of this classy property.
2
This stately historic boutique is one of Charleston's best-known hotels, and has plenty of charming southern details (such as a grand wrought-iron staircase) and a location near Historic Downtown's popular tourist sights. Rooms are spacious and have French-inspired decor, and free extras such as breakfast, daily wine and cheese receptions, and freshly baked cookies add value. But there is no pool or fitness center, unlike at the Market Pavilion Hotel.
3
This 41-room boutique hotel, located within walking distance of Historic District attractions, is housed within two historic buildings dating to the 1860s. Its decor incorporates both traditional Charleston details (such as original brick walls) and West Indies style. The charming rooms, renovated in 2010 and 2011, all have individual decor; some have historic details such as original wood floors. But a few units are very small, and not all of the bathrooms have been renovated. The hotel has few on-site features, but the attractive rooms, convenient location, and multiple freebies make it a good value.
4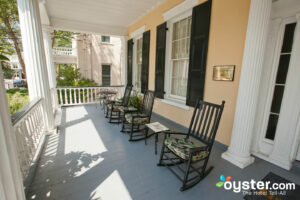 Housed in a beautifully renovated mansion dating to 1843, the Jasmine House Inn has all the charm of a B&B and the comfort of an upscale hotel, plus a central location in downtown Charleston. It has 12 large rooms with hardwood floors, 15-foot ceilings, flat-screen TVs and unique decor that might be a bit too much for some (think matching bedspreads and drapes, patterned rugs, and flowal wallpaper). There are a bunch of great freebies, including a continental breakfast, Wi-Fi and evening hors d'oeuvres -- but you'll have to pay for parking.
5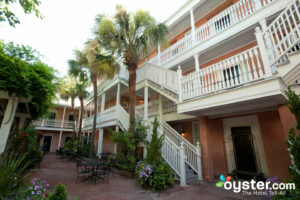 This quaint, 25-room bed-and-breakfast, housed within a Civil War-era private residence, has an excellent location within the Historic District and competitive rates. Rooms are decorated in traditional style (white quilts, four-poster beds, wood floors), and the property features a large Jacuzzi underneath a shady pergola as well as free breakfast and Wi-Fi. Some rooms are on the small side, however, and amenities are few: The hotel lacks a fitness center, business center, and full restaurant.
6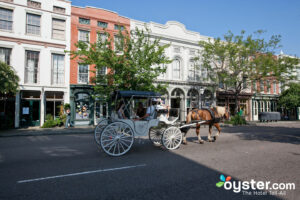 This 40-room property is a real B&B, with quaint, spacious rooms overlooking a lovely courtyard, traditional-style decor (dated for some), and no hotel-style amenities. However, it has a few interesting freebies, including Wi-Fi; breakfast; and afternoon cheese, wine, and fruit. Plus, it's situated in a gorgeous location in the heart of Charleston's Historic Downtown, within walking distance to major tourist attractions. It is not quite luxurious (though it has some nice touches), but it is definitely charming and cozy, and geared toward those who appreciate a quaint B&B experience.