Best Business Hotels in Copenhagen
There may be a 19th-century amusement park right in the heart of the city, but Denmark's capital knows how to get down to business, too. In fact, Copenhagen is often cited as a top destination for business travelers, due to its easy-to-navigate city center, reliable metro system, and many conference-friendly hotels. We explored dozens of those hotels — with an eye toward their location, event spaces, meeting rooms, business centers, restaurants, and bars — and pinpointed the best ones for business.
See All Copenhagen Hotels
1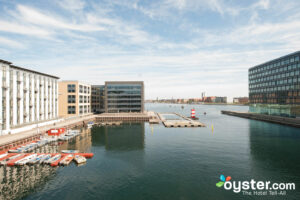 The sleek and shiny Copenhagen Island Hotel is located right on the waterfront in the business district, slightly outside the main tourist areas; it's a popular choice for business travelers, although its affordable rates and nice facilities attract some tourists. The hotel has a number of luxury conference rooms and an exceptionally large business center, and impressive views across the water -- even from the modern gym -- only add to its appeal as a business retreat destination. The large breakfast spread (not included in all rates), bike rentals, free Wi-Fi, a scenic restaurant, and 15-minute walk to the central train station appeal to anyone looking for a modern hotel experience.
2
The Scandic Copenhagen hotel is a 486-room, 18-story upscale hotel located in central Copenhagen and abutting the Vesterbro area. Right along a lake with great views of both the water and Copenhagen, this property has fresh, modern decor and eclectic accents. With a stylish restaurant and bar, free Wi-Fi, small fitness center, and on-site meeting and conference spaces, the Scandic Copenhagen offers an unusually full range of amenities for a mid-city hotel. Like most Copenhagen hotels, the rooms are small and some guests complain that the beds are downright tiny, though rooms are well-decorated and modern.
3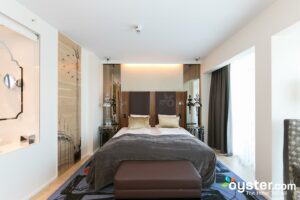 Conveniently located on ring road motorway near the business district, the Tivoli Hotel is a tall, white multi-story building, which complements the equally modern architecture in the area. Like its sister hotel, Copenhagen Island, the Tivoli was designed by Kim Utzon (son of the designer of the Sydney Opera House). The hotel has facilities for business travelers, a business center with a printer, a large and fully equipped fitness center, an indoor lap pool, and a variety of dining choices, but breakfast comes with a fee unless guests have booked specific packages.
4
Located on Islands Brygge near the Convention Center, the upscale Stay Copenhagen is convenient for business travelers and popular with leisure travelers who prefer to stay outside the more heavily trafficked tourist areas. The 172 apartment-style rooms have full kitchens and balconies, some of which offer great views. The decor is stark Scandinavian minimalism, with white, black, and shades of gray predominating. Amenities include extensive meeting and conference facilities, a fully equipped fitness center, three restaurants, and a sky lounge and rooftop terrace.
5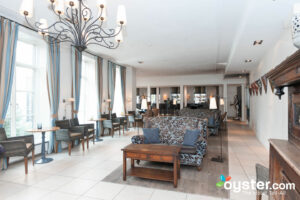 Business travelers are attracted to this upscale boutique hotel's myriad meeting and event facilities, which includes a conference garden. There is also a decadent Thai spa, three restaurants, on-site parking, bicycles to rent, a top-floor art gallery, and a daily happy hour in the fireplace-warmed lobby. The hotel's 155 rooms are all equipped with free Wi-Fi, a limited minibar, flat-screen TV, safe, coffee- and tea-making facilities, and desk and chair.
6
Located a 10-minute drive from the airport, the Crowne Plaza Copenhagen Towers is a convenient pick for guests in transit. This upscale chain hotel has stylish common areas, including its restaurant and lounge, and there's a modern fitness center, but don't expect scenic strolls around the immediate area -- central Copenhagen is a 15-minute metro ride away. The 366 rooms are spacious and contemporary, with modern conveniences like minibars and free Wi-Fi, and Club Room guests receive free breakfast. Guests wanting to stay closer to the city center should compare rates with SP34, a modern, upscale hotel in Copenhagen's Latin Quarter.
7
The 132-room Scandic Front is a good choice for business travelers thanks to its four meeting rooms, the largest of which can accommodate 60 people. The mid-range hotel is in a quiet location close to the city center, and has a fitness room the size of a small public gym. Rooms range from tiny, dark Economy Rooms to two-story suites with spiral staircases, all with modern decor and free Wi-Fi. Breakfast is included in the room rate, and dinner and room service are also available (the restaurant doesn't serve lunch).
8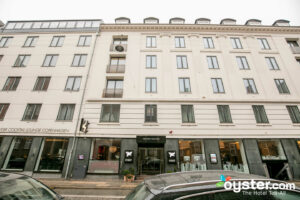 A convenient central location, ample meeting facilities, Mac computers, and free and reliable Wi-Fi draw business travelers to this 200-room upscale chain property. Bright rooms have comfy beds, sleek bathrooms, and pleasant city views -- but they can be small, and some show a bit of wear and tear. Bike rentals and limited secure parking are both available for extra fees.
9
The 403-room Comfort Hotel Vesterbro is an upper-middle-range property that completed a total renovation in April 2015. Its chic, eclectic-modern design reflects the spirit of its location in the trendy Vesterbro neighborhood, which is just a six-minute walk from the city's central train station and near a variety of restaurants, shops, and attractions. Rooms are stylish with design-conscious furniture and a compact layout that's still roomier than the average Copenhagen hotel. While there's no minibar, mini-fridge, or coffee and tea service in rooms, coffee and tea are available in the lobby 24/7. The hotel offers a tasty free breakfast and has a chic on-site restaurant and bar along with stylish meeting rooms and an outdoor courtyard, though there are no fitness facilities. Travelers looking for a property with a fitness facility could try the Scandic Copenhagen, a similar property nearby.
10
This nautical-themed hotel on the Copenhagen harbor offers a small business center, 24-hour room service, and an extensive meeting and events area, with several small and large rooms, lounges, and a private dining area. Its SALT Bar and Restaurant is popular with locals and business diners, as well as guests, and has a waterfront patio open during the warmer months.
11
The Ascot Hotel is an upper-middle-range business hotel in central Copenhagen, a short walk from the main train station. Its 196 rooms and apartments are pleasant, but not particularly impressive, and their plain decor and cheap furnishings seem out of place in a hotel that bills itself as a four-star. Facilities include six meeting rooms, a breakfast room (breakfast is included in most rates), a bar, and a small fitness center, as well as free Wi-Fi and 24-hour room service. Guests wanting something with a little more personality should check out the Copenhagen Admiral Hotel, which isn't quite as conveniently located, but has charming, nautical-themed rooms.
12
Located about a 20-minute walk from the city center, the Avenue Hotel Copenhagen is a 68-room, upper-middle-range boutique hotel that makes for a refreshing alternative to properties in more touristy areas. Rooms are tastefully decorated and come with mini-fridges, flat-screen TVs, and free Wi-Fi, but they don't have AC and can get street noise. The lobby has a Mac desktop computer and printer for guests and offers free newspapers. There are two on-site meeting rooms, one for up to eight guests and the other for up to 50, which are stylish and feature natural light, wood floors and tables, and brown leather chairs. Meeting rooms come equipped with LCD projectors, screens, and white boards.
13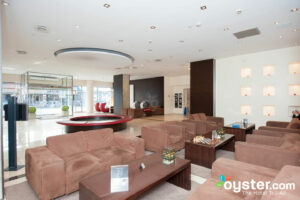 Located right on King's New Square in central Copenhagen, the aptly named Square is popular with business travelers and tourists alike, who appreciate its central location near the railway station, Tivoli Gardens, and other points of interest. Rooms at this mid-range property have generic chain hotel decor, but are well equipped with flat-screen TVs and minibars, and some offer views of the adjacent square. The hotel also has a lobby bar and a breakfast room, as well as multiple meeting spaces, but lacks an on-site gym and restaurant.