Best All-Inclusive Hotels in Costa Adeje
A gorgeous part of Tenerife in the Canary Islands, Costa Adeje is famous for its Insta-ready beaches and majorly fun nightlife scene. Oyster visited the area's many (many) all-inclusive resorts to find the best very ones — Take a look at our expert picks for the best all-inclusive hotels in Costa Adeje, and start planning your own Canarian escapade.
See All Costa Adeje Hotels
1
A 15-minute walk from Playa del Duque, one of Costa Adeje's best beaches, this upscale all-inclusive property has 300 large rooms with flat-screen TVs, minibars, and furnished balconies. They're not as stylish or modern as some may expect for the price, but many have great ocean views. With two pools, a buffet restaurant, daily entertainment, and plenty of kid-friendly amenities, the property offers similar features to most other four-pearl hotels in town -- but there is no full spa here, and Wi-Fi comes at an extra charge. This is probably the area's best all-inclusive; those looking for a slightly cheaper all-inclusive option may want to consider the Dream Hotel Villa Tagoro.
2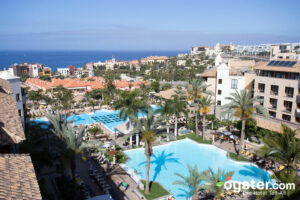 Costa Adeje Gran Hotel is a large, family-friendly hotel conveniently located a short walk from the beach, bars, restaurants, and shops. With three large pools, two restaurants (one particularly good), four bars, optional all-inclusive rates, a relaxing spa, and an attractive fitness center, the hotel offers a solid upscale resort-style stay in a central location. However, some guests may find rooms a little plain for a hotel that advertises itself as a luxury property, and extra fees can add up.
3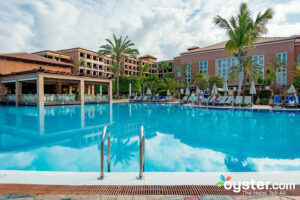 Located in a quiet residential neighborhood, this 467-room all-inclusive resort is a 10-minute walk from all the action. Guest rooms are spacious and sunny, with contemporary decor, furnished balconies, flat-screen TVs, and free Wi-Fi. Bathrooms suffer from some loud orange tiles, but they all have tub/shower combos. With three pools, three restaurants, fitness and wellness facilities, and a kids' club, the property offers all the amenities expected for an upscale property at this level. The hotel's beach, however, is narrow, rocky and not quite appealing. Guests looking to take a dip in the ocean can use the free shuttle bus service to Las Americas or walk to Playa del Duque, one of Costa Adeje's best beaches. Overall, the resort has all the trappings of a Canary Islands vacation, but it's not as tasteful as the H10 Gran Tinerfe.
4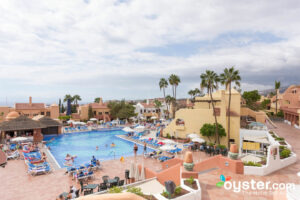 The 205-room, all-inclusive Dream Hotel Villa Tagoro offers families lots to do on-site. There is a large main pool as well as two smaller ones -- including one for kids. Other offerings include tennis, squash, and basketball courts; daily entertainment, and activities for kids and teens. The upper-middle-range rooms are clean, contemporary (if generic), and large, with separate living areas, balconies or terraces, and modern bathrooms. It is a solid pick for those traveling with children, but some guests may miss having access to a spa and a fitness center. Also, the uphill walk from the beach -- located 15 minutes away -- can be challenging.
5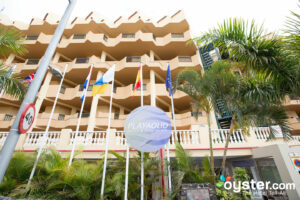 Playa Olid is a family-friendly mid-range hotel located a five- to 10-minute walk from Fañabé, one of Costa Adeje's largest and most famous beaches. The hotel has a total of 202 units, including 183 one-bedroom apartments and 19 studios -- all feature fully equipped kitchenettes, dining areas, living areas (complete with sofa beds in apartments), and balconies or terraces. Most units have received top-to-bottom renovations and are contemporary and comfortable -- but non-renovated rooms are somewhat drab and in need of urgent updates. The buffet restaurant offers a good spread, and the two pools (although small) are pleasant spots for lazy days in the sun. There is little else in the way of amenities, but for an inexpensive family vacation near the beach, Playa Olid is a good pick.
6
The Fañabé Costa Sur is an upper-middle-range all-inclusive a short walk from Fañabé, Costa Adeje's largest beach. Rooms are bright, clean and feature balconies, but they're also a little dated, with basic wooden furniture and tube TVs in most units. There are three pools -- including a large one with a kiddy section and two smaller ones on the rooftop deck with ocean views; plenty of options for those who want to stay active; a small spa; and three bars -- but food is just average and a little repetitive, and there are always long queues for breakfast.
7
From the outside, the Bouganville Playa looks like every other beach hotel in Costa Adeje: boxy, light-colored, and with long rows of balconies covering the façade. However, the upper-middle-range beachfront hotel is gradually adding some fun touches to its public spaces and rooms. Renovated rooms look fresh and contemporary, with all-white decor and a few bright accents (non-renovated units, however, are underwhelming). And with two large pools; entertainment both for kids and adults; a well-equipped fitness center; two restaurants; and several meal plans, the large, family-friendly resort appeals to a broad range of travelers.
8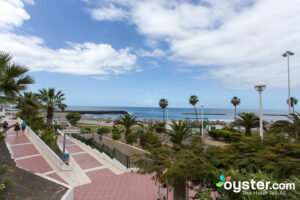 Families with young children would do well at this 473-room, mid-range all-inclusive. It is not a 4-star property (as advertised), but it does feature a few nice amenities, including a large pool with a kiddy section; a kids' club; two restaurants; and daily entertainment. The location a two-minute walk from a great beach is a major plus -- but rooms, although spacious and sunny, are basic, with dated decor, average bathrooms, and balconies furnished with plastic chairs. It's a busy hotel, so couples looking to spend some quiet days in the sun may want to compare rates at neighboring adult-only Hovima Costa Adeje.
9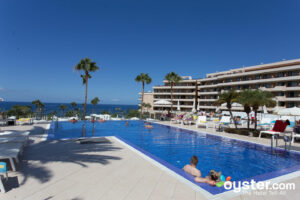 Formerly the Luabay Costa Adeje, this hotel is now a mid-range, adult-only all-inclusive with a somewhat quieter vibe than nearby hotels. While marketed as a luxury property, rooms are pleasant but just average, with basic blonde wood furniture and typical amenities such as flat-screen TVs and mini-fridges. There are two restaurants, a small spa, a basic but modern fitness center, and daily entertainment. But the highlight here are the pools, especially the infinity-edge one on a higher floor, which features wonderful ocean and sunset views. The hotel offers good value overall -- just beware of the many extra fees. Those with kids (not permitted here) may prefer the similarly priced Iberostar Bouganville Playa.
10
The 120-room Hotel Villa de Adeje Beach is an all-inclusive property geared towards travelers on a budget. Two outdoor pools -- one heated and one large enough for laps -- are nice amenities, but other features including the buffet restaurant and fitness center are quite basic. Apartments and Studios are spacious but no-frills with patterned bedspreads and functional furniture. The location within walking distance of beaches is convenient, and there are lots of restaurants, bars, and shops nearby but this dated, basic property charges extra fees for everything from Wi-Fi to the in-room safe to the coin-operated TVs.