Best Kid-Friendly Hotels in Gulf of Papagayo, Province of Guanacaste
Take a look at the best kid-friendly hotels in Gulf of Papagayo.
See All Occidental Papagayo - Adults only Hotels
1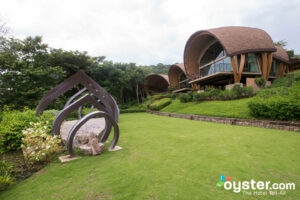 Travelers seeking minimalist jungle luxury will find it at the Andaz Peninsula Papagayo — an architectural stunner that appears to be built into the side of a cliff. Hyatt's hip boutique line, Andaz, is known for its high style and creative approach to hotel design, and the chain's luxurious Papagayo's outpost is no exception. Spread across 28 hilly acres, the Andaz's 153 minimalist rooms, three restaurants, 11,000-square-foot spa, and 24-hour fitness center, are housed in dozens of tree house like buildings. But the hotel's high design isn't always functional, or convenient, as seen by the hordes of guests who continually wait for golf carts to shuttle them around the property. The neighboring Four Seasons is even more luxurious, while El Mangroove by Enjoy Hotels is cheaper but still chic, and has a more convenient location.
2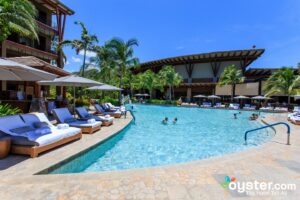 Easily among the most luxurious resorts in Central America, The Four Seasons is as close to perfection as it gets. With two beautiful beaches, ocean views from each one of the sumptuous rooms -- decorated in materials including wood, bamboo, and stone -- and an 18-hole golf course, the resort makes it possible for guests to spend their whole vacation on-site. Those who do choose to explore beyond Peninsula Papagayo should note that the roads in Guanacaste are in poor condition.
3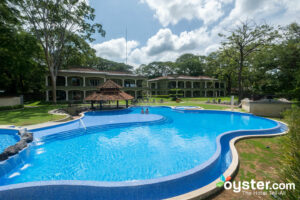 Casa Conde Beach-Front Hotel is a laid-back all-inclusive property with an outstanding beachfront location. The upper-middle-range hotel has 50 rooms split between older and newer sides -- newer rooms are worth the upgrade, considering they're larger, brighter, and have more modern amenities, while older rooms have paper-thin walls and lack natural light. Casa Conde's best features are its two large pools and direct access to the humongous Playa Panama. While there is only one restaurant, food at the hotel is surprisingly tasty for an all-inclusive. Additional amenities include free Wi-Fi, a small fitness center, and a kids' club, but most of the guests here are adults. Families may prefer the more lively Flamingo Beach Resort & Spa in Playa Flamingo.
4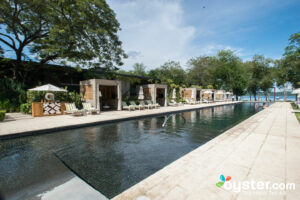 When El Mangroove opened in 2014, the upscale boutique asserted itself as one of the premier properties on the Papagayo Peninsula. Set amid 15 acres of beachfront mangroves, the hotel has a stunning natural setting and a secluded feel. The 85 rooms are thoughtfully designed, featuring hammocks, minibars, and rainfall showers. Amenities are top-notch, including two restaurants, a stunning outdoor spa, a modern fitness center, and an upbeat pool area. The major drawbacks? Rooms don't overlook the water, Wi-Fi can be spotty, and many guests feel prices are too high for the quality offered. For more tried-and-true luxury, guests can check out the Andaz Peninsula Papagayo Resort across the bay, though rates are more expensive.
5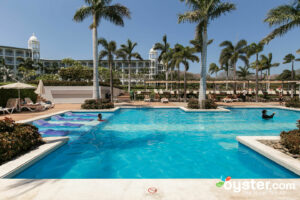 Hotel Riu Palace Costa Rica is a four-pearl resort located on Playa Matapalo. The hotel's 538 rooms and extensive facilities are more sophisticated than one might expect of a chain property, and the array of activities and restaurants is sure to satisfy fans of big, all-inclusive hotels. Aside from access to Playa Matapalo beach, there aren't really any attractions or dining options within walking distance, but the all-inclusive package encourages most guests to dine on the property and take advantage of its on-site entertainment anyway. The nearby Secrets Papagayo Costa Rica offers a more intimate, all-inclusive experience but rates are typically higher than Riu Palace's.
6
Golden Palms Papagayo is a lovely, three-and-a-half-pearl hotel located on the outskirts of Playa Panama. The hotel's 40 junior suites are clean and inviting, offering small sunken living areas with sofa beds. The property includes a picturesque outdoor pool as well as access to a nice if somewhat rocky beach. Golden Palms' free breakfast is a step-up from the buffet spreads you'll find at many comparable properties, giving guests a choice from a small menu of freshly cooked options. While the hotel's setting between Playa Panama and Playa Hermosa is convenient for guests with a rental car, those getting around on foot might find it a tad isolated. Travelers looking for an all-inclusive option might prefer the nearby Occidental Grand Papagayo.
7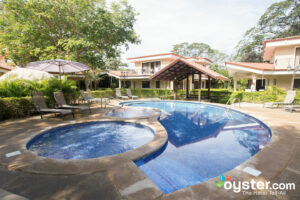 Hotel and Villas Nacazcol is a down-to-earth, three-pearl hotel located a 10-minute drive from Playa del Coco. The property's 185 guest rooms, suites, and villas are dated but adequately equipped, offering coffeemakers, flat-screen TVs, and minibars. Its grounds feel more like a small neighborhood than a typical hotel property, featuring two sizable pools, a handful of aging sports facilities, and two low-key, poolside restaurants. Free a la carte breakfast is included in the room rate, and guests also have access to a beach club near Playa Panama with two additional pools. Travelers who would prefer to stay right on the beach might consider Bahia Pez Vela Resort, an all-villa property on nearby Playa Ocotal.