Most Romantic Hotels in Croatia
Renowned wines, historic buildings, and gorgeous beaches along the Adriatic Sea help make a trip to Croatia decidedly romantic. Whether heading to capital city of Zagreb, the coastal city and UNESCO World Heritage site Dubrovnik, or the port city Split with Roman ruins, there's much to do and see in Croatia. We visited the country's most popular hotels to see how they stack up — from the guest rooms to the pools to the food. So if you're looking to take a trip with your significant other, look no further. Check out the most romantic hotels in Croatia and get inspired!
See All Croatia Hotels
1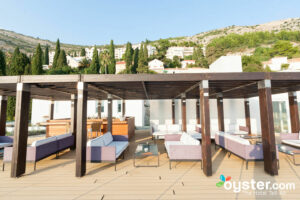 The 56-room Villa Dubrovnik is a luxury boutique with top-class facilities overlooking the pristine Adriatic Sea. Located away from the main tourist hub, yet still with easy access to Old Town, the hotel's sense of seclusion blends with impeccable service and a romantic setting to create something rather special. Rooms are modern and inviting with big balconies and sea views; bathrooms have nice extras such as under-floor heating. Suites have private hot tubs. There are an indoor pool, spa, and fitness center on-site, along with multiple restaurant and bar options. It's certainly one of the pricier options available in the area, but if the budget can stretch, it's worth every penny.
2
The 19-room Pucic Palace is a luxury boutique set in a superbly restored 18th-century palace in the center of Dubrovnik's stunning Old Town. The building's original Baroque ambience has been meticulously maintained with original antiques and refined historic detailing throughout. Rooms are stately and grand with long drapes and carpets covering wood floors; marble bathrooms are a particular highlight. The lack of spa facilities is a minor gripe, and some rooms are smaller than others, but this is without doubt one of the finest, if not the finest, hotel within the city's ancient walls.
3
The newest part of the Importanne Resort along the coast of Lapad Bay, the Royal Princess Hotel is also the most luxurious. The restaurant and bar have enviable outdoor terrace seating, and each all-suite room has a private balcony. While it doesn't have a proper beach, the hotel sits right at the edge of the pristine waters of the Adriatic, where swimming conditions might be more appealing than at some of the area's crowded pebble beaches. A seaside promenade allows for easy access to the other properties within the resort, in addition to the Royal Princess's full spa, and indoor and outdoor pools. Tourists should note that the hotel is far from the historic attractions in Old Town but is also on the bus line that can take guests there within 15 minutes. Its dramatic location overlooking the rocky shore, chic modern facilities, and large elegant suites put it at the top of the list in Dubrovnik.
4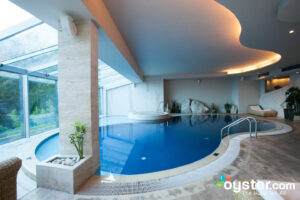 Perched on cliffs above the Adriatic Sea, Hotel Bellevue Dubrovnik hides its own private cove with a pebble beach complete with a sea cave. The rooms are on the large side with desks and sitting areas, each facing the sea, though not all have a balcony to fully take in the view. The luxury amenities include a great Mediterranean restaurant as well as a more casual eatery  on the beach, and a free breakfast. Meeting rooms and a full spa with an indoor pool and fitness center round out the necessities for both tourists and business travelers. The historic Old Town area is a way down the road, but most of its attractions are still within walking distance.
5
A 2014 renovation of the 292-room Valamar Dubrovnik President Hotel has taken this high-end, holiday resort to the next level. With smart and tastefully contemporary interiors throughout and quality facilities, the property easily deserves its luxury-level rating with large pools (both outdoor and indoor) and an excellent spa as particular highlights. Sea-view sunsets can be enjoyed from every stylish, relaxed room, even from the comfort of sunbeds on spacious balconies. It might feel a little isolated, but Dubrovnik's renowned Old Town is still easily accessible by car. Rates are surprisingly low for this caliber and half-board options can provide even better value.
6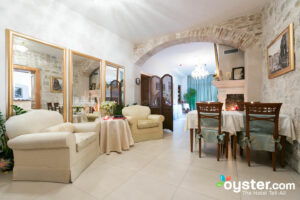 On an ancient square in the heart of town, The Palace Judita Heritage Hotel is a great place to experience the history of old Split. Occupying a small, renovated Renaissance-era palace, it's slim on facilities but big on authentic charm. There are only eight rooms, but each is different, with exposed stone walls and modern bathrooms. All the main tourist attractions are within walking distance, and the hotel provides a free shuttle to its free off-site parking lot. Travelers heading to Split should check here first, and watch for low rates in the off-season.
7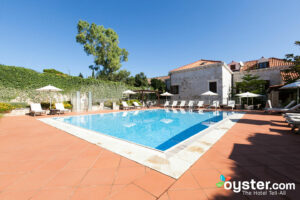 The 13-room Hotel Kazbek is a boutique property housed in a nicely renovated 16th-century country villa two miles from Dubrovnik's Old Town. Its tranquil and relatively secluded setting is perfect for those seeking a bit of peace and quiet away from the city's touristic heart -- though might feel a bit detached for some. Rooms skillfully blend old-world decor with the latest tech and both pool and restaurant are first-class. High rates reflect the hotel's high-end quality and when you're zipping around their private speedboat chances are it'll feel well spent.
8
Built on a cliff overlooking Lapad bay, Hotel More has its own private access to the Adriatic from a concrete terrace along the rocky shore. Travelers looking for a sandy beach may be disappointed, but the hotel hides a natural cave that makes Top 10 lists for coolest bars in the world. The restaurant pairs regional dishes with an extensive wine list and outdoor terrace. Rooms are posh if dated, but they have marble bathrooms with big jetted tubs. Sightseers must travel across the peninsula to get to Old Town attractions, but views of the islands are right outside.
9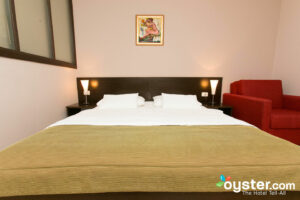 The Berkeley Hotel checks all the boxes within its rating category, and its affordability is another plus. The venue stands out among other three-pearl hotels in the area due to its various leisure and sporting boats (skippers included) that can be rented out and taken on private excursions. Apart from the Gruz Harbor ferry terminal, the location isn't convenient for tourists without cars, though nearby public transportation makes the rest of Dubrovnik easily accessible. The room furnishings and bathrooms have been updated, and the free breakfast spread is better than most.