Best Kid-Friendly Hotels in Cayo Coco, Jardines del Rey Archipelago
Take a look at the best kid-friendly hotels in Cayo Coco.
See All Cayo Coco Hotels
1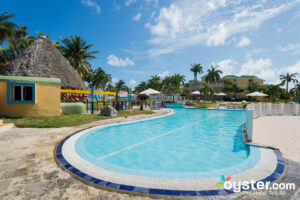 Tryp Cayo Coco is an all-inclusive three-pearl resort with sprawling palm-treed grounds and plenty of space for guests to find tranquillity or fun or both. The 607 rooms are dated, but clean and vibrant. They come with large patios (some with stunning sea views), mini-fridges, and flat-screen TVs. Overall, the resort is starting to show its age, however grounds are meticulously maintained and updates are underway as of 2017. The biggest highlights here are the gorgeous aqua beach (Playa Larga) on which the resort sits, and the enormous lagoon-style pool. There's plenty to eat, drink, and do on-site -- guests appreciate the evening entertainment, and while food reviews are mixed, the buffet is solid and diverse -- there are five a la carte restaurants. TRYP isn't luxurious, but it's well suited to families, couples, and groups (especially water lovers) seeking a laidback timeout. Travelers seeking a newer Cayo Coco resort could try Melia Jardines Del Rey.
2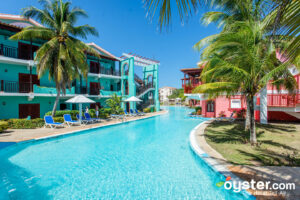 Mid-range Hotel Colonial unfolds like a charming Spanish village -- bordered by a stretch of white-sand coastline for which Cayo Coco is renowned. As Cayo Coco's first ever resort, the place could really use some updates, but guests appreciate the Old World charm and many return every year. Brightly-colored colonial buildings contain the 458 rooms and wrap around its two sweeping pools and palm tree grounds. The rooms are simple but come with furnished balconies and pool, sea, or garden views. There's plenty to eat and drink on-site -- some guests love the all-inclusive food, while others leave unimpressed. A major (off-site) highlight is the sprawling spa center that feels like a slick European transplant. Those seeking a more contemporary vibe could try Melia Jardines del Rey.
3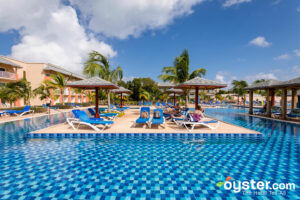 Following new U.S. State Department regulations issued November 9, 2017, American travelers are prohibited from staying at this hotel. Read the full list of restricted businesses here. Melia Jardines Del Rey is a family-friendly, upper-middle-range whopper of an all-inclusive resort that's spread out across sprawling beachfront grounds like a private island compound. Its 1176 rooms are spacious, with balconies and stocked mini-fridges. Classic Rooms are pleasant, although they show some wear. Suites up the style ante, with beachy wicker furniture and perks like hydromassage bathtubs. The white-sand beach with a cute thatch-roof bar, is without a doubt the property's best feature. The outdoor pools with swim-up bars are also a hit. While there are nine dining options and six bars, food reviews are mixed and many of the a la carte restaurants are open only for dinner.