Best Beach Hotels in Willemstad, Curacao
Take a look at the best beach hotels in Willemstad.
See All Willemstad Hotels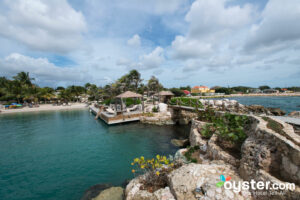 This 23-room luxury boutique hotel is a Balinese-inspired paradise in Curaçao where the details make the difference -- hand-carved teakwood pieces, gift bags left on the beds, and candles lit all around the property are just a few examples. The highlights of the resort are the elegant rooms and villas, some with private pools, the excellent fine-dining restaurant, and a lovely (though man-made) stretch of tranquil beach. This is the top luxury resort on Curacao, without contest. Those looking for a larger luxury property with an all-inclusive option might prefer the Santa Barbara Beach & Golf Resort, however.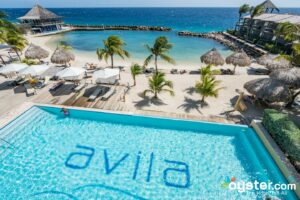 This upscale oceanfront resort, opened in 1949, is the longest continuously open hotel on the island of Curacao -- and over its history it has maintained roots by preserving the refurbished original mansion and the quaint Dutch colonial architecture. Today the 150-room hotel blends history with modern luxury, offering updated rooms with flat-screen TVs, a sleek infinity pool, an excellent gym, business facilities, two small beaches, and three restaurants. Couples may also want to consider the similarly priced, adult-only Floris Suite Hotel, though it's a short walk from the beach.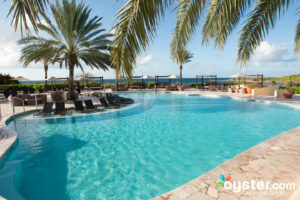 This sprawling, immaculate 350-room luxury resort draws both couples and families with its lovely spa, tennis lessons, kids' camp, and three pools. With an 18-hole golf course and meeting rooms, the hotel is also popular with business and corporate guests. The wide, white-sand beach and protected swimming area are also highlights. Though it enjoys a quiet location with natural beauty, the Santa Barbara Beach and Golf Resort is far from town and no other restaurants or hotels are anywhere close by. Still, it's easily one of the island's top options -- the Baoase Luxury Resort is nicer, but also significantly pricier, making this a terrific luxury value.
This 60-room, upper-mid-range resort is fun for families at kids-at-heart who love the sea -- it's both surrounded by water and connected to the Sea Aquarium next door, which is home to dolphins, sea lions, flamingos, and more. There is a waterfront Italian restaurant on-site, and plenty more dining options can be found in walking distance. The resort offers two great pools and small, sometimes crowded, beach under a lovely grove of palm trees for shade. It's also worth considering the Avila Beach Hotel, which has a nicer beach, but it can be slightly pricier.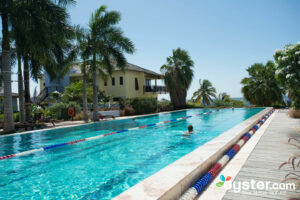 This large upper-mid-range resort is a hub of sporty activities and family-friendly fun. With a popular dive shop, a 50-meter lap pool, and an excellent fitness center, there's plenty to keep busy. For those coming for the famed Caribbean sea, the resort has a lovely, wide white-sand beach. The apartments and suites are modern and sleek, though hotel rooms are in need of some updates. There are four restaurants on-site, but this is a lively location and several more dining options are within a five-minute walk. It's worth comparing prices with the more luxurious Santa Barbara Beach & Golf Resort, though, which is sometimes not much more.
Papagayo Beach Hotel is a fashionable, four-pearl property located on Jan Thiel Beach. The hotel's 155 guest rooms have clean lines and trendy decor, and all feature roomy balconies, flat-screen TVs, electric kettles, mini-fridges, coffeemakers, and free Wi-Fi. There's an infinity pool with striking ocean views, and guests have access to extensive facilities at the neighboring Papagayo Beach Club and Papagayo Beach Plaza. Unfortunately, the hotel has a handful of issues that prevent it from feeling like a luxury property. Also, guests with limited mobility should be aware that there's no elevator. Families looking for a stay with more kid appeal can check out Royal Sea Aquarium Resort.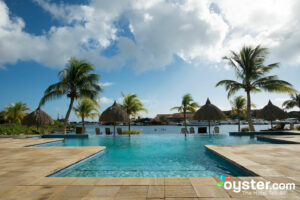 La Maya Beach Luxury Apartments is a serene property featuring 34 luxury two-bedroom apartments, all with views of a harbor known as the Spanish Water. The modern, upscale apartments have beautiful kitchens and decks facing out onto a lovely pool. However despite the hotel's name, the beach area is underwhelming and the murky water is not great for swimming. There is no restaurant, fitness room, or other amenities on the property. Guests should rent a car in order to access lots of dining and nicer beaches close by, as nothing is within walking distance. Those who prefer to stay a nicer beach should consider the similarly priced Santa Barbara Beach & Golf Resort, Curacao, though its rooms lack La Maya's kitchens and space.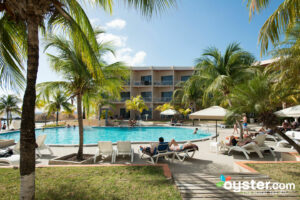 As one of the few fully all-inclusive resorts on the small island of Curacao, Sunscape Resort is a popular pick. This large 341-room upper-mid-range resort is a great family-friendly option, with many games and activities available for teens and kids, from soccer and kayaking to movie nights and even a rock wall. Its rooms are colorful and updated rooms and the central location is close to shops and nightlife. The tradeoff for these features and convenience are the crowds, which often pack the beach and pool areas. The Renaissance Curacao and Curacao Marriott Beach Resort have optional all-inclusive packages, so it may be worth comparing rates.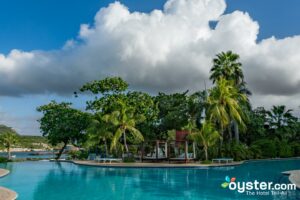 Located right on the shores of Piscadera Bay, the three-and-a-half-pearl Hilton Curacao is certainly trying to be a stylish beachfront getaway. Indeed, its amenities are impressive on paper: a private beach, infinity pool, multiple restaurants, and a modern fitness center. The 196 rooms are pleasant, but the summery pastel palette and oak veneer furniture somehow look dated despite a 2014 renovation. While there are terraces in each room, some are beat up, and the beach is small and unimpressive. It's a bit far from downtown Willemstad, and like most Curacao destinations a car will be handy. For something far more stylish and intimate, consider the nearby Floris Suite Hotel. It's only a five-minute walk from a way prettier beach and rates are consistently lower, though it's adult-only.
This 200-room lower-mid-range hotel has a nice pool and a peaceful beach -- but the rooms and common areas are old, dated and in obvious need of updates. Located a 15-minute walk from town, dining options and shopping are just within reach. The hotel's casino and 24-hour Denny's are a popular draw for locals, and are also active reminders that you're at a budget-minded property. In fact, let Denny's be the bellwether: If you're a fan, then you'll likely feel right at home with the scene here. Even if you're not, this is still one of the most affordable beachfront hotels on the island -- but it's worth comparing prices with the Royal Sea Aquarium Resort.