Best Boutique Hotels in Willemstad, Curacao
Take a look at the best boutique hotels in Willemstad.
See All Willemstad Hotels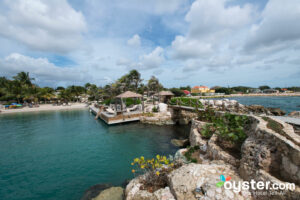 This 23-room luxury boutique hotel is a Balinese-inspired paradise in Curaçao where the details make the difference -- hand-carved teakwood pieces, gift bags left on the beds, and candles lit all around the property are just a few examples. The highlights of the resort are the elegant rooms and villas, some with private pools, the excellent fine-dining restaurant, and a lovely (though man-made) stretch of tranquil beach. This is the top luxury resort on Curacao, without contest. Those looking for a larger luxury property with an all-inclusive option might prefer the Santa Barbara Beach & Golf Resort, however.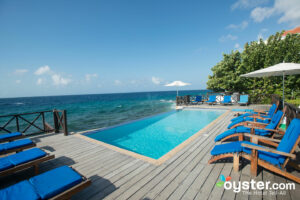 This hip, vibrant 21-room boutique hotel offers a laid-back island vibe and is set in historical 19th-century Dutch colonial buildings. The colorful mid-range property with two small pools is located in Pietermaai, a district known for local art and culture. The Scuba Lodge is a dive-centric hotel, as the name suggests, but it still offers plenty of value to non-divers with its friendly, welcoming charm, ocean views, and location close to town. It stops short of having a beach, however – there are some sandy areas to lounge in, but the coast is rocky and the closest beach is a bus ride away. If a beach is a priority, consider the similarly priced (or sometimes slightly pricier) Avila Hotel.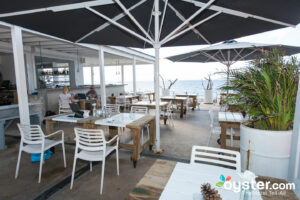 This tiny, charming nine-room boutique hotel offers a warm, personal setting and a hip, stylish atmosphere throughout, and is perched on the edge of the deep blue sea. An excellent outdoor restaurant, an upscale boutique, and a tiny pool are the extent of the features at this upper-middle-range property, but the convenient location is just a 10-minute walk from the myriad sights and sounds of popular downtown Willemstad. There's no beach, though; if that's a priority, consider the often similarly priced Kura Hulanda Lodge & Beach Club.
Set on a lush hill overlooking the Caribbean Sea, Papagayo Beach Resort's 75 stand-alone villas -- some with ocean views and private pools -- are a mix of bright, shabby-chic bungalows and 60s mod-infused villas with partial air-conditioning, free Wi-Fi, and flat-screen TVs. Wraparound balconies make splurging on an ocean view a worthwhile consideration. The resort's restaurant gets solid reviews, and the pool is rarely crowded as guests are usually lounging on Jan Thiel Beach, a five-minute walk away. Many additional features, including a casino, gym, and spa, are located at the resort's sister property and at their beach club. If you'd like a bit more refined style and don't mind a short drive to the beach, Acoya Hotel Suites and Villas hits the spot instead.
This 60-room, upper-mid-range resort is fun for families at kids-at-heart who love the sea -- it's both surrounded by water and connected to the Sea Aquarium next door, which is home to dolphins, sea lions, flamingos, and more. There is a waterfront Italian restaurant on-site, and plenty more dining options can be found in walking distance. The resort offers two great pools and small, sometimes crowded, beach under a lovely grove of palm trees for shade. It's also worth considering the Avila Beach Hotel, which has a nicer beach, but it can be slightly pricier.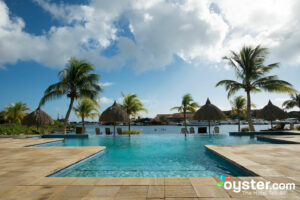 La Maya Beach Luxury Apartments is a serene property featuring 34 luxury two-bedroom apartments, all with views of a harbor known as the Spanish Water. The modern, upscale apartments have beautiful kitchens and decks facing out onto a lovely pool. However despite the hotel's name, the beach area is underwhelming and the murky water is not great for swimming. There is no restaurant, fitness room, or other amenities on the property. Guests should rent a car in order to access lots of dining and nicer beaches close by, as nothing is within walking distance. Those who prefer to stay a nicer beach should consider the similarly priced Santa Barbara Beach & Golf Resort, Curacao, though its rooms lack La Maya's kitchens and space.
Set in a former ice cream factory, the three-pearl The Ritz Village Hotel -- no, not that The Ritz -- has 70 budget-minded rooms and suites in Willemstad's Scharloo neighborhood. Most of the cheap, cheerful rooms are contemporary and many incorporate the original cement floors from the site's factory days. However, be forewarned that there is no hot water. The historic district is a 10-minute walk from here and it's a 20-minute drive to the closest beach, but with free nightly movie screenings and a restaurant and bar, this is a fine place to unwind after a day exploring. For a bit more pampering and a quick drive to the beach, Acoya Hotel Suites & Villas is a worthy consideration, though rates are higher.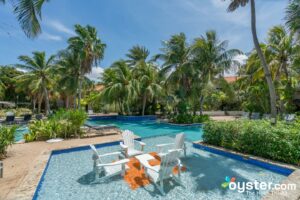 The Floris Suite Hotel is a sleek, modern adult-only resort that caters to couples and friends who are looking for chic relaxation. This 72-room, upscale hotel makes a statement with its crisp, all-white decor. The excellent pool area is a definite highlight, while there are two nice beaches close by, but not directly connected to the property. Those who prefer to be right on the sand might consider the Avila Hotel, though its beachfront can get crowded.