Best Value Hotels in Willemstad, Curacao
Take a look at the best value hotels in Willemstad.
See All Willemstad Hotels
Boutique Hotel 't Klooster is a pleasant, three-pearl property located in Curaçao's trendy Pietermaai District. Housed in a repurposed monastery, this compact property embraces its heritage with 26 guest rooms that feature colorful original floor tiling as well as a restaurant set in the building's old chapel. A good location and intriguing history are this property's strong points, but guests should bear in mind that the rooms and facilities are no-frills across the board. Travelers with some flexibility in their budget might want to consider Avila Beach Hotel, which also offers a historic setting along with direct access to the beach.
Set in a former ice cream factory, the three-pearl The Ritz Village Hotel -- no, not that The Ritz -- has 70 budget-minded rooms and suites in Willemstad's Scharloo neighborhood. Most of the cheap, cheerful rooms are contemporary and many incorporate the original cement floors from the site's factory days. However, be forewarned that there is no hot water. The historic district is a 10-minute walk from here and it's a 20-minute drive to the closest beach, but with free nightly movie screenings and a restaurant and bar, this is a fine place to unwind after a day exploring. For a bit more pampering and a quick drive to the beach, Acoya Hotel Suites & Villas is a worthy consideration, though rates are higher.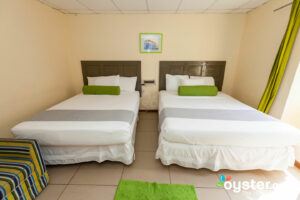 On an island full of expensive hotels and resorts, Mustique Suites stands out as a solid budget option. Located in Willemstad's UNESCO-listed Otrobanda neighborhood, it's close to the city's pastel-painted downtown as well as restaurants, bars, and casinos. Originally built as a private residence in 1935 on the sometimes busy Roodeweg Street, Mustique is eight-room guest house that's a base for those who don't need many frills. Rooms are simply furnished and include just a bit of seating, tiny flat-screen TVs, air-conditioning, and en-suite bathrooms. All but two rooms have full kitchens, and there's a shared kitchen available for all. For a reasonably priced guest house with more character and amenities like a pool, bar, and restaurant, check out The Ritz Studios instead.
First Curacao Hostel is a cute, two-pearl property located on the outskirts of downtown Willemstad. Its 44 tidy hostel-style dorms are basic but have colorful decor, AC, and free Wi-Fi. Guests have access to shared kitchens with fridges and microwaves, but no hotplates. First Curacao shares features, like a pool with a pool bar, with its sister property The Ritz Village Hotel, but the property is not on the beach, and there are a few other drawbacks -- such as showers with no hot water. Guests looking for amenities that are a notch up can check out Mustique Suites Curacao.
Trupial Inn is a charming, three-pearl property located a short drive away from downtown Willemstad. The inn's 98 rooms feature smart decor, practical amenities like microwaves and mini-fridges, and nice views of the property's lush grounds. There's an Italian restaurant on-site, plus plenty of other restaurants within walking distance. With its uncrowded pool, breezy vibes, and well-kept facilities, Trupial Inn has a lot going for it -- the main drawbacks are that it's not on the beach and the attractions of Willemstad are not accessible on foot (although free shuttle service is available). Travelers who prefer to stay right on the beach might also want to consider the Royal Sea Aquarium Resort, but expect room rates there to be higher.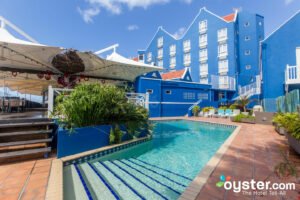 Otrobanda Hotel and Casino is an unfussy, three-pearl property with a convenient location in downtown Willemstad. While colorful and contemporary, the decor in the hotel's 45 rooms looks a bit hodgepodge. Many rooms offer appealing views over the bay, but none have balconies. On-site amenities include an adequate pool and a picturesque restaurant, but there's plenty more to do and see within easy walking distance. While the hotel's location is ideal for shopping, dining, and sightseeing, it's also not on the beach. The Royal Sea Aquarium Resort tends to be slightly pricier, but it's a solid alternative for travelers who prefer to have direct access to the sand.
This 80-room hotel is the epitome of a budget option, with a dated look and feel, peeling paint, and an overall lack of amenities. The rooms have some updates, like new bedding and flat-screen TVs, but look closer and you'll find cracked windows and less-than-tidy conditions. The San Marco's main redeeming quality is its location -- right in the middle of historic downtown Willemstad. Only if you are on a strict budget, are only staying one night, and need to be in the center of town should you look into the San Marco -- actually, even then, consider other options before choosing this hotel.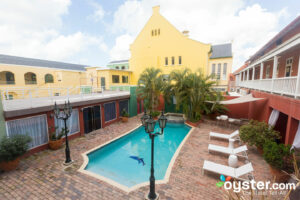 E M City Hotel is an unfussy, two-and-a-half-pearl property located in the heart of downtown Willemstad. The hotel's 70 rooms are attractively priced and its location right in front of the Queen Emma Bridge is unbeatable; however, its rooms and facilities are in serious need of a refresh and guests should be prepared to manage their expectations accordingly. Amenities are limited to an outdoor pool and a casino, though many attractions and restaurants can be found within easy walking distance. Travelers may want to compare rates and amenities with the neighboring Otrobanda Hotel and Casino.
This 200-room lower-mid-range hotel has a nice pool and a peaceful beach -- but the rooms and common areas are old, dated and in obvious need of updates. Located a 15-minute walk from town, dining options and shopping are just within reach. The hotel's casino and 24-hour Denny's are a popular draw for locals, and are also active reminders that you're at a budget-minded property. In fact, let Denny's be the bellwether: If you're a fan, then you'll likely feel right at home with the scene here. Even if you're not, this is still one of the most affordable beachfront hotels on the island -- but it's worth comparing prices with the Royal Sea Aquarium Resort.