Best Luxury Hotels in Paphos, Paphos District
Take a look at the best luxury hotels in Paphos.
See All Paphos Hotels
1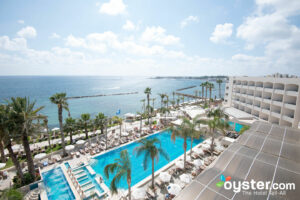 The 202-room Alexander the Great is an upscale beachfront resort that caters to a largely U.K. clientele of families and older couples. In addition to a crescent-shaped beach, there are four pools, including a children's splash pool and a large adult-only pool with massaging water loungers. Rooms are elegant and modern plus many feature ocean views from scenic balconies, but street-facing rooms pick up traffic noise. This stylish property offers meal plans with several on-site dining and drinking spots; these include the main buffet-style restaurant with rotating themes, a beachfront Japanese restaurant, and an outdoor entertainment venue serving cocktails and light snacks. The hotel is centrally located in the ancient town of Paphos, within a short walk of shops, cafes, and the harbor. Travelers might want to compare rates at the Louis King Jason, a boutique with stunning, apartment-style accommodations.
2
The 110-room upscale Constantinou Bros Asimina Suites Hotel is an adult-only resort on a private rocky beach with two large outdoor pools plus a heated indoor pool. Sophisticated amenities include a full-service spa, a large fitness center, and three restaurants -- plus thoughtful touches such as staff passing out frozen fruit by the pool. Bright suites feature comfy beds, private balconies, and marble bathrooms, but the wood furnishings are dated. Although there is some evening entertainment, this is not a party hotel -- it has a genuine romantic vibe with enough good food and on-site services and activities to please guests who want to relax and stay put. It's worth comparing rates with the Louis King Jason hotel, which has more modern rooms but is a 10-minute walk to the beach.
3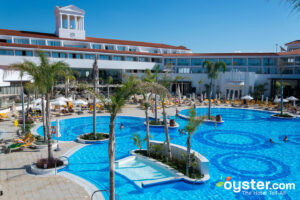 Olympic Lagoon Resort Paphos is an upscale all-inclusive resort located right on the beach in Paphos, not far from the city's well-known archaeological attractions. The 276 rooms here are bright and modern, with marble bathrooms and furnished balconies, and some room types feature four-poster beds. There are tons of amenities for families and couples alike, including a couple of kids' clubs for different age groups, five gorgeous lagoon pools (one with a Mayan temple feature and a waterslide), and dining options that run the gamut from Italian to Asian to Cypriote. There's also an adult-only wing with its own dedicated pool. Guests who are not staying in adult-only rooms only get access to the family-friendly areas, even if they've left their kids at one of the kids' clubs. Families should compare rates at King Evelthon Beach Hotel & Resort, which has its own water park.
4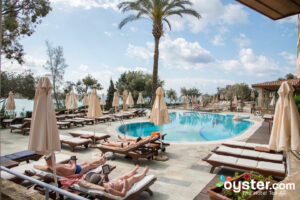 The four-pearl Sentido Thalassa Coral Bay is a quiet beachfront hotel just north of Paphos. All of the 100 rooms have views out over the sea and feature soft decor and furnished balconies. While the hotel does offer a meeting room, amenities are largely geared toward leisure travelers and include a lovely spa with free steam and sauna facilities, indoor and outdoor pools, a fitness center, and direct access to a sandy beach with lounge chairs and a beach bar. There are also two on-site restaurants, one with show cooking and themed nights, the other with a la carte fine dining. All-inclusive rates are available. As this is an adult-only property, travelers with kids should cross it off their list, and instead look into staying at the family-friendly Coral Beach Hotel Paphos, located right next door.
5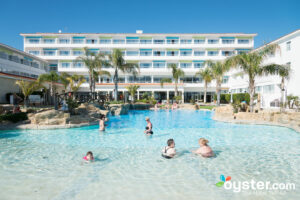 The four-pearl SENTIDO Cypria Bay is an all-inclusive beachfront resort that's popular with British and German package tourists, especially families. There are 293 rooms in total, many with sea views, and all are designed with families in mind, with extra beds or at least enough room for rollaways. Facilities include a huge outdoor lagoon pool with a swim-up bar and an adjacent kids' pool, a game room with pool, air hockey, arcade games, tennis courts, a fitness center with free classes, an indoor pool with a huge hot tub, and a buffet restaurant with evening entertainment six nights a week. Couples wanting something a bit lower-key may want to consider the hotel's neighboring sister property, the Leonardo Plaza Cypria Maris Beach Hotel & Spa, which doesn't allow guests under age 16.
6
Leonardo Plaza Cypria Maris Beach Hotel & Spa is a four-pearl, adult-only resort hotel located right on the beach in the southern hotel strip of Paphos. The 240 rooms vary in size, but all have similar amenities, nautical turquoise accents, and furnished balconies with views of the sea in most. Features include multiple indoor and outdoor pools -- including a salinity pool (for a fee) that's good for achey joints -- along with a spa complete with fish pedicures. Dining options include a couple of buffet restaurants with a great selection, along with Japanese and Greek a la carte options. Only buffet restaurants are included in the optional all-inclusive package. Note that guests must be 16 years old to stay here, so families should check rates next door at the SENTIDO Cypria Bay.
7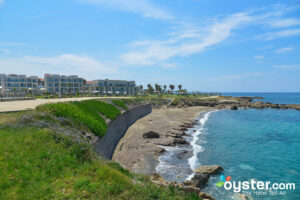 The 95-room Amphora Hotel & Suites is an upscale property that emphasizes minimalist style. Situated on a private beach, the resort is surrounded by expansive green lawns and gorgeous sea views. The guest rooms and common areas are spare but not plain, although some travelers might find them too coolly clinical. Facilities include an outdoor pool, a gym and sauna, and tennis court, but the beach is the primary draw here. The main restaurant serves local specialties, while a beachfront bar and cafe is open seasonally. There are a kids' pool and some playground equipment, but no organized activities for children. Travelers seeking a more active vacation -- especially those with kids in tow -- might want to consider the nearby Louis Phaethon Beach, which has a beach, water park, and a much larger pool area.
8
King Evelthon Beach Hotel & Resort is a four-pearl, all-inclusive hotel overlooking the sea, a short drive north of Paphos. There are 375 rooms and suites here, all with bright decor and furnished balconies, most with full or partial sea views. The hotel also has a number of swim-up rooms with semi-private pools along with lovely suites with whirlpool tubs. The resort's star attraction is arguably its huge water park, with seven tall slides plus splash areas and a lazy river. There's also a quiet indoor pool that's more suited towards adults plus a huge lagoon pool separate from the water park with views out over the sea. Note that it can get busy here during summer high season, contributing to an impersonal vibe -- but it stays open year round. For a more intimate alternative, consider the 95-room Amphora Hotel & Suites.