Best Hotel Rooms in the Dominican Republic
We've slept in more than 100 beds all around the D.R., from designer boutiques to party-hardy crash pads. But these rooms — with excellent beds, incredible views, posh bathrooms, and great design — are our absolute favorites!
See All Dominican Republic Hotels
1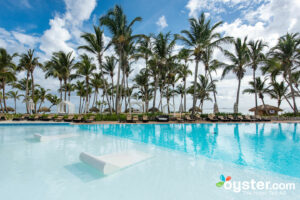 Starting at 650 square feet, the Sivory's rooms are bigger than many studio apartments in New York. Each room sports a desk, two couches, picture windows, a giant four-poster bed, a two-person Jacuzzi, a two-person shower (with multiple shower heads), free Wi-Fi, and a comfortable balcony. Modern appliances include large flat-screen TVs and DVD players.
2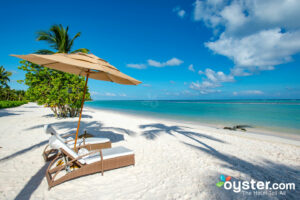 Each of Tortuga Bay's 15 massive rooms were designed by world-renowned fashion-industry icon Oscar de la Renta. Elegant yet distinctly Caribbean in style, the rooms all have four-poster beds topped in a unique, woven canopy dome. Most balconies overlook the ocean, and wide swinging windows allow tropical air to pour in. Nightly turndowns include housekeepers drawing the Jacuzzi tub and placing candles and floating rose petals around it. Features include 37-inch plasma TVs, DVD players (with a free DVD borrowing library), iPod docks, and bath products from L'Occitane (arguably the best toiletries available in the D.R.)
3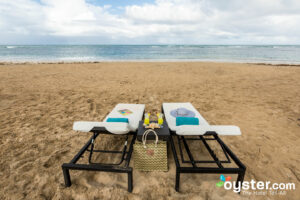 Composed of only 53 chic, high-tech suites, guest rooms at the Agua are huge -- you can easily fit in a dance party between the bed and the terrace. White Frette linens complement dark wood floors and furniture in the Garden Suite, while a bamboo screen separates the bedroom from the bathroom, which comes equipped with two Grohe vanity sinks, a wood-and-slate shower, and a deep soaking tub. For entertainment, the room has a JVC flat-screen TV, a DVD player, and free Wi-Fi -- a rare treat in the D.R. A Frette robe and slippers are also included.
4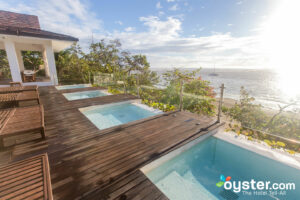 Even the cheapest rooms (the junior suites) at this small-scale boutique hotel come with outdoor bathtubs on a private balcony. The style is Caribbean-chic -- sisal rugs, white linen love seats, wingback chairs, modern artwork, and mahogany four-poster beds topped with Frette sateen linens. Features include a Bose wave radio/CD player, one of the most upscale minibars in the Caribbean, and a large (albeit tube) Zenith television. A large window separates the bathroom from the bedroom, allowing guests to watch TV from the massive Jacuzzi tub. There's also a separate marble walk-in shower, his and her sinks, a dressing area, and a separate toilet room. It's also the only resort in Puerto Plata with free in-room Internet.
5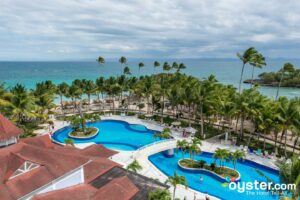 Housed on its own private island, the huge rooms at the Gran Bahia resort offer large flat-screen TVs, comfortable four-poster beds, and wicker furniture to provide a clean, Caribbean feel. The marble bathrooms look like a souped-up Greek bathhouse, with walk-in showers and Jacuzzi tubs that are big enough for two. But the star features -- especially given the scenic setting -- are the huge balconies shared between two rooms.
6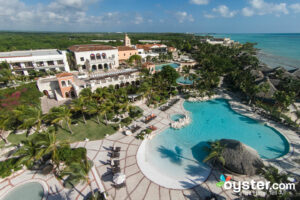 The Ocean Junior Suites are like bungalows at the bottom of a cliff, opening directly onto to the beach. Inside the room, a long hallway leads past a walk-in closet with silky robes and plenty of space for two weeks' worth of luggage. In the bedroom, beds come with metal posts and canopies overhead. A latticed archway partially separates the bedroom from a sitting area, where a rattan love seat and chair face the large flat-screen TV and Philips DVD player.