Best Kid-Friendly Hotels in Hurghada, Red Sea and Sinai
Take a look at the best kid-friendly hotels in Hurghada.
See All Hurghada Hotels
1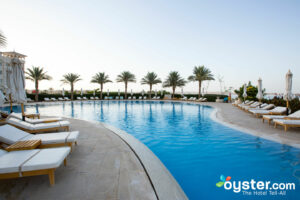 Baron Palace Sahl Hasheeh is a family-friendly, upscale oceanfront property that's 30 minutes south of Hurghada International Airport. With the resort's 12 restaurants and bars, free breakfast, and all-inclusive options, guests stay well-fed while enjoying the private beach, busy infinity pool, spa, modern gym, outdoor tennis courts, and kids' play areas. The 644 rooms feel a bit less luxe than the public spaces but have good amenities like flat-screen TVs, mini-fridges, and kettles. Welcome bowls of fruit are a lovely touch and Swim-Up Suites have access to an adult-only pool. For those who prefer an adult-only property, consider the nearby Premier Le Reve Hotel & Spa.
2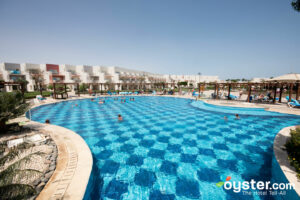 The 364-room Sunrise Grand Select Crystal Bay Resort is a four-pearl property with a private beach along the Red Sea, a 15-minute drive from the airport. Family-friendly amenities include a large pool and kiddy pool, kids' club, and daily entertainment and activities, while couples often utilize the well-equipped spa, beach loungers, and seven bars. Six restaurants include an all-day buffet venue, Greek eatery, and Indian spot, but food can be hit or miss. Lower-category rooms are old-fashioned and need of an update, while others are more modern. They all have kettles, flat-screen TVs, and outdoor spaces. Breakfast and Wi-Fi are both free, and all-inclusive packages are available. As an alternative, Steigenberger Al Dau Beach Hotel offers elegant rooms and a nine-hole golf course overlooking the Red Sea.
3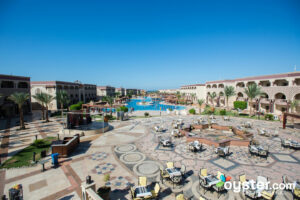 Crowded and busy are the two words that come to mind at the mention of four-pearl SENTIDO Mamlouk Palace. It's an all-inclusive property featuring a beautiful swimming pool and beachfront access on a traditionally-designed Arabian property. Entertainment for all ages, a spa, and eight restaurants attract lots of visitors making for long wait queues, poor service in restaurants, and difficulty finding sun loungers. Rooms are simple and spacious with great balconies, but they have dated elements like tube-style TVs. While the all-inclusive rate covers most food and drinks, there are some time limitations and reports of poor food quality. For couples who want to book a quieter resort with an adult-only policy in the Hurghada resort area (about a 20-minute drive from the city), consider SUNRISE Holidays Resort.
4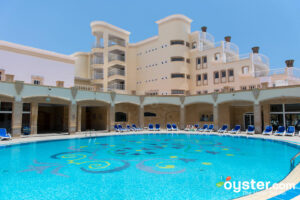 This 445-room all-inclusive resort is set on a private stretch of sandy beach in the Soma Bay area, near Hurghada City. Decor is traditional and often dated, keeping this property from earning its self-proclaimed luxury status. However, spacious rooms include modern amenities, free Wi-Fi, and furnished balconies. The family-friendly resort offers a wide range of sports and water activities, as well as a free kids' club with a playground and children's pool. For adults, there are two outdoor pools (although the main one isn't heated), a full-service spa, and modern fitness center. Nightly entertainment is provided, and there are several bars and a disco. Five restaurants serving diverse cuisines, though food receives mixed reviews. Alternatively, travelers might want to consider the Steigenberger Al Dau Beach Hotel, which adds a nine-hole golf course.
5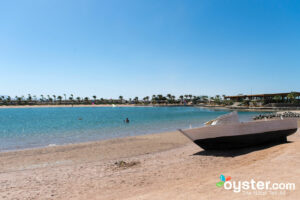 The 912-room Desert Rose Resort is a vast mid-range property along a stretch of private beach and a stunning lagoon. Set on 74 acres (300,000 square meters) of landscaped gardens, the resort offers a huge range of features. With four swimming pols, five restaurants, 10 bars, spa, gym, and tons of daily activities, guests do not have to leave the resort's grounds. The letdown of the property are the rooms. While clean, they're dated and have average amenities -- small TVs (some old tube-style), hose hairdryers, and tiny shower stalls. Travelers looking for a resort with more stylish rooms and similar amenities should compare rates with Baron Palace Sahl Hasheesh.
6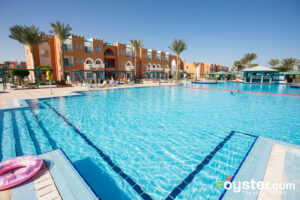 The Sunrise Select Garden Beach Resort & Spa is a three-and-a-half-pearl resort along the Red Sea coast in Hurghada. It has private beachfront access and is just a 16-minute drive from the airport. The grounds are extensive with three swimming pools and an Aqua Park along with features like a fitness center, spa, event facilities, and several sports/activities facilities. Rates are all-inclusive with five restaurants and seven bars from which to choose. Both kids and adults are kept entertained with the daily entertainment programs from the animation team. The 480 rooms are fairly standard with underwhelming decor and amenities like minibars, private balconies, and free Wi-Fi. Travelers can also consider the neighboring resort, Sunrise Grand Select Crystal Bay Resort, with similar features at slightly lower rates.
7
Tropitel Sahl Hasheesh is an upscale beachside property with sweeping views of the Red Sea. The 566-room resort offers plenty of leisure facilities to keep guests occupies, including three pools, a children's pool, gym, spa, and a range of entertainment options and activities for both adults and little ones. There are also five restaurants serving a variety of international cuisines and three bars, with one directly on the beach. The rooms are mostly contemporary, outfitted with flat-screen TVs, minibars, bathtubs, and separate showers, plus furnished terraces -- some overlooking the sea. Travelers wanting a similar property closer to the airport and Hurghada city should look into the Steigenberger Al Dau Beach Hotel, which also has a golf course.
8
The 283-room Marriott Red Sea is a three-and-a-half-pearl resort set on a private beach, a short drive from the Hurghada Marina and the Old City. Although smaller than many of its neighbors, this family-friendly property includes a large pool, several dining and drinking options, a fitness center, a kids' club, and a spa. Although featuring at least partial sea views and decent amenities such as flat-screen TVs and minibars, rooms are a little disappointing overall, with slightly dated decor and underwhelming bathrooms. Note that there is a fee for in-room Wi-Fi, and that food gets mixed reviews. In this price range, the luxurious Tropitel Sahl Hasheesh offers nicer rooms, larger pools, and more amenities -- but the property is a little isolated.
9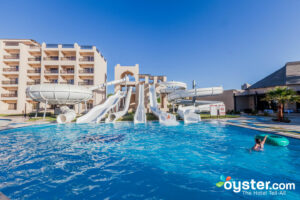 The Steigenberger Aqua Magic is a four-pearl all-inclusive resort set across sprawling grounds that include nine pools, a lazy river, and two separate water parks. The 725 bright, cheerful rooms have pleasant pool-view balconies (though not in some entry-level rooms) and free minibars (but these lack liquor). Nine restaurants and bars include 24-hour drink service and late night snacks, plus a nightclub; breakfast gets better reviews than lunch and dinner. Extensive facilities include a 24-hour gym, excellent spa, sauna, steam room, golf course, diving and water sports center, supervised kids' clubs, and nightly entertainment. But among the drawbacks are a somewhat isolated location, and extra charges for internet access other than in the lobby. Travelers looking for a quieter vibe might consider the comparably priced, adult-only Premier Le Reve Hotel & Spa.
10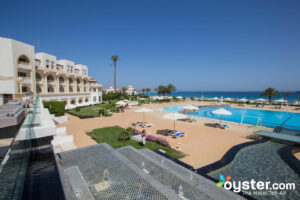 The beachfront Old Palace Resort is a four-pearl, all-inclusive property set on the Sahl Hasheesh Bay, about a 40-minute drive to Hurghada. A myriad of features include two outdoor pools, spa and fitness facilities, a kids' club, varied dining options, free breakfast, and several bars/lounges. The palm-dotted grounds are lovely, as are the hotel's public spaces, but guest room decor -- and some of the amenities and bathroom fixtures -- could use an update. Rooms are clean and pleasant nonetheless, and all have balconies. Travelers might want to upgrade to Chalet Rooms for fresher decor and better bathrooms. Internet here is another downside, as Wi-Fi costs extra and is reportedly spotty. For better rooms, check out the Oberoi, Sahl Hasheesh -- though rates here are more expensive.
11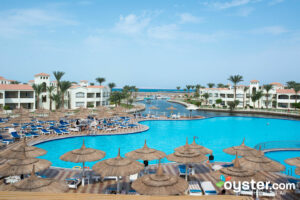 The 841-room Dana Beach is an three-pearl all-inclusive amid acres of manicured gardens, a 15-minute drive from the airport. There's a private beach complete with bar service, loungers, and umbrellas, and impressive grounds that include three huge pools, 10 bars, and a small water park for kids. Its five restaurants get great reviews, and the spa offers massages, a sauna, whirlpool, and a small fitness center. Rooms, however, are disappointing for a property that markets itself as a luxury resort. All units have flat-screen TVs, but decor is bland and dated, a quality that defines much of the resort. Those looking for something more elegant may want to compare rates at the Baron Palace, which has similar amenities but better rooms and a more upscale finish.
12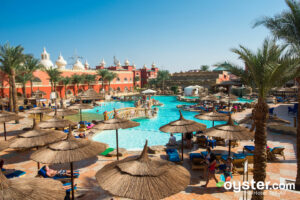 This all-inclusive upper-middle-range resort impresses with its colorful palatial architecture and arabesque interiors located in a touristy area full of other resorts and about a six-minute ride via free shuttle to the beach. Situated on extensive grounds with six outdoor pools, there are plenty of dining options and bars here, as well as a spa, kids' club, and day and evening entertainment. The 222 guest rooms, though a bit tired, are clean and spacious, each equipped with a private balcony or patio, as well as flat-screen TVs and mini-fridges, but bathrooms could use an update and there is no in-room Wi-Fi (plus the free connection in the lobby is slow and weak). For an all-inclusive on the beach, check out the Dana Beach Resort.
13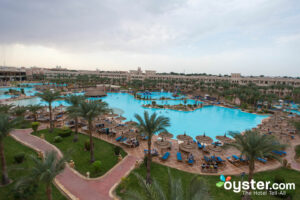 Albatros Palace Resort is an enormous four-pearl beachfront resort that mostly caters to British families. The resort has direct beach access with beach loungers and a swimming pier. There's also a massive outdoor swimming pool with all day entertainment from the animation team. The all-inclusive rates include meals and drinks served at the six restaurants and eights bars, along with access to the spa (treatments cost extra) and fitness center. Kid-friendly amenities include a kids' club, shallow kids' pool with waterslides, and loads of meal options. The 621 guest rooms feature Arabian decor and are equipped with air-conditioning, flat-screen TVs, minibars, and balconies. Downsides include slow Wi-Fi in rooms and that smoking is permitted in most outdoor areas. Couples may want to consider Premier Le Reve Hotel & Spa for a more quiet, adult-only hotel.
14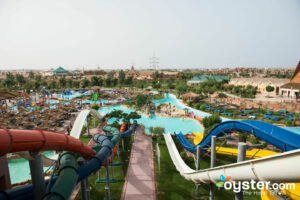 The three-and-a-half-pearl Jungle Aqua Park is a massive 860-room all-inclusive located within a water park. Spacious rooms are housed in single-story bungalows built around pools (of which there are 33 here), and feature flat-screen TVs, mini-fridges, and air-conditioning. Wi-Fi is free throughout, but mostly spotty. The highlight is, of course, the water park, with 35 slides, and free for all guests. There is also a kids' club, a fitness center, and daily entertainment around the main pool. The hotel has six restaurants to choose from, but food gets mixed reviews and while the hotel offers a shuttle to its sister property's beach, it's not on the sea. Travelers looking for something a little bit more upscale and directly on the beach should compare rates at the Steigenberger Al Dau Beach Hotel.
15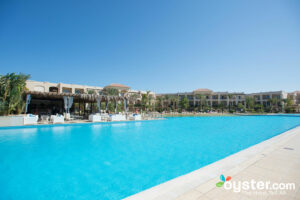 Sprawled over the Red Sea coastline, Jaz Aquamarine Resort is an enormous upscale beachfront hotel that caters to families via 18 pools (some with waterslides), bars, a disco, kids' sports, and a hangout area for teens. The 1001 rooms are underwhelming in decor, but have large balconies with garden, pool, or beach views. The private beach could be cleaner, but offers camel rides and whirlpools. While all-inclusive rates cover meals at several buffets and a la carte restaurants, food gets mixed reviews. Other downsides include the slow free Wi-Fi, smoking permitted in most common areas, and the spa's location in the adjacent hotel. For a more romantic experience, couples should consider the adult-only, beachfront Premier Le Reve Hotel & Spa.