Best Luxury Hotels in Essaouira, Morocco
Though Essaouira's most luxurious hotels — traditional riads, contemporary resorts, and a Moroccan palace — express a range of aesthetics, all provide extravagant hotel experiences.
See All Essaouira Hotels
1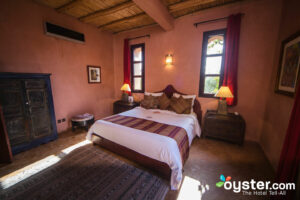 Le Jardin des Souars is set in a Moroccan castle surrounded by magnificent gardens with tall palms and other desert-loving plants. Set among the luxuriant greenery are two pools, a family one with a shallow end, and a separate adult-only infinity pool. There is an attractive spa (its waiting room is carved into the pink mud walls) offering a full array of massage and beauty services, plus a traditional hammam. Le Jardin's main restaurant serves a fresh French-North African menu that changes daily, as well as a large Sunday barbecue lunch and free breakfast -- enticing spreads of Moroccan pastries and breads with cooked eggs, fruit, and more. The 26 ample, apartment-style rooms are dimly lit and handsome, filled with traditional textiles and wood furniture. They lack TVs or Wi-Fi, but each one has air-conditioning. Bathrooms have local argan oil toiletries and tiled walk-in rainfall showers; rooms at the Luxe level on upwards have bathtubs, as well.
2
The 175-room Sofitel Essaouira Mogador Golf & Spa is as contemporary as Le Jardin des Douars is conventional (both are extremely luxurious versions of their respective styles). Based on its amenities alone, Sofitel is arguably more high-end than Le Jardin, but we gave Le Jardin the number-one spot due to its stunning castle setting, exquisitely maintained arid-landscape gardens, and traditional Moroccan character. Sofitel, on the other hand, could be just about anywhere, but it is nonetheless an outstanding luxury option. Its beautiful rooms have huge bathrooms, high-tech amenities, and terraces, while its villas have two bedrooms, private pools, and gardens with daybeds. Like Le Jardin, Sofitel has two outdoor pools (here there is free towel service) and an upscale spa with a hammam. This is about where Le Jardin's features list taps out, but Sofitel's plows on: it has a wonderful 18-hole golf course designed by Gary Player; four restaurants ranging from casual to fine dining; tree bars, including a nightclub and a poolside lounge; and a large fitness center with lots of natural light.
3
This stunningly beautiful Moroccan riad doesn't have splendid gardens like Le Jardin or ample leisure features like Sofitel. Instead of upscale common areas, it's the incredibly elegant rooms that assure Dar Maya's spot on this list. They're very different in tone from what you'd find at our first two picks. Whereas Le Jardin's rooms are dark and somewhat folksy, and Sofitel's are colorful and contemporary, Dar Maya's are simple, spare, and stick to a remarkably chic color scheme of gray, gold, and earth tones. At first, they seem sophisticated to the point of feeling severe, but crafted wood bedside tables, hand-woven throw rugs, built-in cushioned seating, fireplaces, and traditional "tadelakt" walls (lime that has been treated with wax, then whitewashed) keep their ambience cozy. The effect is enhanced by recessed lighting, tiled floors, and handsome wooden doors in light shades. Traditional and modern handicrafts decorate much of the property, which also has a hammam and rooftop hot tub, and breakfast is included with room rates.
4
Set in a renovated 19th-century luxury riad, L'Heure Bleue Palais has a grandiose, early-20th-century vibe that may strike some guests as a touch too formal. The hotel's 33 rooms are dark and stately, each one with a marble bathroom, traditional carved-wood furniture, and colonial decorative pieces like animal-striped pillows and leather ottomans. L'Heure's renowned restaurant offers locally focused fare with an emphasis on seafood, plus a luxurious breakfast buffet (included in the room price) with traditional Moroccan pancakes and products. There is a heated outdoor pool that's sufficiently long enough for laps on the rooftop terrace, which also has a cafe, lots of cushioned seating, and views of the city and sea. A black marble hammam is adjacent to the spa, which has an array of massage services. The hotel has a billiard room, small home theater equipped for screenings, and cooking classes offered by the staff, who can also arrange for day trips to vineyards or a nearby golf course. Despite its stuffy undercurrent and the occasional signs of wear and tear (especially in the bathrooms), L'Heure's beautiful building and extensive features give it a place on our top luxury picks in Essaouira.
5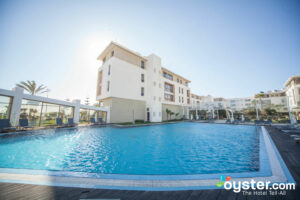 The Atlas Essaouira & Spa is an upscale property across the street from the beach. In contrast to hotel options in the old city (a 20-minute walk away), the modern and sophisticated Atlas Essaouira has room to spread out, and therefore has a bounty of features, like a large outdoor pool, three international restaurants, a terrace bar (perfect for taking in the sunset), and a full-service spa with luxe treatment rooms and a hammam. The 156 guest rooms are chic and serene, with minibars and safes, while suites with ocean-view balconies are also available. The well-kept grounds, and vast common areas decorated tastefully with Moroccan touches. But front-desk service can be a bit frosty, the housekeeping and buffet breakfast inconsistent, and some rooms slightly worn.