Best Boutique Hotels in Faro, Portugal
There is no shortage of high-rise condos and sprawling mega-resorts in Portugal's Faro District. But travelers hoping to stay in a quieter, quirkier, and chicer boutique hotel have plenty of great options, too. Here are our top 10 favorites.
See All Faro Hotels
1
Relais & Chateaux's Bela Vista Hotel & Spa is a five-pearl boutique housed in a gorgeous 1918 mansion with luxe decor. The 38 stylish and bright air-conditioned rooms are well-outfitted and many have ocean views. Guests rave over food at VISTA Restaurant, the top-notch L'Occitane spa, and lovely pool area, but street noise and the disappointing immediate surroundings pop up in the complaints. Free breakfast, free Wi-Fi, and private parking are also offered. The hotel's hilltop location off a pedestrian-only street in the Praia de Rocha area gives guests easy and walkable access to restaurants, bars, golfing, and shops plus direct beach access via hundreds of stairs. Note that kids under 12 aren't allowed.
2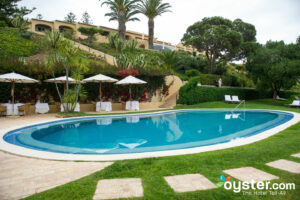 The 20-room Vila Joya is a chic, luxury boutique hotel set in an elegant villa overlooking the Atlantic Ocean. Elegant rooms and suites blend classic and modern details, and all but one feature sea views. The big bathrooms (some with soaking tubs) and large furnished terraces or balconies are impressive as well. Even though there are two outdoor pools, a premium spa, tennis courts, and on-site shops, it's the Michelin-star dining that really steals the show.
3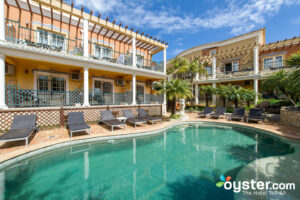 From the outside, the 49-room Dom Manuel Hotel looks unassuming, but its inside oozes classic Portuguese charm and a bustling, but relaxed, atmosphere. The free buffet breakfast is a popular feature that brings together the couples who stay here, and there are two quiet pools and a spa treatment room as well. Rooms are modern, with a touch of Portuguese style, and include air-conditioning, flat-screen TVs, and furnished balconies. There's a simple bar as well. Keep in mind that parking is limited, and it's a 10- to 15-minute walk into the old town.
4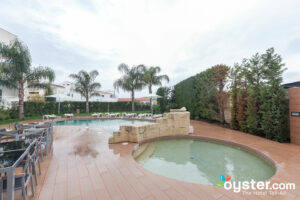 Velamar Budget Boutique Hotel (formerly just Velamar Hotel, and before that Velamar Sun & Beach Hotel) is a bright, 75-room boutique with contemporary style and a great location in the quiet fishing village of Olhos de Agua, near beaches, bars, restaurants, and shops. All 60 spotless and stylish rooms come with free water, minibars, 32-inch flat-screen TVs, balconies, and big (if hard) beds. Bathrooms have hairdryers and bidets, but no toiletries. Still, the free breakfast, two bars, small outdoor pool, game room, and all-day snacks make it an excellent bang-for-your-buck option near Albufeira. The fresh decor particularly stands out next to the often dated hotels in the area.
5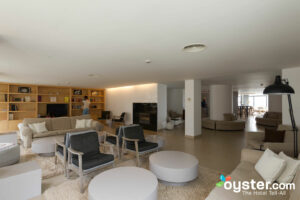 The small Memmo hotel group -- with two additional outposts in Lisbon -- has breathed new life into this upscale property, giving everything a slick, contemporary shine. However, there's plenty of substance to complement the hotel's style. Indoor and outdoor pools, a buzzing restaurant and bar, a massive free breakfast buffet, and a spacious terrace with marina views all add value to a stay here. The 144 rooms are compact and simple, but are quiet at night and include flat-screen TVs and air-conditioning -- some also feature sea-view balconies. Sagres' main drag is a 10-minute walk away, as is gorgeous Martinhal Beach.
6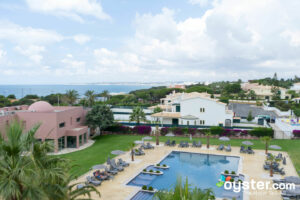 The adult-only Vila Gale Praia is a 40-room boutique right across from the golden sands of Gale Beach. This contemporary hotel has a quiet and relaxed vibe that makes it popular with couples. All rooms have fresh decor, air-conditioning, balconies, and water-stocked mini-fridges; Superior Rooms add bathrobes, slippers, and free minibars. There are a pretty outdoor pool where guests won't have to fight for loungers; wellness area with a sauna, whirlpool, Turkish bath, and small gym; large multimedia room with a snooker table; and all-day restaurant with room service. Freebies include hotel-wide Wi-Fi and breakfast, but the tennis courts and laundry service cost extra.
7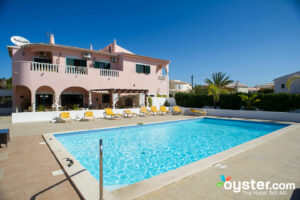 The quiet Solar de Mos is a family-run mid-range hotel that's a pleasant place to unwind within an easy drive of beaches and central Lagos. This humble property has two distinct personalities. The 15 rooms are split between two buildings, and 10 have a classic style, while five are done in sharp, modern decor. All include air-conditioning, electric kettles, minibars, flat-screen TVs, and balconies. The hotel has a spacious pool and a quaint restaurant that serves a free breakfast, then snacks and dinner later in the day. There's even a simple fitness room with cardio equipment, plus a rooftop hot tub with sea views.
8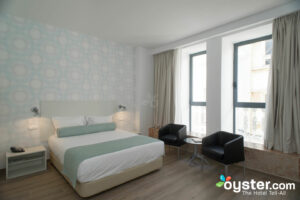 The Hotel Faro is a contemporary three-and-a-half-pearl hotel in the historic and vibrant center of Faro, right off of the picturesque marina. The 90 rooms here are fresh and modern, though simple, with air-conditioning, flat-screen TVs, and mini-fridges. The rooftop restaurant, bar, and pool overlook the charming town center along the waterfront, and guests can walk to a plethora of restaurants and attractions. Some of the amenities cost extra, but breakfast is included and there's a free shuttle to the beach.
9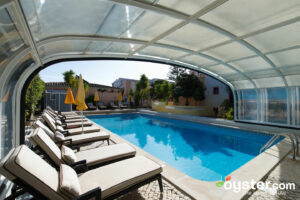 Costa D'oiro Ambiance Village is an 85-unit upper-middle-range property with a mix of hotel rooms and apartments that's a five- to 10-minute walk to gorgeous Praia Dona Ana. Its multiple buildings are built into a quiet residential area, and interiors range from classic to contemporary. Standard features in all rooms and apartments include free Wi-Fi, air-conditioning, and balconies or terraces. There are several pools, a simple fitness room, and beach towels are free. The restaurant is a real delight, and the free breakfast includes a massive spread of locally produced dishes.
10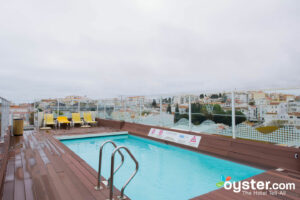 The Marina Club Lagos is a small, subduedl hotel with a great spot right on Lagos' bustling marina. It's less than a 10-minute walk to Lagos' charming old town and a 15-minute walk to Meia Praia. Interiors are well kept and sparkling clean. The 36 pleasantly modern rooms are flawlessly soundproofed -- which is a blessing given its bus station-adjacent location -- and everything from the fast, free Wi-Fi to the sparkling plunge pool on the roof add value to a stay here. Features are otherwise limited, but do include a free hot-and-cold breakfast buffet.