Most Affordable Resorts in Florida
Whether you're heading to the Florida Keys, kid-central Orlando, or trendy Miami, Florida is home to a plethora of great vacation destinations. If you're looking for a budget pick in the Sunshine State that still offers well-kept rooms to call home base, you've come to the right place. After investigating hundreds of hotels in Florida, we've found many that are excellent options for wallet-conscious travelers. Take a look at the most affordable hotels in Florida and get inspired!
See All Florida Hotels
1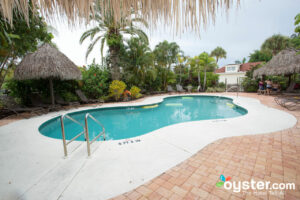 This three-pearl, relaxing beach hideaway is a casual, laid-back place to get away from it all. The 15 apartment-style rooms offer a comfortable, homey place to stay, with full kitchens or kitchenettes for guests who want to eat in. Within a two-minute walk to the beach and nearby shops and restaurants, the resort is ideally located, and it is easy to get around to the rest of the island from here. Though the name resort is a touch misleading, considering this property doesn't have a restaurant, bar, or fitness center.
2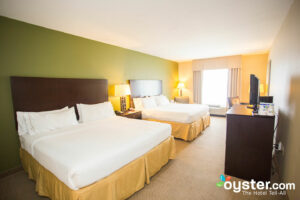 The Holiday Inn Express Crystal River is a 75-room value hotel just off Highway 44. Rooms are modern and comfortable, with mini-fridges, microwaves, and coffeemakers. Suites have wet bars, seating areas, and jetted tubs. The lovely outdoor pool is open seasonally and there are small fitness and business centers, both open 24/7. The hotel offers a free hot breakfast along with Wi-Fi and on-site parking.
3
The Days Inn Tropical Seas (also known as Days Inn Daytona Oceanfront) has 75 rooms and is one of the most affordable hotel for families and couples located on Daytona Beach. The rooms are spacious and some come with the bonus feature of a full-size kitchenette, a nice option for a two-pearl hotel. Ocean-facing rooms have balconies that provide some amazing views of the beach and the pool deck, which has a heated pool and hot tub. The biggest drawbacks of the hotel are that it lacks a fitness center and doesn't provide breakfast. However, restaurants and entertainment are within walking distance so guests don't ever have to go far from the beach.
4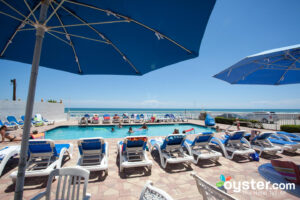 Tropical Winds Oceanfront Hotel is a 92-room budget property located on the beach, a five-minute drive from the Daytona Beach Pier. The property is not within walking distance of restaurants, but has an on-site restaurant and coffee shop. Oceanfront rooms have full kitchens, while others have microwaves and mini-fridges; all have somewhat bland decor and private balconies with great views. The outdoor pool overlooks the ocean. The rates are cheaper than most hotels on Atlantic Avenue, including nearby Hampton Inn and Holiday Inn Hotel & Suites Daytona Beach.
5
Florida City Travelodge is a one-story lower-mid-range motel with 88 rooms where the staff works hard to meet guests' needs. Within a 15-minute drive of the Everglades National Park and Alligator Farm, and Biscayne National Park, it's a good pit stop for those en route to the Keys. Rooms are clean and comfortable with basic decor and new appliances. You'll get lots of freebies (Wi-Fi, parking, and breakfast) and a heated outdoor pool.
6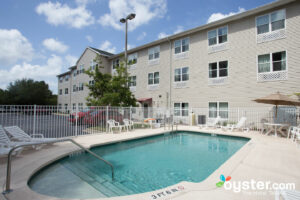 The Comfort Inn & Suites is a mid-range chain property that offers an outdoor pool and homey rooms with mini-fridges and microwaves. Hot breakfast, Wi-Fi, and parking are included, making this hotel a good value for families and business travelers who don't mind being a short drive from St. Augustine's downtown area and the beaches. There's also a small fitness center and laundry facilities available for guests' use. However, some rooms can get noise from the nearby I-95.
7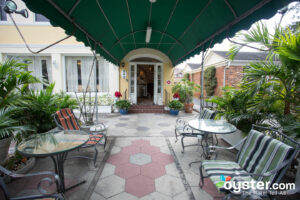 The 18-room Inn on Third is a traditional inn that attracts budget travelers with its affordable rates and convenient location in downtown St. Petersburg near several restaurants and museums. Classic interiors include antique furnishings and modern details such as flat-screen TVs in every room and free Wi-Fi. The small rooms are suitable for couples and single travelers who don't mind the tight squeeze. Though lacking in amenities, the inn serves a free continental breakfast as well as free drinks during a social happy hour every evening.
8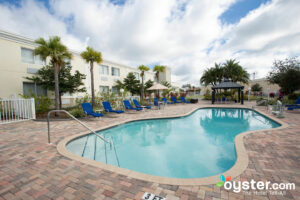 Located off of Interstate 4, the mid-range Quality Inn & Suites Near Fairgrounds Ybor City is a convenient choice for guests headed to the nearby Florida State Fairgrounds or Hard Rock Casino. Though generic with chain interiors, the 125 rooms and suites are clean, with flat-screen TVs, mini-fridges, and coffeemakers -- but traffic noise might be an issue in some units. There's a lovely outdoor pool surrounded by lounge chairs and palm trees. The hotel also has a small fitness room, business center, and banquet and meeting rooms, and freebies include a hot breakfast buffet, Wi-Fi, and daily newspapers.
9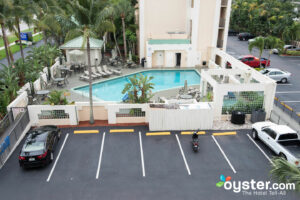 The 100-room Boca Raton Plaza Hotel and Suites is a mid-range property situated on a commercial street and within a five-minute drive of many sights. Rooms are basic with lackluster style, but are outfitted with conveniences like coffeemakers, microwaves, and mini-fridges. Some rooms have balconies with seating while others have wet bar areas. The lovely outdoor pool and hot tub are a plus along with the poolside Tiki bar, and there is an on-site restaurant/bar that serves American cuisine, beers, and cocktails. A fitness center and 24/7 business center are provided along with free Wi-Fi and parking; however, the Wi-Fi is slow. Overall, this is a dated hotel with bland decor and furnishings that show some wear and tear, though reasonable rates and proximity to the beach draw budget-minded travelers.
10
The 59-room Emerald Coast Inn & Suites offers few frills, but is a solid choice for budget-conscious tourists and business travelers interested in exploring the Fort Walton Beach area. From the outside, the hotel looks dated and rundown, but the guest rooms and common areas are bright, clean, comfortable, and up-to-date. Conveniently situated next to the Emerald Coast Conference Center, the hotel lacks direct beach access, but public beaches are a short walk from the property.
11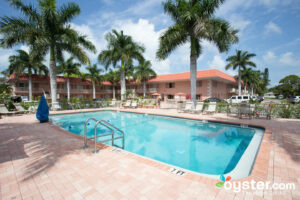 The 43-room Hibiscus Suites - Sarasota/Siesta Key is a mid-range property that's a five-minute drive from the beach. The hotel has a lovely heated outdoor pool with a spacious sun deck dotted with lounge chairs and palm trees, as well as barbecue grills. Free breakfast is served in a cozy dining room, and other conveniences include laundry machines and a computer corner. Pleasant suites have flat-screen TVs in bedrooms and living rooms, as well as kitchens, while Studio Suites offer mini-fridges and microwaves, though some of the decor and furnishings are dated.
12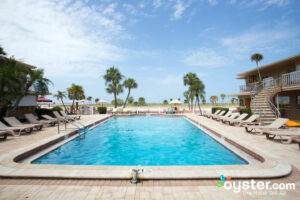 The Treasure Island Ocean Club is a 50-room, budget motel-style property with direct access to the beach and a 10-minute walk to the Treasure Island "downtown" area. The hotel's grounds are attractive and well-maintained, with an outdoor pool, gardens, and barbecue grills, and there are plenty of places to sit and take in the Gulf of Mexico views. Rooms are basic and dated, but homey, while some feature kitchenettes and dining areas. Treasure Island Ocean Club provides good value for those looking for a laid-back beach break.