Best Beach Hotels in Fort Myers Beach, Southwest Gulf Coast
Take a look at the best beach hotels in Fort Myers Beach.
See All Fort Myers Beach Hotels
1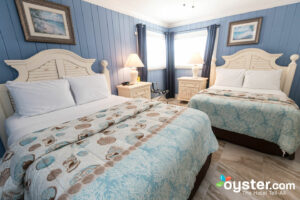 Tiki On The Beach is a pleasant hotel with a prime location on Fort Myers Beach, but there isn't much in the way of restaurants or shops nearby, and the hotel isn't within walking distance of buzzy "Times Square." The two-and-a-half-pearl inn's 11 homey, well-maintained apartment-style units are comfortable and have beachy decor, but some feel slightly dated, with old-fashioned floral prints. All come equipped with roomy kitchenettes or full kitchens and separate living areas, though some bedrooms are a bit cramped. With on-site features limited to a guest barbecue area and laundry facilities, travelers looking for more amenities might want to compare rates with The Neptune Resort.
2
GullWing Beach Resort is a relaxed, three-pearl property located directly on Fort Myers Beach. The resort's 66 condo-style units have tons of space, plus full kitchens and furnished balconies. Decor is simple and beachy, but guest rooms have a somewhat dated look overall. Standard amenities include AC, flat-screen TVs, and free Wi-Fi, and bathrooms have shower/tub combos, a generous stock of high-end Korres products, and hairdryers. In addition to the beach, there's an outdoor pool, a tennis court, and bike rental, but there's no full restaurant on-site -- only a snack bar -- and while the gym is bright, it's cramped and it has limited equipment. Travelers looking for a property with more action might prefer the GullWing's sister resort, DiamondHead Beach Resort & Spa.
3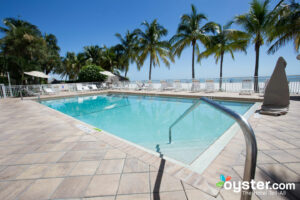 Best Western Plus Beach Resort in Fort Myers is a 75-room, mid-range hotel where guests can walk out the front door and find themselves right on the beach. Several restaurants are within walking distance, and water sport equipment (wave runners, sailboats, kayaks, paddleboards, and parasails) can be rented at the hotel. Rooms are basic and small, but those on the beach side of the property offer stunning views of the Gulf of Mexico. Rates aren't the lowest in Fort Myers, but with free breakfast, Wi-Fi, parking, and beach access the value is excellent.
4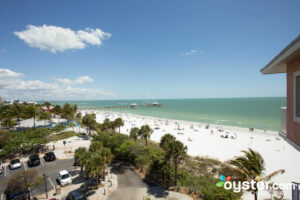 The 24-room Edison Beach House is a mid-range, all-suite hotel situated right on the beach and close to several restaurants, shops, and attractions. The hotel has a lovely outdoor pool flanked by lounge chairs and a barbecue area, but indoor public spaces are limited. Spacious suites offer fully-equipped kitchens with granite countertops, balconies with ocean views, daily housekeeping, and plenty of living space; however, some are a bit dated with details like old tube-style TVs. There are several similar all-suite properties in the area that travelers might want to compare rates with, including the Casa Playa Resort or the Lighthouse Resort Inn and Suites.
5
The upscale 213-room Pink Shell Beach Resort & Spa is located on the north end of Fort Meyers, between the Gulf of Mexico and the Matanzas Harbor. This self-contained, condo-style resort has several pools, including a kids' pool, and bright rooms all have full kitchens. Bowditch Point Park nature preserve is just next door, and the city's own bustling Times Square is a 15-minute walk from the hotel. Breakfast is free, and the beach restaurant and bar are major highlights as well. The Pointe Estero Beach Resort has similar features and will be cheaper, but the Pink Shell's on-site activities make it a popular choice for families.
6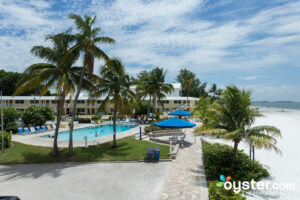 The Neptune Resort, on Estero Boulevard in Fort Myers Beach, is a mid-range beachfront hotel with a pleasantly relaxed vibe. The 70 homey suites come with kitchenettes or kitchens, so they're ideal for travelers looking on longer beach trips and families looking to save a bit of cash by cooking their own meals. The hotel has two swimming pools and sits on a white-sand beach on the Gulf of Mexico -- shopping, dining, Times Square, and the Fort Myers Beach Pier are all within walking distance. DiamondHead Beach Resort, just next door, has more features like a spa and kids' club, but the Neptune is less expensive for similar rooms.
7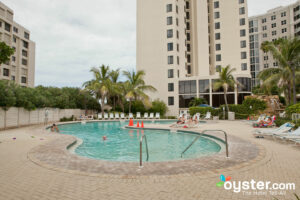 This mid-range condo resort is located on the southern end of Estero Island, a quiet area right by a huge beach. The 60 one- and two-bedroom condos have full kitchens with dishwashers, as well as washer and dryers, fairly spacious living areas, and wraparound balconies with gorgeous views of the beach and the Gulf of Mexico. There's a tennis court, a volleyball net on the beach, a large heated pool, and a Jacuzzi -- but you won't find much within walking distance, and the decor is pretty dated, with flower bedspreads, old (but huge) tube TVs, and lots of rattan.
8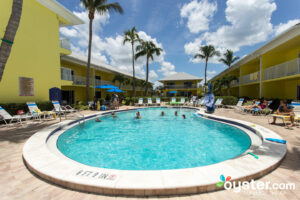 The yellow-painted Sandpiper Gulf Resort is a mid-range, family-friendly hotel directly on the beach on Estero Island. The 63 rooms have kitchenettes, dining areas, and balconies that in many overlook the beach and Gulf of Mexico. Two outdoor pools -- one adult-only -- face the beach, and there are shuffleboards and barbecue grills on-site. The hotel doesn't have a restaurant, but free water and coffee are provided all day. Travelers seeking an alternative option with on-site dining may consider the DiamondHead Beach Resort & Spa.
9
DiamondHead Beach Resort & Spa is an easy-going, three-and-a-half-pearl property located on Fort Myers Beach. The resort's 124 one-bedroom suites are kitted out with kitchenettes and screened-in balconies, in addition to separate living areas with sofa beds. DiamondHead's central location puts guests within easy walking distance of ample shopping and dining, and there's lots to do on-site as well, with a pool, a small spa, three restaurants, and direct beach access. However, much of it comes at a cost, as guests are charged a daily resort fee. Travelers looking for similar amenities who want to spend less may want to compare with Wyndham Garden Fort Myers Beach, where rates are often cheaper.
10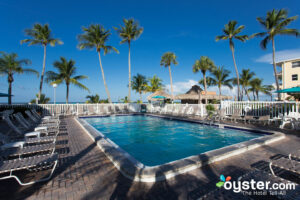 Situated on Estero Boulevard in Fort Myers Beach, the Outrigger Beach Resort is a good mid-range option on the Gulf of Mexico. The resort is on the trolley line that runs up to Times Square, and the 144 rooms are clean, quiet, and simple -- many come with full kitchens, but some aren't as modern as others. With direct access to a wide, white-sand beach, a Tiki bar, restaurant and an outdoor pool, there's a good deal to keep guests busy here. Travelers looking for a more features can consider the nearby GullWing Beach Resort, which has a tennis court, but will be more expensive.
11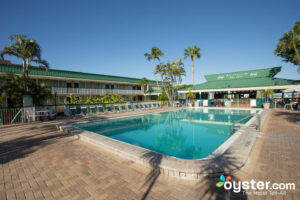 Wyndham Garden Fort Myers Beach is a pleasant mid-range hotel on a big stretch of white-sand beach on the Gulf of Mexico. The 103 simple rooms here are more contemporary than many hotels in the area and all rooms feature flat-screen TVs and mini-fridges. This end of Fort Myers Beach is pretty sedate, and the bars and restaurants of Times Square are a 15-minute drive from the hotel. The popular on-site Pincher's Tiki Bar is a hit for food and drink, and the pool is large enough for a genuine swim. The Pink Shell Resort & Spa has more kid-friendly features, but rates there will be much higher and rooms aren't as fresh.
12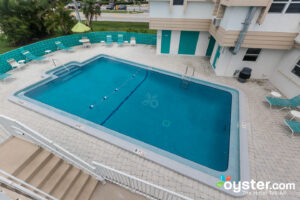 Catering to budget-travelers looking for a sunny getaway, Carousel Inn on the Beach is an unfussy, two-pearl property located on the sands of Fort Myers. The inn's 27 rooms are big and clean, plus they include full kitchens with ovens. The property has a motel-style layout, bookended by a well-kept pool on one side and the white sands of Fort Myers Beach on the other. It's a relaxed, no-frills property that offers good value for guests who can do without the extensive amenities of a full-scale hotel or resort. Travelers may want to compare rates and features with The Neptune Resort, which is situated within walking distance of a wider variety of dining options.
13
A modest, two-pearl property, Pierview Hotel & Suites is located in the lively area of Fort Myers Beach. The hotel's 58 units have slightly worn decor, but come equipped with practical coffeemakers, microwaves, and mini-fridges, with suites also including full kitchens. A convenient beachfront location -- within walking distance of ample shopping and dining options -- is the hotel's main selling point, with on-site amenities limited to an outdoor pool and guest laundry room. There's a daily resort fee, which is unusual for a budget property and something to keep in mind when comparison shopping with other properties. Travelers may also want to consider Dolphin Inn, where facilities are similar and rates are often cheaper.
14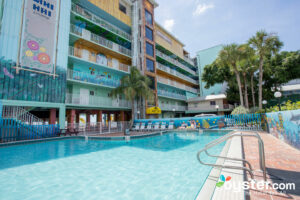 The two-and-a-half-pearl Lani Kai Island Resort is a lively beachfront property with affordable rates. It's located on the Estero Boulevard trolley line to Times Square and Lovers Key. Facilities could use an update, but guest rooms are spacious and on-site features are extensive. There's an outdoor pool, two restaurants with gulf views, a dance club with DJs, and a seasonal beach bar and grill, but no gym. All 100 units have gulf-facing balconies and sofa beds, and come well-equipped with flat-screen TVs, mini-fridges, microwaves, and free Wi-Fi. Studios and Suites with kitchenettes and kitchens are also available. The nearby Outrigger Beach Resort is closer to Times Square and Lover's Key, but it doesn't have as much on-site dining and entertainment.