Best Value Hotels in Glasgow
Meandering through the historic city, marveling at the art on display at numerous museums, and playing outside at one of the many parks; there's plenty to keep travelers busy in the city of Glasgow, Scotland. With so much to do and see, it can be hard on your wallet; this is why we're always scoping out the best deal. We visited the most popular hotels to see how they compare — from the rooms, to the pools, to the restaurants — to make sure you get the most bang for your buck. So if you're looking for a budget-friendly hotel, you've come to the right place. Check out our picks for hotels with the best value in Glasgow and start planning your getaway!
See All Glasgow Hotels
1
A modern, 239-room value hotel set in the center of Glasgow, this property has the typical Premier Inn chain look and feel. The location is excellent for exploring the city center on foot, and it's near public transportation for those who want to venture farther afield. Simple rooms have comfy beds with a variety of pillow options, though some suffer from traffic noise and the Wi-Fi can be patchy. The buffet breakfast service is decent but costs extra, and the bar provides a pleasant place to unwind. Overall, it's a basic but clean and comfortable place to stay in the center of the city with rates that won't break the bank. While there are a few other Premier Inns throughout Glasgow, all with similar rate structures, this location is arguably the most convenient.
2
The Premier Inn Glasgow City Centre South is a better-than-average example of the popular chain. Rooms are simple and spacious with modern, clean bathrooms, though those facing the road get some traffic noise. While the surroundings are far from attractive, Glasgow city center is a 15-minute walk away. Budget travelers may want to check rates with the Holiday Inn just across the river, although most will find that this Premier Inn represents a better all-round value for the money.
3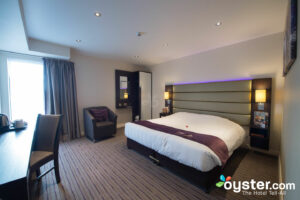 The Premier Inn Glasgow Pacific Quay is a sleek and modern budget hotel set on the south bank of the River Clyde, with easy access to local BBC offices, SSE Hydro arena, and the Scottish Exhibition and Conference Centre (SECC). Its 180 rooms are clean and contemporary, with comfortable beds and large flat-screen TVs, though they lack telephones, and the windows don't open. The large restaurant has a decent menu and good bar, and Wi-Fi and parking are both free of charge.