Most Romantic Hotels in Playa del Ingles, Gran Canaria
Take a look at the most romantic hotels in Playa del Ingles.
See All Playa del Ingles Hotels
1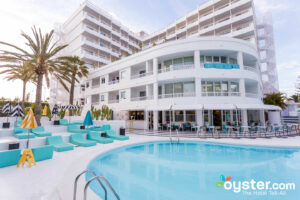 The four-pearl Gold by Marina is an adult-only hotel located a 10-minute walk from Playa Ingles in one direction, and the Yumbo shopping mall in the other. The hotel's decor is hip and gorgeous -- think bright, modern, and effortlessly cool, with splashes of color everywhere you look. The 133 rooms are serene in contrast to downstairs, outfitted in white and turquoise furnishings, well-equipped kitchenettes, and furnished terraces. Guests rave about the buffet breakfast (fee), and other meals can be ordered at the restaurant or pool bar. Two outdoor pools, a massage and wellness treatment area, and tiny gym round out the amenities. Travelers may want to compare rates with the more luxurious adult-only Bohemia Suites & Spa, though bold purple rooms may be a bit loud for some.
2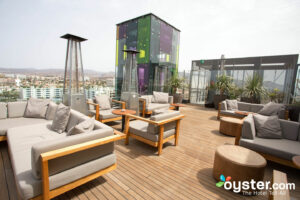 The Bohemia Suites and Spa is a 67-room, adults-only, luxury boutique hotel in Playa del Ingles, roughly 200 yards from the beach. The lush El Siam Spa offers a full array of Thai-influenced bodywork and beauty treatments. The grounds are beautifully landscaped with royal palms and exotic flower gardens, as well as high privacy hedges that make the pool feel perfectly remote. Rooms and common areas are designed in luxe high style, with bright modern furniture and atmospheric lighting (that some find a bit overwhelming). Considering its many on-site facilities (fitness center, spa, restaurants, and pools), freebies (Wi-Fi and breakfast), and often affordable rates, the Bohemia Suites offers a surprisingly solid value for a luxury property.
3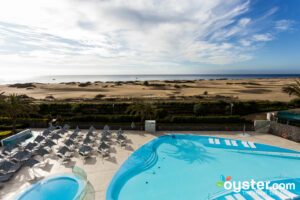 The four-pearl, 2016-opened Santa Monica Suites is a smart and minimalist hotel with stunning views of the Maspalomas sand dunes, which are a two-minute walk away. Slightly farther at five minutes is the promenade, home to several bars and restaurants. The182 rooms are bright, style, and tranquil, featuring sunken seating areas and furnished terraces -- many with views over the dunes and ocean. Features include a spa with views of the dunes, pool with huge terrace and adjacent a la carte eatery, and well-reviewed buffet restaurant. The free Wi-Fi, however, can be finicky, and there are no in-room kettles. Guests looking for a smaller, more secluded hotel, might want to try the nearby Gold by Marina, although it's adult-only.
4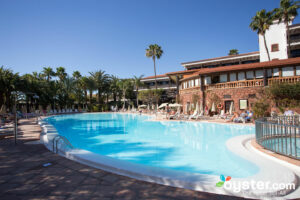 The 235-room Parque Tropical is a charming upper-middle-range hotel a bit removed from the hustle and bustle of central Playa del Ingles, though directly on the promenade. Traditional rooms are larger-than-average for the area, and feature free Wi-Fi, flat-screen TVs, and mini-fridges, plus some have balconies with panoramic ocean views. The restaurant serves excellent buffet meals for breakfast and dinner, and lunch is served at the poolside grill, which gets similarly great reviews. The pool is large and quiet, with enough loungers for all guests and palm trees and umbrellas for shade. Kid-friendly amenities include a playground, mini-golf, and giant chess, but the hotel is better suited for couples than for families. Those traveling with children may want to compare rates at Occidental Margaritas.
5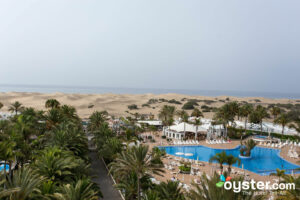 There's no doubt that the showstopper at the 383-room, three-pearl Riu Palace Maspalomas is its setting -- right on the edge of the stunning desert-scape of the Maspalomas Dunes. The property itself has pretty touches such as glass chandeliers and colorful bougainvillea, but overall decor is old fashioned and in need of a refresh. Rooms especially feel dated with patterned carpeting and curtains, and traditional wooden furniture; however, dune views from most balconies are a real treat. Plentiful facilities include two pools, two restaurants, two bars, and a spa -- kids are not well-catered to though. This is a peaceful property for couples, but families will find more amenities for the little ones at the nearby IFA Catarina.
6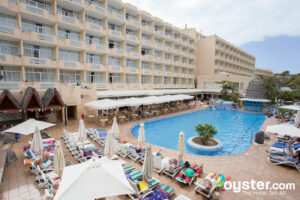 The 402-room IFA Catarina is a mid-range hotel located in the southern end of the Playa del Ingles resort. It's just a few minutes' walk to the stunning Maspalomas Dunes, as well as plenty of dining and shopping options, though the beach is 15 minutes away on foot. Well-maintained rooms have flat-screen TVs and balconies, but they also have cheap-looking patterned linens and a fee is charged for safes and Wi-Fi. The outdoor pool has separate sections and whirlpools, plus there's a kiddy pool with a waterslide. There are two restaurants, including a buffet-style eatery, and three bars, one of which has live entertainment. The nudist rooftop terrace certainly won't appeal to all though -- conservative guests might want to consider the more sedate Riu Palace Maspalomas nearby.
7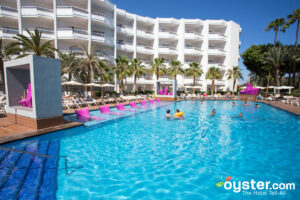 The 251-room Riu Don Miguel is a mid-range chain hotel in the middle of Playa del Ingles. This modern, adult-only hotel uses colors festively, with a bright pink seating area in the lobby and pink and purple furnishings and decor throughout its three restaurants and bars. The guest rooms are moderately large and also punched up by pops of color. Each room offers a sizable balcony, a mini-fridge, and a flat-screen TV. While the half-board option includes buffet breakfast and dinner in the cost of the room, Wi-Fi incurs an extra charge, except for 90 minutes per day of free access in the lobby.
8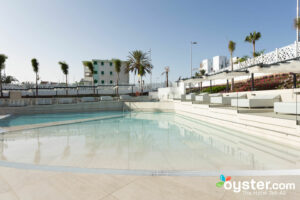 Hotel Caserio is an upscale hotel with sophisticated interiors that's just a three-minute walk from the beach promenade. It's one of the most stylish hotels in Playa del Ingles, in part due to a 2016 overhaul, and appeals primarily to modern-minded couples. Rooms are clean and minimalist, and all come with large flat-screen TVs, air-conditioning, and balconies -- some have sea views. The immaculate, heated pool is a favorite among guests and has a zero-entry layout, with a stylish poolside bar and fantastic sunbeds. The modern buffet restaurant offers live cooking stations, and there's a rooftop sun terrace with a hot tub and gorgeous views (though the atmosphere up there is a little lacking). For a better rooftop terrace try the Marieta Labranda instead, but the parking there isn't free.
9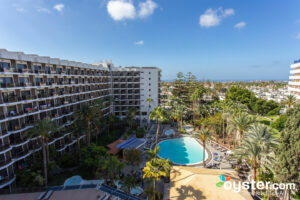 The 490-room Occidental Las Margaritas is an upper-middle-range hotel split between two buildings -- one main and an apartment annex -- centered around pleasant tropical gardens. The location puts many of the restaurants, shops, and nightlife of the Playa del Ingles resort within a short stroll, though the beach is a 10-minute drive away (free daily shuttles are available). Simple rooms have modern furnishings and balconies, while apartments also provide cooking facilities. Buffet dining can be a bit crowded, but the a la carte option receives better reviews. Featuring two pools and plenty of leisure facilities for all ages, the hotel is a solid choice for both families and couples. Still, it's worth comparing rates with the Sol Barbacan Hotel, which has spacious rooms that all come with kitchenettes.
10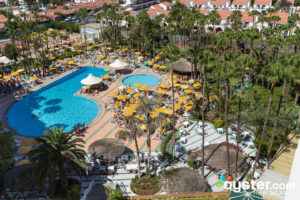 The 400-room, mid-range Hotel Eugenia Victoria is 10 minutes from the center of the town of Playa del Ingles in an area filled with hotels, and about a half-mile from the beach, to which the hotel runs free shuttles all day. Some rooms are not as up-to-date as others; the more modern rooms are simple but breezy, with a buttery yellow color scheme and balconies. Showers, however, are tiny. Nonetheless, this property offers a solid all-inclusive value with an extensive buffet restaurant, a massive pool, and a lovely spa.