Best Lakeside Hotels in the United States
It's a summertime debate for the ages: Do you head to the ocean or go to a lake to beat the heat? While there are certainly advantages to both, there's something undeniably special about a lakeside getaway. Whether it's cultivating memories with your kids over bonfires or sharing a romantic weekend with a new love, lakes are a great American summertime escape. With that in mind, we've scoured the hundreds of lakeside hotels that we've visited to come up with a list of the 10 best we've found so far.
See All Arkansas Hotels
1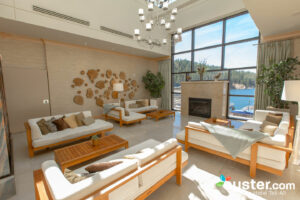 While we've seen our fair share of lakeside hotels and resorts, it's a rare gem that eschews cabin-cozy design elements for fresh, bright, and modern style. The Coeur d'Alene Resort, which is in downtown Coeur d'Alene and is also the only hotel in town to sit right on Lake Coeur d'Alene, manages to be a mostly contemporary property with lots of bells and whistles. It's both family-friendly and romantic, and large enough for guests to find their own private corner to unwind. Lake cruises depart directly from the hotel, and the property includes everything from a golf course to multiple dining options. Many of the spacious rooms have balconies and gorgeous water views, particularly in the Lake Tower. Live jazz on select nights, as well as an indoor pool, only sweeten the deal at this upscale property.
2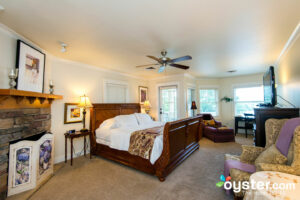 The individually decorated rooms at this sharp little property are fresh and romantic, with decor that blends a cabin-in-the-woods vibe with more modern touches, patterns, and color palettes. In-room features range from patios and balconies to fireplaces and whirlpool tubs, and the hotel has great views across Lake Hamilton. Downtown Hot Springs is just over 10 minutes away by car, with the entrance to Hot Springs National Park just five minutes farther. The hotel's three-course breakfast scores rave reviews from past guests, and in nice weather, it's served outdoors. There's also a canoe available for lazy paddles around the lake.
3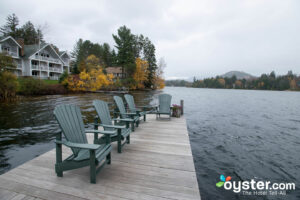 New York's Adirondack Mountains are filled with pretty vistas and amazing lakes, and the Mirror Lake Inn capitalizes on both. It's also incredibly popular, and has been drawing loyal guests for nearly a century. Rooms embrace the mountain-lodge aesthetic that many travelers are seeking when they make the trek up into New York's largest mountain range, but the style manages to steer clear of kitsch. The property has even hosted Olympic teams over its long history. The heart of Lake Placid is only a 10-minute walk away, but the hotel has its own solid dining options, including The View, which has a dynamite wine list. An indoor pool and wealth of water-sports equipment for use on Mirror Lake add even more reason to head here on your next trip.
4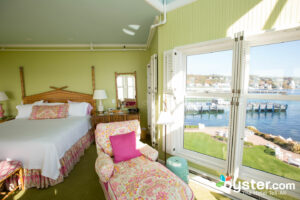 Situated amid the cool waters of Lake Huron, Mackinac Island is a car-free summertime paradise that has been drawing visitors for over a century. Built in 1904, the charming Hotel Iroquois sits right of the island's bustling main street and near the ferry dock, with great views across the lake. Country style is the name of the game when it comes to the small properties across the island, but Hotel Iroquois -- while certainly decked in lots of lace, wicker, and floral prints -- looks classy and well-kept. The Victorian gardens, lovely sun room, and individually decorated rooms come together to make a great lakeside package. And, of course, the pebbly sunbathing beach doesn't hurt either.
5
This sprawling getaway is almost a world unto itself, tucked high in the Blue Ridge Mountain foothills, about 90 minutes south of Asheville by car. It's classy and quaint at the same time, with a blend of cabin-chic style and modern polish, and a fairly massive array of activities on offer. The star of the show is the hotel's private lake, which is perfect for swimming, boating, kayaking, or any other non-motorized water pursuit. Golf, tennis, a kids' club, and even llama hikes are available for guests. Keep in mind that extra fees come along with many activities, including the hotel's falconry program. While we love the cultivated elegance of the property, it's also worth noting that you'll have to adhere to a dress code for some meals and in certain parts of the hotel.
6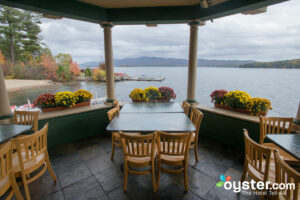 The most convincingly lodge-like entry on this list, the Lodges at Cresthaven is a boutique-size upscale property on the shores of Lake George. Don't come here expecting the tacky budget motels found farther south on the lake, as it's all about peace and quiet in an attractively rustic package. Canoes and kayaks are available on the hotel's private beach, and the restaurant scores raves from previous guests. Meals and drinks are particularly delightful when taken on the terrace overlooking the lake and surrounding mountains. The two-bedroom units here mean that this is a great choice for families when it comes to space, though aside from nature-focused pursuits, it's not exactly kid-oriented. Instead, book a room here to feel miles away from it all.
7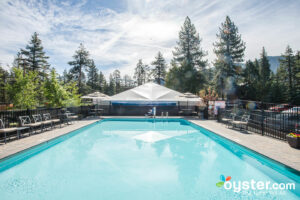 Yes, you will have to cross a small road of bikers and pedestrians to get to the lake, but this South Tahoe resort -- on the Californian side of the lake -- is a handsome option for those seeking easy water access and amazing landscape views. It also happens to be one of the most chic options in this part of the region. Interiors are sumptuous, colorful, and tasteful, with handsome rooms tricked out in a blend of classic details and contemporary touches. The real treat here, though, is how the hotel wholeheartedly embraces its lakeside setting. Fire pits on patios overlook the water, dining rooms have massive lake-view windows, and there are free passes to the beach across the road. Need even more reason to book here? The bar has a wine list with 250 different labels.
8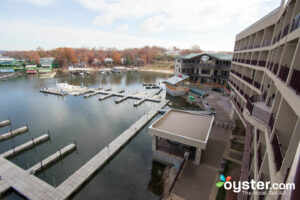 This isn't exactly the picture of a quiet lakeside escape, but not everyone needs their vacation to be a subdued getaway. For travelers who want a bustling, big-ticket-style resort, the Camden on the Lake is a solid bet. It has a marina for those with their own boats, as well as a wide array of water sports. It's also connected to H. Toad's Bar & Grill, which is open year-round and hosts live entertainment. In addition to the big acts on its outdoor stage, there's also a smaller indoor stage with live music on weekends -- just keep in mind that both venues are seasonal. That does mean there is some noise when shows are happening in the summertime, but if you're here for the lively atmosphere, that likely won't be a problem.
9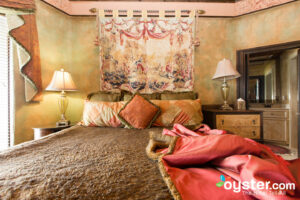 With just five rooms, this is the smallest of our favorite lake hotels. We admit that the over-the-top style won't suit everyone's tastes, but for fans of bed-and-breakfast-style lodgings with amazing lake views and a stunning infinity pool, La Villa Vista is hard to top. The hotel is only a 30-minute drive from downtown Austin, and Lake Travis is just across the road. The free hot breakfast in the morning is a welcome addition, though beyond the hot tub and pool, the hotel doesn't have much in the way of features. Still, with character to spare, and amazing water views from many of its rooms, this is a romantic pick for couples looking for a great weekend escape.
10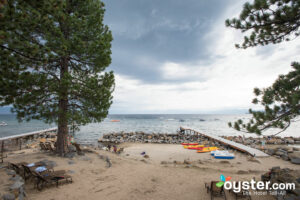 Those family-friendly memories you're probably seeking on a summer vacation can be scored at the Red Wolf Lakeside Lodge. This simple lakeside property has a private beach, pier, and a grassy area for bonfires and barbecue nights. It has pleasantly modern cabins and apartments, all of which include kitchenettes that make saving money on self-catering easy. Certain rooms even add fireplaces for an extra charming touch. Summer is big business here and you'll need to book well in advance. After all, the Tahoe Vista location is one seriously pretty lakeside region. Just keep in mind that the hotel doesn't have a restaurant and is best for travelers with their own vacation agendas in mind.