Best Kid-Friendly Hotels in Iceland
Seeing Iceland's steam-spurting valleys and active volcanoes, walking over moon-like lave fields, splashing in geothermal pools, keeping an eye out for whales in the summer — and hearing spooky Norse fairytales — make for adventure that kids will never forget. Here are the country's most family-friendly hotels.
See All Iceland Hotels
1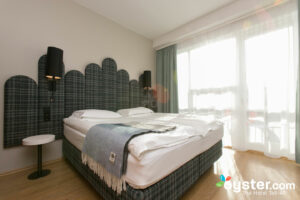 The four-pearl Icelandair Hotel Reykjavik Marina is on the old harbor, within walking distance of the city center. Contemporary in style, the 147-room property is moderately priced, with nautical-themed rooms and views that include the water, marina, and city streets. Its lobby, whimsically decorated with Eames-like chairs covered in fake fur, felt-covered walls, and sculpture and paintings by local artists, has a lava gravel firepit, a bakery, and library. The Slippbarinn, the hotel's restaurant and bar, serves modern Scandinavian cuisine and often hosts live music, which draws locals on the weekends. The hotel has a small gym with a climbing wall and a screening room with candy-colored seats and a schedule that includes kids' movies on the weekends.
2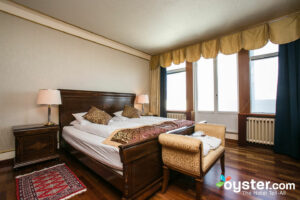 Located in a residential neighborhood about a 15-minute walk from the city center, the Radisson Blu Saga Hotel is an upscale hotel with 209 contemporary but dated rooms that have views that include mountains, glaciers, and the sea. The colorful, themed family-friendly suites come with a special kids' gift, toys, games, and a DVD player. And rollaway beds are available on request, for an extra fee. The hotel has three restaurants, one of which -- the casual Skrudur restaurant -- has a kids' menu, an ice cream bar, and a play area for children.
3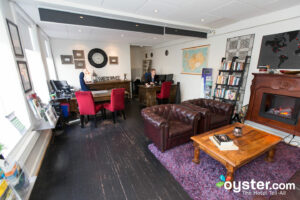 Couples and families love Reykjavik4you Apartments Hotel for its central location, with most units just far enough away from bustling Laugavegur Street to stay quiet and relaxed. Its 22 big, bright apartments have full kitchens and colorful modern decor with mod accents. The upper-middle-range property offers few other amenities, though, and guests are on their own for food, but the bespoke vibe here has an undeniable charm that makes it a popular pick in one of Reykjavik's best locations.
4
This upscale property offers an exclusive boutique experience in the center of Reykjavik, with Reykjavík Art Museum and Volcano House Exhibition Center nearby. Its 10 units are actually spacious suites decorated in a sleek contemporary style, with fully-equipped kitchens and luxury gadgets, like Nespresso machines and iPads. Black Pearl is one of the most expensive options in the city, however it offers few on-site amenities for its big price tag. There's no on-site restaurant, pool, or spa, but guests have the option to book these services off-site with the concierge.
5
A short walk from some of Reykjavik's best shopping and dining, the mid-range apartment hotel Kvosin Downtown Hotel sits next to Iceland's Parliament. It's ideal for families who can make use of the generous square footage in each of the 24 units, with decor befitting a modern Scandinavian apartment. Even the smallest rooms have kitchenettes (which include electric ranges set in marble countertops, mini-fridges, Nespresso machines, and dishware), while larger apartments add dining tables or breakfast bars with stools. Some have small balconies with city views. Free Wi-Fi comes standard along with smart TVs and Tivoli audio systems. Free breakfast is offered at a cafe around the corner, but there are few other amenities.
6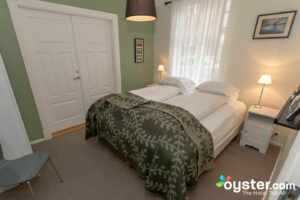 The mid-range Reykjavik Residence Hotel provides relaxed apartment-style living near Reykjavik's downtown attractions. Its contemporary Studios and One- to Three-Bedroom Apartments with kitchenettes cater to couples and families who want a bit of independence. Modern appliances are included and fridges are stocked with some free refreshments. Ground floor units can be noisy with the area's foot traffic, and the property lacks on-site facilities like a restaurant or fitness center, but the homey atmosphere and attention to detail are hard to top for apartment-style digs in the center of town.