Best Kid-Friendly Hotels in Istanbul
Take a look at the best kid-friendly hotels in Istanbul.
See All Istanbul Hotels
1
The White House Hotel is a 22-room, boutique hotel in
the heart of Istanbul's Old City. Built in 2000, this upscale property
manages to convey a much longer history thanks to its traditional Ottoman decor and its rooftop
dining room with views to the Aya Sofia, a former mosque that's now a museum.
Like many hotels in the most ancient part of the city, the White House has windows that open to a
busy street, so noise may be an issue for some travelers. Guest rooms feel feminine and elegant, and have modern amenities, though they're somewhat small. Breakfast, including
the fresh fruits plentiful in the region, is free and served on the
terrace. The hotel accepts pets with no fees, a boon for an Old City property. If the White
House Hotel is booked, visitors could try the significantly less expensive, upscale Cela Sultan Hotel, which has Hagia Sophia views.
2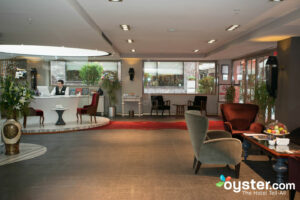 This upscale 42-room hotel in the Sirkeci neighborhood of Sultanahmet is the nicest of the Yasmak Hotels mini-chain. Each of the rooms is named after a different sultan's wife and has tasteful Ottoman-inspired decor. Features are more extensive than at many Sultanahmet boutique hotels: They include an indoor pool, hammam, spa treatment rooms, rooftop restaurant with views of the Hagia Sophia, and fitness center. The numerous freebies -- an impressive breakfast buffet, (limited) DVD library, afternoon tea with pastries and finger sandwiches, airport transfers, and Wi-Fi -- add value, and all of the Old City's top attractions are within walking distance. But the elevator is tiny and the location on a pedestrian-only street means taxis can't come right to the front door.
3
The Osman Han Hotel is a three-pearl, seven-room property in the oldest part of Istanbul. Opened in 2007 by a couple who own a rug shop, the affordable property has an intimate, guest-house vibe and traditional decor. Rooms are small with old-fashioned furnishings, kettles, and mini-fridges. A free breakfast is served on the hotel's rooftop, which features spectacular views of the city and the Sea of Marmara, and it feels a bit like staying in a private home. For a more modern property with a sunny atrium, visitors could try Hotel Alilass.
4
Raffles Istanbul is a five-pearl property with dramatic, art-filled interiors situated in an upscale mall and residential complex, about a 30-minute drive from the top tourist sights. Its 185 rooms and suites have floor-to-ceiling windows (many with sweeping city and water views), balconies, butler service, and tablet controls. The hotel has a serene indoor pool with an atrium and an outdoor pool with stunning views and a bar. Its eight restaurants and bars include a Michelin-starred dining room serving Catalan food, while the enormous spa offers an array of treatments. Design-centric interiors and ultra-attentive service draw well-heeled tourists and business travelers, but those seeking something closer to the top sights might want to consider the Sura Hagia Sophia Hotel -- though rooms aren't as spacious and don't come with as many amenities.
5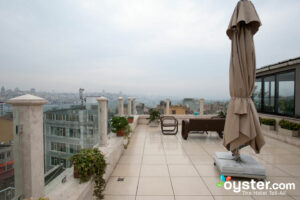 The Neorion Hotel
is an upscale, boutique-size property with a prime location within minutes' walk of
Istanbul's historical center. Although relatively new, the building features
traditional Ottoman styling inside and out, including in the decor of its 53
guest rooms. While the spa is impressive for the level of hotel, its the rooftop
terrace that really wows with superb views accompanied by free drinks and
meze at dusk. Prices are fair for the category (the comparable Hotel Sultania nearby has similar rates), and super-friendly staff and general charm ensures the Neorion remains one of the
most popular choices around.
6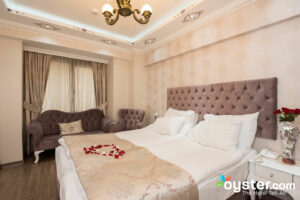 A low-key, mid-range property, the World Heritage Hotel Istanbul is located in Sultanahmet Square, within walking distance of top tourist attractions. Its 20 rooms have pleasant, elegant decor, free minibars, and beds routinely described by guests as "very comfortable" -- but bathrooms are tiny and can feel cramped. The hotel serves a free breakfast, including its highly touted omelets, in a rooftop dining room or terrace with views of the city. This family-run property has an intimate aura that's more like a guesthouse than a hotel. Free tea and coffee is offered upon arrival and an array of free cakes and cookies is available in the afternoons. But it's worth comparison shopping as there are many similar properties in the area, such as The Constantine Hotel, which some travelers may find more stylish.
7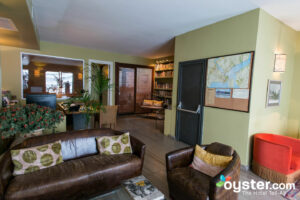 Hotel Ibrahim Pasha is one of the most charming boutique hotels in Sultanahmet, with an unbeatable location just off the Hippodrome. The cozy lobby and library both have wood-burning fireplaces -- a real treat in the cooler months -- and the roof terrace has a jaw-dropping view of the Blue Mosque and the Bosphorus. The free breakfast is perfectly adequate if not as extensive as the offerings elsewhere, and free tea and coffee are served all day upon request. Standard Rooms are diminutive but adorable, with flat-screen TVs, iPod docks, robes, Molton Brown toiletries, and rainfall showerheads. For what you get, it's a great value, though prices do spike up in peak season.
8
The upscale, 79-room Yasmak Sultan Hotel is ideally situated in the Old City, within walking distance of both the waterfront and major tourist attractions. Sophisticated rooms feature a chic white and beige color palette and include minibars, flat-screen TVs, and free Wi-Fi. The hotel has a rooftop restaurant with fantastic city views, as well as a wellness center with a small indoor lap pool and saltwater pool, a small gym, two treatment rooms, a Turkish hammam, and a sauna -- though some of these cost extra fees. There are plenty of four-pearl properties in the area though, so travelers might want to compare rates with The Golden Horn Hotel or Hotel Ipek Palas.
9
Ada Hotel Istanbul is in a prime location near Sultanahmet Square, within walking distance to dining and major attractions. It's an older property with traditional decor that has a slightly dated look, but it's still charming, and has a lovely rooftop terrace with views of the Sokollu Mosque and Sea of Marmara. Some of the 15 guest rooms are in better condition than those at other hotels nearby in the same range. All units are equipped with AC, flat-screen TVs, mini-fridges, kettles, and free Wi-Fi. Many boast exquisite sea views, and there are four modern apartments with full kitchens in an annex next door. There's no full-service restaurant or bar, but a free buffet breakfast is included. Travelers seeking upscale accommodations can check out the four-pearl Dersaadet Hotel Istanbul.
10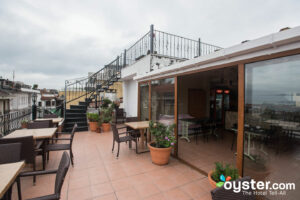 Agora Guesthouse is a budget-friendly hostel/hotel hybrid with sweeping rooftop terrace views of the Bosphorus and the Asiatic side of Istanbul. The property has 19 simple and practical rooms -- both private and dormitory-style -- that have either private en-suite bathrooms or shared ones. Decor is a bit dated, however, and basement rooms have little natural light. A free breakfast includes pastries, six varieties of olives, and pickled vegetables, and is served on the rooftop. Free coffee and tea, Wi-Fi, and use of a laptop computer are also offered here. Guests routinely report that the Agora is a tidy property with a warm atmosphere. Another budget option with a more up-to-date, boutique look is the Yazar Hotel.
11
Set inside a refurbished building that dates back to 1922, the five-pearl Park Hyatt Istanbul - Macka Palas gives Old World grandeur a contemporary polish. Its 90 spacious guest rooms complement the original details -- rounded archways, wood floors, and flowery moldings -- with modern furniture, and have luxurious bathrooms as well as an array of amenities like Nespresso machines, iPod docks, and free Wi-Fi. Features include a spa, small fitness center, and lovely outdoor pool, plus there are two restaurants and an elegant wine bar. But the location, in the upscale Nisantasi neighborhood, isn't ideal for tourists who want to explore the Old City on foot, as historic sites like Topkapi Palace are a 30-minute drive away. For something closer to attractions, travelers might want to check out the Sura Hagia Sophia Hotel.
12
Set in a
traditional 19th-century wooden house, the upper-middle-range Esans Hotel has eight comfortable guest
rooms, each named after a perfume, and they're equipped with
air-conditioning, flat-screen TVs, stocked minibars, and electric
kettles. A generous breakfast buffet is served each morning in the
rooftop breakfast room, which offers panoramic city views. Wi-Fi is
free in all areas of the hotel, and international calls to some
countries are free. Notable downsides include the cramped showers in
the bathrooms and the lack of an elevator. Travelers may also want to consider
nearby Basileus Hotel, which offers rooms with larger bathrooms, though rates can be higher.
13
Although it may lack a certain polish or uniform design sense, this eclectic four-pearl hotel built in the 18th century impresses on many levels -- particularly in character. There's a virtual treasure trove of original art, antique furniture, handmade textiles, and various historical knick-knacks strewn throughout the common areas and in the 16 guest rooms, suites, and apartments. The on-site spa, hammam, garden, cafe, and restaurant add several more layers of frosting to the already savory cake, while the location in the Çukurcuma provides distance from the tourist hurricane in Sultanahmet and proximity to Istanbul's hipster, shopping, and nightlife scenes in and around nearby Istiklal Street. For equal quirk, but major sights nearby, check into the Kybele Hotel, just steps from the Hagia Sofia in Sultanahmet.
14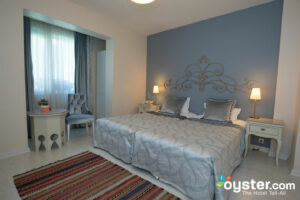 The Celal Sultan Hotel is a four-pearl, boutique property in the most ancient section of Istanbul. The 55-room hotel, spread over three buildings, has views of the dramatic Hagia Sophia from its terrace restaurant, one that serves Ottoman and Western cuisine. Rooms are cozy, clean, and decorated with ornately patterned fabrics, and all have minibars and flat-screen TVs. Located on a quiet street, this charming hotel is in the middle of many top tourist attractions such as the Blue Mosque and the Topkapi Palace. Breakfast is free and includes homemade goods. But there's no Turkish bath or fitness center on-site; visitors seeking a hotel with both, might try Lady Diana Hotel.
15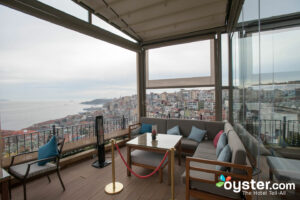 CVK Hotels & Resorts Park Bosphorus is a huge five-pearl hotel in Istanbul's bustling Taksim neighborhood, steps away
from Taksim Square. Despite its classic, Ottoman-inspired style, the building was built in 2013 and the interiors
are glossy and chic, with all the requisite modern inclusions. The rooms
are spacious, with king-size beds and luxury amenities like mini hammams and soaking tubs in marble bathrooms, as well as private balconies. There's also an expansive indoor pool area, six high-end dining options, and a full spa.
The decadent hammam has gold mosaic tiles, and there's a sleek library complete with a fireplace
and cream-coored leather chairs. Although couples and business travelers
are the target market, it's perfect for anyone looking for a relaxing and
refined environment in the heart of the city.