Most Romantic Hotels in Ixtapa, Zihuatanejo
Take a look at the most romantic hotels in Ixtapa.
See All Ixtapa Hotels
1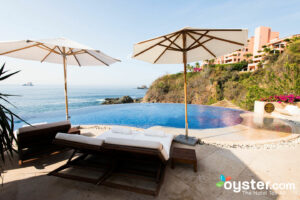 The upscale, 59-room Capella Ixtapa is an inviting hotel with a chic and sophisticated Mexican style. The hotel features many of the amenities travelers look for on vacation: two infinity pools, a full spa, and ocean views, plus luxe touches like a personal assistant and free treats by the pool. Drinks and food are available from the patio restaurant, pool service, tapas bar, and seafood grill. Each of the rooms are tastefully decorated with Mexican-style art and have private dip pools, balconies, and stunning ocean views. Unfortunately, Capella's location on the edge of Ixtapa means that the closest beach (Playa el Palmar) is an eight-minute drive. For those looking for direct beach access and an adult-only pool, try Viceroy Zihuatanejo.
2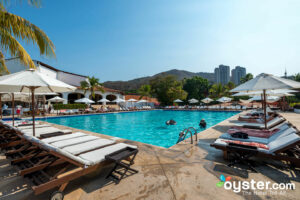 Perched on a hill with stunning ocean views, the upscale and all-inclusive Club Med Pacific Ixtapa has a privileged location that's beachfront to the white sands of Playa Quieta. All of the 516 vibrant rooms at the hotel are spacious and modern with strong air-conditioning, flat-screen TVs, and mini-fridges. With a kids' club with its own restaurant, multiple pools, and plenty of activities like trapeze, tennis, and evening shows -- this is an ideal place for families. There are a few wellness options that appeal to couples, like a moderately sized fitness center, quiet pool, and relaxing spa. Overall, this is a family place. Travelers looking for something quieter should check rates at Cala de Mar Resort & Spa Ixtapa where all rooms have private dip pools.
3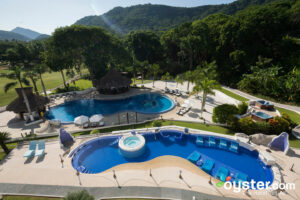 Located on a beautiful hillside in Ixtapa's bustling tourist district, Pacifica Resort Ixtapa offers stunning Pacific Ocean views. With five large pools, seven full restaurants, and sprawling, extravagant grounds, it's near the top of Ixtapa's list of upscale beachfront resorts. The 222 mostly modern suites offer massive floor plans and the long list of standard amenities in many rooms includes a full kitchen, a glass rainfall shower, spacious living and dining areas, and a private balcony (many with ocean views). For a more luxurious alternative, the nearby Las Brisas Hotel Collection Ixtapa offers similar amenities in a Mayan Pyramid-themed resort.
4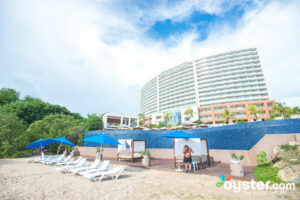 Located in Ixtapa's main tourist district, the four-pearl Azul Ixtapa Grand Spa & Convention Center is the area's most high-end all-inclusive resorts. Along with three beautiful zero-entry pools, an adult-only terrace, and three of the more upscale a la carte restaurants in Ixtapa, the resort ticks most of the boxes for a beachfront getaway. However, the property's tiny, rocky beach could be a deal-breaker for some, and it's a bit of a hike from the center of Ixtapa. Every category of room is spacious, sophisticated, and modern, with must-have amenities like hot tubs, mini-fridges, flat-screen TVs, and ocean-view balconies with panoramic views. For a more affordable, kid-friendly alternative, check rates at the adjacent Azul Ixtapa Beach Resort & Convention Center.
5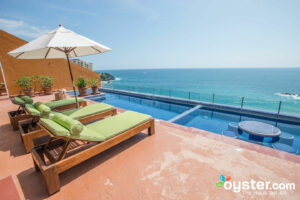 Las Brisas Hotel Collection Ixtapa has one of the area's best locations on the outer edge of Ixtapa's bustling tourist core. The 426- room, four-pearl resort offers almost every essential and upscale amenity imaginable, including four pools, a handful of restaurants, and a beautiful beach. Every category of room is clean and sophisticated, with a nice dash of local character and bright color, plus stocked minibars, flat-screen TVs, and large, ocean-view terraces with hammocks. Some rooms even have private pools. Relative to comparable area hotels, the lack of a dedicated spa and long walk down to the beach are the only notable drawbacks. Check rates at the Azul Ixtapa Grand Spa & Convention Center for a similarly priced alternative, though its rooms have a bit less style.
6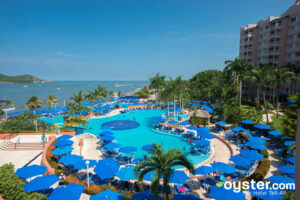 Located in Ixtapa's popular tourist district, three-and-a-half-pearl Azul Ixtapa Beach Resort & Convention Center, an all-inclusive property with sweeping views of the Pacific Ocean and a plethora of activities to keep families busy. Two large pools, a kids' water park, all-inclusive dining at multiple on-site restaurants and bars, and an enormous fitness center all combine for a fine Mexican beachfront getaway. The 400 rooms are clean and spacious, with amenities like mini-fridges, flat-screen TVs, and private, ocean view balconies. However, the charge for Wi-Fi and lack of a spa are noteworthy negatives. Travelers may also want to consider Pacifica Resort Ixtapa, where rates can be lower and many rooms have charming local accents.
7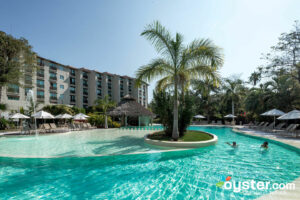 Situated on a corner in a quiet residential neighborhood, the tall white buildings of the three-pearl Gamma de Fiesta Inn Plaza are easily seen from the main road through Ixtapa. All 153 rooms are spacious and simply decorated, and many come with balconies or spacious terraces. The hotel has nearly every amenity a traveler might expect: a massive pool terrace, swim-up bar, and 24-hour reception desk. The casual restaurant serves a buffet of both Mexican and international dishes for breakfast, lunch, and dinner, with a few a la carte menu items. One major downside is that it's a 10-minute walk to Playa el Palmar. For those looking to be closer to the beach, the Park Royal Ixtapa is a great choice with similar amenities but with a higher price tag.
8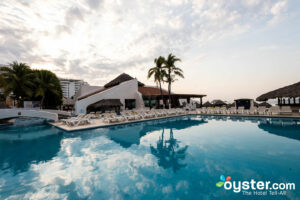 The mid-range Park Royal Hotel is an inviting all-inclusive Ixtapa hotel situated beachfront to the white sands of Playa el Palmar. All 228 rooms are spacious and modern, featuring balconies or terrace with ocean or garden views. Rooms come with air-conditioning and flat-screen TVs. Features include three restaurants, shops, and a massive pool terrace. There are a host of bar options and entertainment for those looking for late-night options. The hotel also features a few wellness amenities including a small fitness center and moderately sized spa for massages and facials. One of the biggest complaints is that day passers can take over the beach and pool. Travelers looking for something a little quieter should compare rates at the Puerta del Mar -- it's a great choice with similar amenities at a lower price.
9
The Ixzi Plus Hotel is a spacious mid-range hotel situated in an upscale residential district in Ixtapa. The hotel features 54 modern and chic rooms with minimalist decor and private balconies. The rooms range in size from Standard Rooms to Two-Bedroom Villas, and all are spacious. Limited features include two pools with spacious terraces, lounge chairs, and umbrellas -- plus a yoga studio and free Wi-Fi. There is small, open-air breakfast area and the bar is open seasonally. The hotel's location outside of town means the restaurants and beach are a 10-minute drive from the hotel. Those looking to be closer to the beach should consider Park Royal Hotel, with more amenities, but at a higher price tag.
10
The two-and-a-half-pearl Puerta del Mar is an inviting Ixtapa hotel with Colonial Mexican decor and relaxed family-friendly ambience. All 45 guest rooms are one- or two-bedroom suites with separated living rooms and spacious private terraces with lounge chairs. The spacious suites also feature full kitchens, dining tables, and TVs. The hotel is an ideal choice for couples and families, with two pools (one with a slide), an open-air restaurant, and two casual bars. The gated hotel has beautifully manicured soccer fields and grounds with lovely tropical flowers. The biggest downside is that it's a 15-minute walk to Playa el Palmar. For those looking to be closer to the beach, consider the Park Royal Hotel. It has similar amenities and a lively vibe -- but at a higher price.
11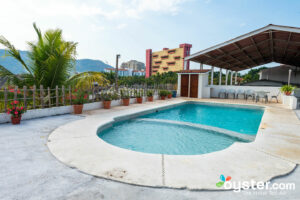 Located along a popular tourist road, the two-pearl Hotel Suites Ixtapa Plaza is within easy walking distance of Ixtapa's restaurants and shops, and a seven-minute walk to Playa el Palmar. The 17 rooms are simple and basic, ranging in size from tiny to spacious. The rooms have simple amenities of flat-screen TVs, air-conditioning, and work tables. Features consist of a pleasant rooftop pool and a handful of common areas. This value option is ideal for those wanting a starting point for exploring Ixtapa and its sister city Zihuatanejo; but those wanting a little more action and amenity choices should consider Park Royal Hotel -- it's a more sophisticated, but pricier alternative.