Most Romantic Hotels in Poipu, Kauai
Take a look at the most romantic hotels in Poipu.
See All Poipu Hotels
1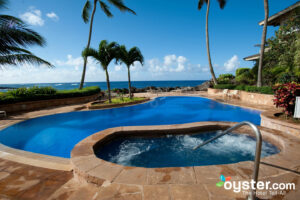 Made up of 39 huge one-, two-, and three-bedroom luxury condos (each with a kitchen and washer and dryer), this condo-hotel complex offers stunning views of the Pacific from its small but gorgeous pool and every room's balcony. Sure, there's no sandy beach, restaurant, gym, overnight desk staff, or even air conditioning, but these views are worth it.
2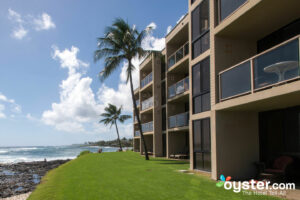 A four-story building that could not be any closer to the ocean if it tried, Kuhio Shores is a condominium complex in a quiet area of Poipu on Kauai's south shore. Kuhio Shores' 72 one- and two-bedroom condos are independently owned, meaning they vary in decor and amenities. Kuhio Shores' small size, dedicated owners, and legions of repeat guests create a warm sense of community throughout the property, where it feels as though everyone knows everyone. Don't expect a pool, spa, restaurant, or on-site workout facility here; the draws are the proximity to the surf and the laid back-vibe. You won't find a condo unit closer to the water on Kauai, but the Aston at Poipu Kai has multiple pools and larger rooms for comparable rates.
3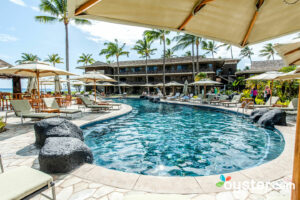 This 121-room luxury hotel just might be the perfect place for a reclusive film star to hide from adoring fans. For those who like their vacation experience plush and focused on their needs, the Koa Kea is an excellent alternative to the area's larger resort chains. Rooms have a subtle, beachy style and luxe features include fine Egyptian linens, Italian marble bathrooms, and espresso machines. Additionally, the resort has a high-end fitness center with individual cable-TV monitors. With just one pool and restaurant, it may lack some features of the nearby Hyatt mega-resort -- but the beach here is better, the price tag slightly lower, and the service more attentive and pampering.
4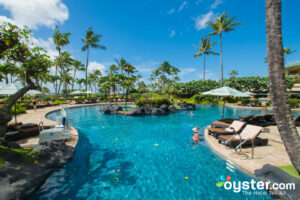 One of the best luxury resorts on Kauai, the 602-room Grand Hyatt Kauai draws guests with spacious, Hawaiian-inspired rooms, three incredible pools, a behemoth saltwater lagoon, 10 dining options, including a host of high-end restaurants, a renowned spa, a twice-weekly luau, and immaculately kept tropical grounds. Its large range of features allows it to have broad appeal, and a non-stop cycle of families, honeymooners, business travelers, and wedding parties filter through the property week after week. Travelers looking for an equally luxurious property without all the fanfare should check out nearby Koa Kea Resort, which is smaller, cheaper, and offers half of the amenities of the Hyatt.
5
The upscale Villas at Poipu Kai is one of the top condo-style properties in Poipu, with 32 three- and four-bedroom apartments. Huge villas are tastefully decorated with elegant Hawaiian decor, and feature Tommy Bahama furniture, travertine bathrooms, and KitchenAid appliances. The mid-size pool is centrally located in the middle of the resort's six buildings, and has a neat water feature and small hot tub. However, guests shouldn't expect a swim-up bar or poolside service. Brennecke and Poipu, the two nearest beaches, are within a 15-minute walk. There's a small fitness center, but no on-site restaurant or spa. Note that the similarly upscale condo property Koloa Landing at Poipu Beach Wyndham Grand Resort offers more amenities for comparable nightly rates.
6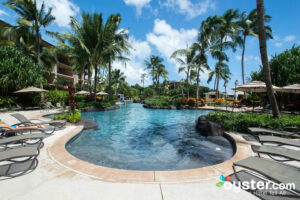 This luxury hotel has villa-style rooms that are some of the largest in Kauai, ranging from 1,300-square-foot one-bedroom apartments to 3,600-square-foot four-bedroom penthouses. All villas have huge private lanais and modern Hawaiian decor throughout. There are three beautiful pools -- including one for families and one exclusively for adults -- but the nearest swimmable beach is a 10-minute walk from the hotel. The spa is smaller than at other luxury resorts in the area, but the hotel's newer features, like a 13,000-square-foot lagoon pool and poolside bar and grill, are welcome additions. The Villas at Poipu Kai offers equally luxurious accommodations for similar nightly rates.