Best Value Hotels in Koh Samui
Visiting an island off the coast of Thailand sounds like a dream. Staying there on the cheap sounds like a complete fantasy. But it doesn't have to be! Oyster's investigators spent months inspecting Koh Samui's more affordable hotels; here are the tucked-away garden oases, family resorts, quirky bed-and-breakfasts, and beachfront huts they've deemed the island's best value properties.
See All Maret Hotels
1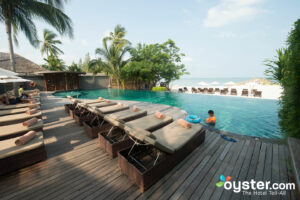 The four-pearl Deva Samui Resort is a superb value for price, well ahead of competition. The lovely, off-the-beaten-path property is located on a quiet cove on Koh Samui's north shore, with few neighbors. Spacious rooms have flat-screen TVs and can include outdoor whirlpools or direct pool access. There are three swimming pools and beach access, plus a swim-up bar, and beachside restaurant. The party scene of Chaweng and busy Bophut are a bit far, but the resort runs a free shuttle several times a day. Prices are almost unbelievably low, especially for how nice the property is.
2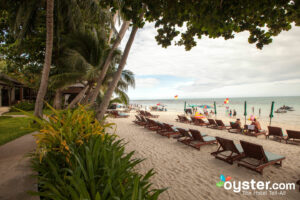 This mid-sized, reasonably priced hotel located in the center of the action of Koh Samui offers easy access to the town of Bophut but is also a quiet retreat thanks to Chaweng Beach being its backyard. Rooms range from value units to villas, and include modern conveniences like flat-screen TVs, minibars, climate controls, and free Wi-Fi. Beach views and suites are pricier but worth it. Free breakfast is served at the on-site beachfront restaurant, and there's also a pool and spa.
3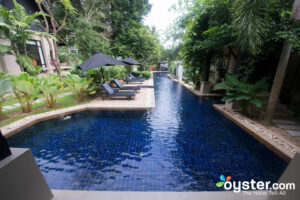 The Montra is a small boutique resort set in the hills over Lamai, Koh Samui's second largest beach town. There are only nine rooms here: spacious suites with dark wood floors, stylish furnishings, and large, turquoise-tiled bathrooms. The suites surround a pool that winds through the property. There is one bar/restaurant here, and other than the lovely grounds, not much else. It's a place for quiet and relaxation. Prices at Montra are low, charging a third of what the competition does, for far bigger and better living quarters than one gets in rowdier Chaweng. In fact, the size and quality compared to the price puts most Samui properties to shame; it's probably the best value you'll find on the island.
4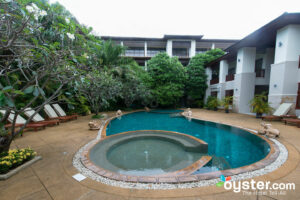 All of this mid-range resort's 41 rooms are enormous and a great value for travelers who prize space over style. The property is a five-minute walk from the beach, and guests have access the sister property's beach club and pool. The Thai boxing stadium is next door, and nightlife, restaurants, and shopping are nearby. The resort has a pool with built-in kiddy pool and whirlpool plus a small fitness center. There's also a poolside restaurant, which serves a free breakfast. Wi-Fi is also free. For large rooms at reasonable rates, this is a solid bet.
5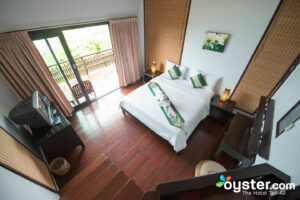 This small resort is one of the most popular mid-range picks on the island, thanks largely to its great views of the Chalok Baan Khao Bay. It is located up a steep drive, away from the village and beach crowds, giving it a secluded feel. Those looking for a quieter tropical getaway will appreciate it here, as long as they don't mind huffing up the hill after going to town and beach. The pool is quite small (though the outlook is truly terrific), the restaurant food gets high marks from guests, and rooms are simple but clean and charming. Comparable options in this price range include Ban's Diving Resort and the aptly named View Point Resort.
6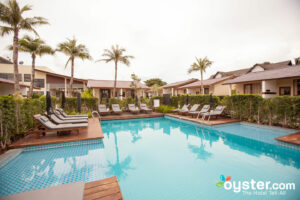 Baan Talay Resort is a contemporary option right on Chaweng Beach, about a five-minute drive from the center of Chaweng nightlife. The 54 spacious and contemporary rooms are simple and minimalist in their look, and all come with minibars, free Wi-Fi, and flat-screen TVs. The best features include direct beach access, a 25-meter outdoor pool, and a free breakfast buffet with hot and cold items. There's also an open-air restaurant serving Thai and international dishes. Travelers who need a fitness center should check out Samui Resotel, which is right next door, though rates there will be significantly higher.
7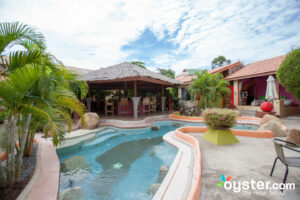 This nine-room mid-range hotel is more B&B than resort; it offers a pretty little escape with quirky touches in the middle of the North Chaweng Beach area. Spacious rooms have modern amenities that include in-room computers with free Wi-Fi, while simple bathrooms have rainfall showers and chemical-free toiletries. Breakfast is included (a nice variety of cold buffet and made-to-order items). On the whole, this hotel is a surprisingly charming find for a reasonable price.
8
This small and quiet mid-range resort is right on the beach at the quietest end of Bophut, one of Samui's nicer beaches. All 18 units -- either Bungalows or rooms -- face the beach, have plenty of light, and are equipped with flat-screen TVs and air-conditioning. A small, but lovely, pool faces the beach and an on-site restaurant is open all day -- though it closes for dinner. While the rooms aren't big, the prices are reasonable (and include continental breakfast) compared to what Bophut hotels normally ask. The Waterfront is definitely doing something right, as much of their clientele are repeat guests.
9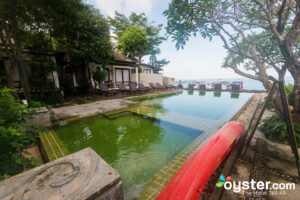 Punnpreeda Beach Resort is on laid-back Bang Rak beach, close to Koh Tao ferries (the nightlife of Chaweng is a 15-minute drive away). While the hotel's slice of beach is fairly small, and mainly for boat parking, the resort offers lower rates than can be found elsewhere in Samui. The 25 contemporary rooms have DVD players, flat-screen TVs, and free Wi-Fi, and higher-end rooms include hot tubs. There's a small pool with a shallower kids' area that sits next to the beach, and the hip restaurant and bar is an excellent spot to watch the boats in the bay (and it's good to know that there are plenty of restaurants and shops nearby).
10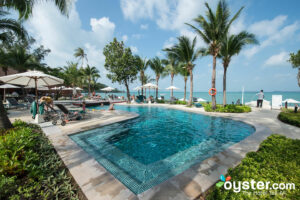 The ibis Samui Bophut is a large, solid-value family resort located in happening Bo Phut beach, which is home to shops, restaurants, and many resorts. The resort is also only a 10 minutes' drive from the airport. The popular hotel is a water lover's dream, with three swimming pools plus a beautiful beachfront. There are over 200 rooms here, all of which have wood floors, flat-screen TVs, safes, mini-fridges, free Wi-Fi, and even small balconies, which help to atone for the rooms and bathrooms being very small. The resort also has kayaks for rent, a petanque pitch, ping pong, and a small playground for kids. There are a poolside bar and a restaurant that serves buffet breakfasts and lunch and dinner.
11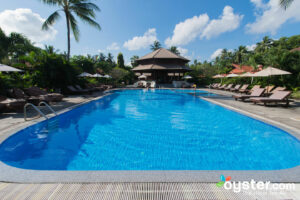 A lush compound just down the street from Bo Phut's Fisherman's Village, the Smile House Resort has 56 bungalows and rooms spread among the greenery. Style ranges from classic Thai decor to newer villas with more contemporary accents, and all include flat-screen TVs and minibars. Some directly overlook the beach, though others are across the road. The resort features two swimming pools, both of which have kids' sections, and there are sun loungers set up on the beach. The beachside restaurant serves a free breakfast, and guests can walk to lots of restaurants and shops. For travelers with a little more cash to spend, the Baan Chaweng Beach Resort & Spa has a nicer beach and a spa, and is right in the heart of wild Chaweng.
12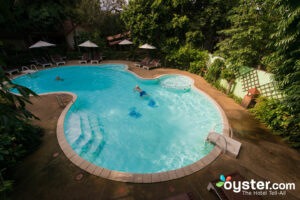 Verdant tropical grounds are the star of the show at Harry's Bungalows, but the charming value hotel's traditional Thai ambience is also impressive. Away from Mae Nam's main tourist drag, it's a tranquil oasis with small waterfalls and ponds. There are only 28 rooms and bungalows with a basic, but still appealing, Thai style plus modern amenities like flat-screen TVs and free Wi-Fi. The resort has a small garden pool and the Thai House Restaurant, set in a traditional teak home. Harry's is a fantastic deal, as the spacious rooms are some of the cheapest in Samui, though the beach is a five-minute walk away. Those looking for a more typical, large-scale resort on the beach should consider ibis Samui Bophut, though rates are a bit higher.
13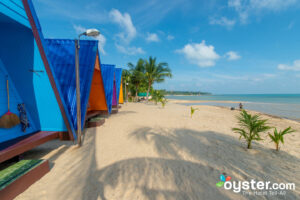 New Hut Bungalows are budget backpacker huts that can be had for bargain rates, some of which are right on the beach. The resort is located at the far north end of Lamai Beach and town, and while it's a good 15- to 20-minute walk into central Lamai, there are enough restaurants, bars, and shops in the immediate area to keep guests happy. The 46 huts range from utterly basic units with mattresses on the floor and shared bathrooms, to slightly fancier Air-Con Bungalows, which have en-suite bathrooms. Some bungalows sit right on the beach and offer superlative sea views, but there have been a number of complaints about surly staff. For a beachfront budget property with a pool, consider Weekender Villa Beach Resort, where rates are just a bit higher.
14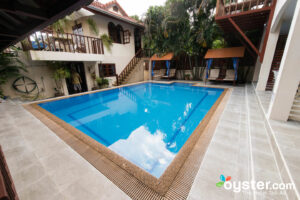 Chaulty Towers is a tiny, family-run guest house on small hill above Lamai Beach. A great two-pearl value for Lamai, it feels secluded, but the main road and beach are within a 10- to 15-minute walk and the hotel runs a free shuttle into town. The six homey rooms are brightly furnished, and all include DVD players, TVs, mini-fridges, and free Wi-Fi. There's a small swimming pool in the courtyard, plus a restaurant and bar serving English breakfasts and Thai food. The English owner and his Thai wife are good sources of local information, and the vibe here is akin to a home stay. While Chaulty Towers isn't as charming as the Montra, which is around the corner, its rates are much lower.