Best All-Inclusive Resorts in Playa Blanca, Lanzarote
Take a look at the best all-inclusive resorts in Playa Blanca.
See All Playa Blanca Hotels
The 305-room H10 Timanfaya Palace is an upscale, adult-only hotel catering to couples seeking some peace and quiet. Its two large oceanfront pools have a serene atmosphere, and while there is a daily entertainment program, activities are generally mellower than at other resorts in the area. This all-inclusive stands out for its excellent cuisine, which includes a wonderful main buffet, a Mediterranean a la carte restaurant with Arab influences, and a poolside snack bar serving tapas and a small buffet. The fitness center features a good array of cardio and strength-training machines, a sauna, and two massage rooms, but there is no full spa on-site. The indoor pool is a great perk for a rainy day. Rooms are spacious, clean, and stylish, and feature LCD TVs, mini-fridges (stocked in Superior and Privilege Rooms, as well as Suites), and balconies, some with sea views. There is an ongoing renovation plan, but for the time being most bathrooms are a little dated.
Fresh from 2016 refurbishments, the Labranda Alyssa Suite Hotel is an upper-middle-range property in Playa Blanca's outskirts. Given its remote location, all-inclusive packages here are a pro, and good features include three pools (one for kids), tennis and games areas, and a buffet restaurant. Self-contained bungalows form the 120 Suites, which are smartly outfitted with nautical themes, flat-screen TVs, and AC. Views are charming from both private patios and the restaurant's shaded dining terraces. Peace and quiet here is guaranteed, although high-speed Wi-Fi, less-so. Families looking to be more central should check out H10 Lanzarote Princess, which is nearer beaches, and on the main drag.
The 195-room, four-pearl H10 Sentido White Suites is a quiet all-suites property located a short walk from a sandy beach and lively Marina Rubicon in Playa Blanca. Rooms are spacious and contemporary, with solid amenities such as Nespresso machines, LCD TVs, minibars with free water, and iPod docks, plus separate living areas outfitted with sofa beds. No rooms, however, have ocean views due to the hotel's height and location a couple of blocks from the beach. Many loungers are around the pool and the whirlpool, and there are an elegant spa and modern (if small) gym. Dining generally gets good reviews, and the hotel offers a variety of rates, from bed-and-breakfast to all-inclusive, which covers most imported drinks and all snacks until midnight. Those looking for something more bustling and with more entertainment options may prefer Hotel THE Volcan Lanzarote.
Seekers of sun and space will find themselves well-placed at the mid-range Iberostar La Bocayna Village. All 48 rooms are two-bedroom bungalows that are large, bright, and homey. Large kitchens are well-equipped with Nespresso machines and juicers, and spacious private patios -- many with sea views. The buffet restaurant, bar, lovely pools, and small spa add a hotel feel to self-catering setups, but the pool is unheated and gym needs an update. Note that bus or car journeys are required to reach the resort center, and the closest beach is a 20-minute walk. Budget-conscious families may want to consider the Rubimar Suite Aparthotel, which is more central.
The 584-room upper-middle-range H10 Rubicon Palace is a sprawling all-inclusive property with all the bells and whistles expected from a big beach resort. It features eight pools, two buffet restaurants, three a la cartes, a full entertainment program, and an excellent kids' club for children ages 1 to 16. Rooms are spacious and airy, with amenities such as flat-screen TVs, mini-fridges (minibars in all but standard rooms) and balconies or terraces, some with ocean views. The spa is pleasant and relaxing, with lovely outdoor areas overlooking the ocean, several massage rooms decorated with candles, and a spacious hydrotherapy area. The fitness center, though, is only free three hours in the morning. Food is varied, but some guests have found it somewhat underwhelming in the a la carte restaurants. The hotel can feel a little overrun with kids, so those seeking a more peaceful vacation may want to compare rates at adult-only sister property H10 Timanfaya Palace.
Families and groups looking for an all-inclusive beach-front hotel with plenty of dining and entertainment options won't be disappointed with the Sandos Papagayo Beach Resort. With 488 rooms, three pools, five bars, and several restaurants, the most common issue guests have is getting lost on the grounds. Guest rooms vary in size but even the lower-category room types have terraces and some rooms have beautiful water views, along with dated decor (renovated rooms are more modern). Las Coloradas Beach is easily accessible via a direct path from the hotel. The location isn't convenient for easy exploring -- it's a 20-minute walk from the marina and an additional 15 minutes to Playa Blanca. Fees for Wi-Fi are an added expense at this upper-mid-range resort.
The upscale, 329-room Gran Castillo Tagoro is one of the best family-friendly hotels in Playa Blanca. It has several huge pools, an outstanding kids' club complete with areas for babies and a sleepover room, a small water park, and a fun mascot that participates in the entertainment program. Rooms are some of the largest in Lanzarote, and even the smallest ones have spacious living areas with sofa beds; some have sea views. Although families are the main market here, adults can also find plenty of things to do: The spa is adult-only save for a couple of hours a day, and there is a pool for guests 18 and over, complete with cabanas and a bar. The main restaurant has a separate adult-only courtyard with a more serene atmosphere. Still, those seeking a quiet, child-free property closer to a sandy beach may want to compare rates at the H10 Timanfaya Palace.
Situated atop the cliffs overlooking the stunning Papagayo beaches, the 291-room, mid-range Mirador Papagayo Hotel is a solid all-inclusive option a 15-minute walk from the center of Playa Blanca. It features 82 one-bedroom apartments with kitchenettes and patios, and 209 spacious hotel rooms with sofa beds and terraces, some with panoramic ocean views. The hotel is slowly rolling out new, sleeker rooms (labeled Superior), but for the time being most units have dated decor and slightly worn furniture. The main pool offers underwater loungers and massage jets, and there are two smaller pools for toddlers. Food is tasty and varied, and the all-inclusive package covers an excellent array of drinks. Those seeking something closer to the beach may want to compare rates at the H10 Lanzarote Princess.
The upper-middle-range, 407-room H10 Lanzarote Princess caters to families with a full entertainment program for all ages, large pools -- including one with a pirate ship and a waterslide -- and kids' and teens' clubs. The location right on the main drag, within a few minutes' walk of the beach, is excellent. Spacious, light rooms have stylish decor with clean lines and neutral tones, as well as flat-screen TVs, mini-fridges, air-conditioning, and balconies. Wi-Fi is available free in the lobby, but is paid elsewhere except for Privilege guests, who also get free access to a private lounge with an open bar, among other perks. The main restaurant offers an excellent buffet spread for all three meals (all-inclusive rates are available), but there have been complaints that dinners can be chaotic and loud during school vacation periods. Those those on a tighter budget may want to compare rates at the THB Tropical Island.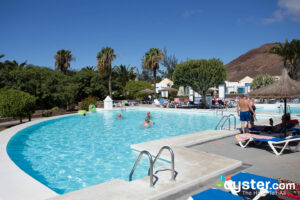 The upper-mid-range Marconfort Atlantic Gardens Bungalows are designed for quiet, child-free relaxation. The adults-only resort is in a residential area on Lanzarote's Playa Blanca, with stunning sea views from the hotel gardens, but it's not close to any shopping or restaurants. There are 100 units in total, but note that only suites have air-conditioning. Decor in rooms and public areas is mostly white and unremarkable -- and shows some signs of wear. That said, the hotel is perfectly clean and an excellent value for an all-inclusive three-and-a-half-pearl property. Couples looking for a more luxurious child-free getaway might also consider the Hotel Villa VIK, a five-pearl luxury boutique hotel with just 19 rooms that's also only for adults.
The 465-room Hesperia Playa Dorada is an upper-middle-range hotel whose greatest asset is its location across the promenade from a sandy beach and a short walk from Playa Blanca's lively marina. The hotel has a full entertainment program for guests of all ages, but there is also a separate area for those seeking some relaxation, complete with a pool, bar, and deck for yoga and Pilates. Rooms are simple yet comfortable, with free Wi-Fi, quality beds, furnished terraces, and flat-screen TVs, however, Standard Rooms lack basics such as mini-fridges and electric kettles. The hotel has a two-tier all-inclusive package, the standard of which is somewhat limited, as it only offers free access to the spa, gym, and indoor pool once per stay. Families seeking something cheaper may want to compare rates at the H10 Lanzarote Princess.
Located a 15-minute walk from central Playa Blanca and the beach, the THB Tropical Island is a popular mid-range pick among families wanting a cheap and cheerful beach vacation. Its 414 one-bedroom apartments are clean and spacious, and feature kitchenettes, sofa beds, air-conditioning, and balconies or patios. Decor in these Premium units is fresh and contemporary. Each block of apartments is set around a small oval pool, and there are two other huge ones, including one for families and an adult-only one. The kids' club keeps children busy with an array of daily indoor and outdoor activities, while the spa and the myriad sports facilities are nice perks for adults. The hotel offers a variety of meal plans, from self-catering to all-inclusive, but food gets average reviews. Travelers looking to stay closer to the action may want to consider the H10 Lanzarote Lanzarote Princess.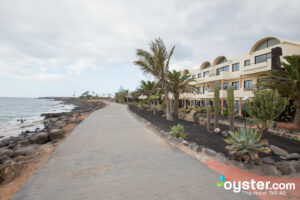 The 215-room SBH Royal Monica is a sprawling mid-range property with a secluded oceanfront location a 10-minute drive from central Playa Blanca. Rooms are simple but sunny, and feature air-conditioning, flat-screen TVs, hairdryers, and balconies. Many have panoramic ocean views, but walls are thin, and there are fees for safes and for in-room Wi-Fi (it is free in the lobby). The highlight at this all-inclusive is the pool area, which offers striking ocean views and a large bar with snacks, drinks, and a small buffet. The active entertainment team keeps guests busy during the day with games, sports, and competitions, and professional evening shows generally get good reviews. Food is average for the price. The hotel has private loungers and straw umbrellas on small patches of beach sand overlooking the ocean, but there is no real beach on-site. Those seeking something closer to the center may want to compare rates at Rubimar Suite ApartHotel.
The Lanzasur Club is a mid-range all-inclusive property known for its large water park, complete with several large slides, a wave pool, and a lazy river. The resort is mostly popular with families, but there is also plenty for those traveling without children, including two pools, a full daily entertainment program, and wellness and fitness centers (both for a fee). Clean apartments have separate living rooms with sofa beds, fully equipped kitchenettes, and sunny patios with a table, chairs, and a lounger. The main restaurant serves a decent buffet for all three meals, and smaller bites are available for lunch at the poolside snack bar. There is a family-friendly beach just down the street, but those looking to stay closer to Playa Blanca's main drag may want to compare rates at the H10 Lanzarote Princess.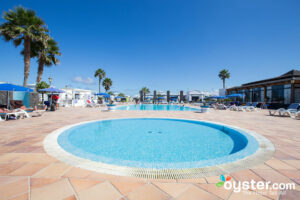 The VIK Club Coral Beach is a three-and-a-half pearl property (charging four-pearl prices) with an all-inclusive option that most guests opt for given the resort's distance from Playa Blanca's main commercial areas. It's a good choice for families, mainly because each of the 60 spacious units comes with two bedrooms, a living space, and an outdoor furnished terrace. The resort has plenty of activities on-site without being overwhelming -- there's a kids' club, a playground, pool activities for all ages, and the popular Chill Out Terrace, notable for its spectacular sunset views. And while there's plenty to do, the focus here is on relaxation -- for travelers looking to do little more than sleep, eat, and drink while lounging at a seaside resort, this is the place. Watch out for pesky minimum stay requirements and additional charges for things like hairdryers and Wi-Fi.