Best Boutique Hotels in Puerto Del Carmen, Lanzarote
Take a look at the best boutique hotels in Puerto Del Carmen.
See All Puerto Del Carmen Hotels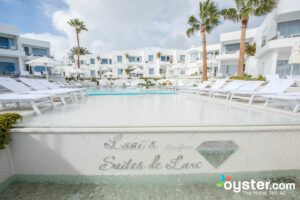 One of Lanzarote's top luxury hotels, adult-only Lani's Suites stands out for its polished design, top-notch services, and thorough attention to detail. All of its 25 sleek, contemporary suites are equipped with an array of high-end amenities such as wine coolers, Nespresso machines, and Chopard toiletries, and many have whirlpools on the terrace. The hotel's oceanfront restaurant is known among locals and visitors alike for its excellent international menu, and is a favorite among couples for a romantic dinner. Butlers go around the lovely heated pool several times a day with free drinks, and body treatments are offered at reasonable prices in the small poolside massage room. Rates include Wi-Fi and a la carte breakfast, while airport transfers are available for a fee. The location right on the main drag and overlooking a small beach is convenient for all types of travelers, but those traveling by car may want to note that parking in the area can be challenging.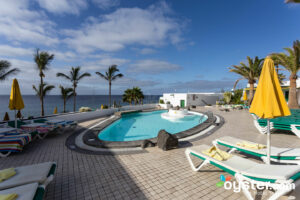 The prime location directly on the beach and in the heart of the city center is the hotel's main draw, but the 37-room Bungalows Velazquez has a lot going for it. Apartments are big and well-equipped, with full kitchens, washers, living areas with dining tables, and terraces. Many have unobstructed views of the ocean, as well as direct access to the sea from the terrace, and housekeeping service is provided daily. The year-round heated pools (a rarity for Lanzarote) are small but lovely, with full ocean views and lots of padded loungers. Services and amenities are limited here -- there are no restaurant or spa, and reception is only open a few hours per day. Rates aren't cheap, but this is an outstanding mid-range pick for those wanting to get away from it all. For something a bit cheaper, consider Costa Sal Apartments.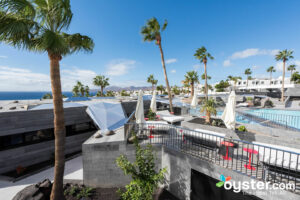 Known for its striking design, La Isla y El Mar is one of Lanzarote's top hotels. The luxury property's 81 stylish suites are equipped with an array of high-end amenities, such as Nespresso machines and premium minibars, and many have panoramic ocean views from their terraces. The pools are small but lovely, with jets, plush loungers, and a peaceful atmosphere, while the poolside bar keeps drinks flowing until the evening. The buffet eatery offers a varied, tasty spread, but the standout is the a la carte restaurant, housed in a sophisticated space with an outdoor lounge offering stunning ocean views. Body treatments and salon services are available at the spa, and freebies include breakfast and Wi-Fi. Travelers wanting something a tad more luxe and closer to the beach may want to compare rates at Lani's Suites de Luxe.
Nautilus Lanzarote is a lovely upper-middle-range apartment complex with an extensive art collection and a focus on accessibility and sustainability. Its simple, contemporary apartments are spacious and spotless, with either one or two bedrooms, free Wi-Fi, full kitchens, and patios with loungers. Over half of them are adapted for guests with mobility issues, and all feature original works from international artists. The pool is quiet and pleasant, with a few dozen loungers, a lift for disabled guests, heated water year-round, and a kiddy section. The location a short walk from the beach and a shopping and dining strip is convenient, especially as there is no full restaurant on-site. But proximity to the airport means aircrafts can be heard taking off and landing during the day. Families with young children may also want to consider Morromar Apartamentos, which features a kids' club and a full restaurant.
Alondra Villas & Suites is an upscale property with a peaceful atmosphere. Its 41 stand-alone villas are big and stylish, with full kitchens, up to three bedrooms, and gardens. All but four of them have private pools that can be heated for a fee. The common pool is small yet charming, and the restaurant serves a tasty, free breakfast buffet, along with solid international cuisine for lunch and dinner. With plush Bali beds, waiter service, and access to a spa, the adult-only lounge is a popular spot for sunbathing. The location away from the city center allows for quiet nights, but there are few restaurants, bars, and shops in the area, and the nearest sandy beach is about 20 minutes away on foot. Travelers seeking something cheaper may prefer Nautilus Lanzarote, which offers pleasant apartments a short walk from the beach.
The 83-room Barcarola Club is a mid-range apartment complex located right on the main drag and across the street from a small, sandy beach. Although simple and a tad dated, its apartments offer an array of perks not always available at apartment-style properties the area, including air-conditioning, free Wi-Fi, and fully stocked kitchenettes. A free and excellent breakfast buffet is served daily at the restaurant, but there is no lunch or dinner service; some snacks and small bites are available at the poolside bar. Soft entertainment and activities for kids are offered seasonally, but the atmosphere is relaxing and quiet year-round. Those seeking something livelier and cheaper may want to consider Hotel Floresta.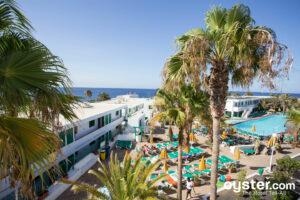 La Penita Apartments is a no-frills value property offering 100 one-bedroom apartments in a quiet part of Puerto del Carmen that's within walking distance of three beaches and dozens of restaurants, bars, and shops. Units are basic and a little dated, but all feature fully equipped kitchenettes and balconies -- some offering ocean views -- and are kept spotless. Though amenities are limited to a lovely pool, a tennis court, a kids' playground, and a snack bar, rates are low, and the atmosphere is friendly and quiet. For something with more features, travelers might want to consider the Beatriz Playa & Spa or the VIK Hotel San Antonio.
Spice Lanzarote is an adult-only, clothing-optional, mid-range hotel in a quiet part of Puerto del Carmen. This racy all-inclusive draws open-minded heterosexual couples of all ages and nationalities with a large outdoor whirlpool with adult-oriented entertainment, a room for private and group sex games, a spa offering regular and sensual body treatments, and services such as couples' erotic photo shoots. Everything is allowed here as long as it is not offensive to others, and there is a strict "no means no" policy to ensure everyone feels comfortable. Just note that most rooms are worn and have basic amenities. Couples seeking a more traditional hotel stay may want to check out the VIK Hotel San Antonio or Sol Lanzarote.