Best Party Hotels in Costa Teguise, Lanzarote
Take a look at the best party hotels in Costa Teguise.
See All Costa Teguise Hotels
1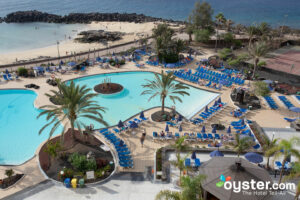 The Hotel Grand Teguise Playa is an all-inclusive mid-range resort right on Las Cucharas Beach in Costa Teguise's lively tourist district. The 314 rooms are a bit of a mixed bag; some higher-category rooms have pleasant, modern decor, while lower-category rooms are dated and have features like old tube TVs. A buffet restaurant serves a range of cuisines, while the hotel's Mexican-Spanish a la carte restaurant is popular with guests. The heated saltwater pool takes center stage, offering a prime vantage point to watch the sunrise, while a kids' pool, kids' club, and playground make this a family-friendly choice. For a comparable resort with more intimate, bungalow-style rooms, guests might want to check out the Jardines del Sol.
2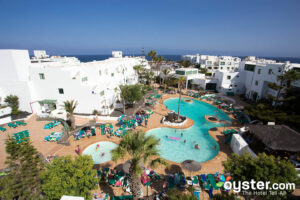 For an economical beach vacation in the heart of Costa Teguise, the Apartamentos Galeon Playa are a good choice, particularly for families. The 141 apartments sleep up to four adults and two kids and are clean and comfortable, if a bit outdated when it comes to decor. The hotel also has 34 contemporary Junior Suites with traditional hotel-room layouts that fit up to three adults. There are two food options on-site: one buffet restaurant and one fast food-style place by the pool. Neither serves up gourmet fare, but there are several restaurants just a few minutes' walk down the street. There are four pools (two for adults and two for kids) and plenty of entertainment options here, including live music at night and a kids' club for the younger guests.
3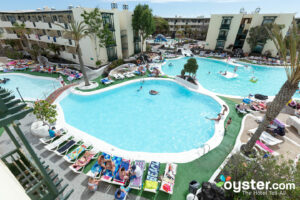 For families with kids looking for a beach getaway with a lot of activity at a low price, El Trebol is a good fit. There's programming from the morning to the late-night hours, as well as lots of families, so a person in the market for a quiet vacation may want to look elsewhere. Rooms have twin beds pushed together, plus pull-out sofas in the living rooms, as well as kitchens with microwaves and stoves. The resort is located in a busy area near plenty of shopping, dining, and entertainment options, though because El Trebol is an all-inclusive resort, it's easy for guests to stick around. Decor is dated and guests report the resort could be cleaned up in both public areas and rooms.