Best Party Hotels in The Strip, Las Vegas
Take a look at the best party hotels in The Strip.
See All Las Vegas Hotels
1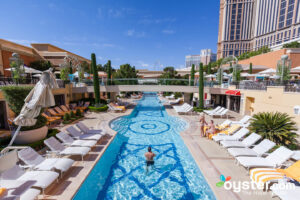 Wynn Las Vegas is a four-and-a-half-pearl luxury hotel at the northern end of the Las Vegas Strip, a bit far from the action. It's 2,716 air-conditioned rooms have posh interiors with large flat-screen TVs, marble accents, and gorgeous Strip or mountain views. Upgraded Tower Suites include perks like a private pool, private check-ins, and free breakfasts. Wynn's sprawling casino is one of The Strip's most chic, but can be smoky when crowded. The 13 fine-dining and casual restaurants include a steakhouse, Asian, Italian, and American cuisines, plus a buffet with often long waits. Other amenities include multiple pools, a spa and gym, nightclub, golf course, and meeting rooms. Travelers seeking a sophisticated stay without a casino might consider the Mandarin Oriental, Las Vegas with its Asian-inspired rooms, two pools, and serene spa.
2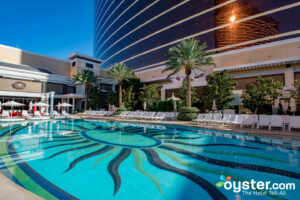 Opened in December 2008, the 2,034-room Encore is all about pure opulence, from its impressive interiors to its decadent spa to the array of dining options, gaming tables, and several attractive pools -- including a European-style pool with topless sunbathing. The giant suites are some of the biggest on The Strip (starting at 745 square feet!) and one-up even the Wynn's (Encore's next-door sister), plus they're decked out with mod-cons and luxurious marble bathrooms with soaking tubs and separate showers. Two nightclubs regularly host top DJs, while shows at the Encore Theater are also top-notch. There's a luxe casino on-site, and even a golf course. It all comes at a price though -- rates are high, as are food and drink at any of the venues, plus there are daily resort fees added. The Italian-inspired Venetian is a lovely alternative with lower rates, gondola rides, and faster access to the southern end of The Strip.
3
Big, elaborate, and packed with the kind of luxuries you see at the Bellagio and the Wynn, the Palazzo has some of the best and biggest standard rooms on The Strip. Its world-class spa, 10 pools, busy casino, and name-brand fine dining all connect to its sister property, the Venetian, via an haute couture mall. It's less theme-y than many Vegas hotels, but right at the top of the list in terms of glitz and extravagance.
4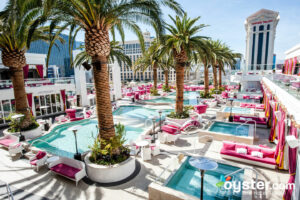 Situated in the heart of the Las Vegas Strip, The Cromwell is a four-pearl boutique hotel with vintage-style interiors and its own casino. There are 188 rooms and suites, many with views out over The Strip, and while all have elegant decor, most lack coffeemakers. Amenities are geared toward leisure travelers and include Drai's Beachclub Nightclub, an indoor/outdoor club with long hours and multiple pools, but it's restricted to guests 21 and over and there's a fee. There are also a couple of restaurants, namely a 24-hour snack bar and an elegant Italian joint, created by celebrity chef Giada De Laurentiis. Overall, it's a great place for young partygoers, but families are better off somewhere more kid-friendly, such as the much larger MGM Grand Hotel & Casino.
5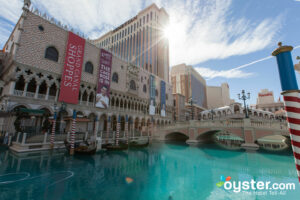 Like the Paris and New York-New York hotels, the 5,030-room Venetian is an enormous and extravagant tribute to a place far from the desert, complete with gondola rides and a replica of Saint Mark's Square. Compared to the other theme-driven Vegas properties, the Venetian distinguishes itself with enormous guest rooms, a world-class spa with 90 treatment rooms, and heaps of premier restaurants.
6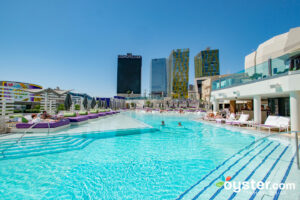 The Cosmopolitan has quickly established itself as one of the trendiest spots on the Strip. The typical Vegas kitsch has been swapped out for aggressively modern design and futuristic touches (guests sign in on an iPad). Fanfare aside, rooms are large and feature comfortable, designer furnishings and modern, open bathrooms. All types of travelers seem to come here, from frat boys to gambling grandmothers, but the nights decidedly belong to the younger crowd at BOND and Marquee -- as do the days, during Marquee's seasonal "dayclub" party poolside. It's certainly not the most family-friendly option, but couples looking for a phenomenal spa and nearby action won't be disappointed.
7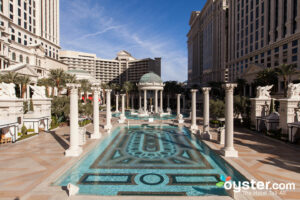 Since 1966, the 2,419-room Caesars Palace has defined excess on the Strip -- a massive spa with Roman baths; elaborate mosaics and classical architecture around the pools; one of the biggest casinos in Vegas. But base-level rooms are smaller, more drab, and older than the Vegas norm. You can upgrade to a more recently renovated room, but check the Venetian's rates first.
8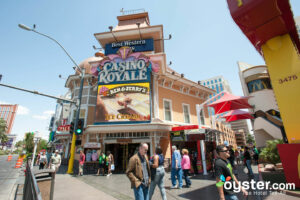 Location is the main draw at this mid-range casino hotel, which is right in the middle of the Las Vegas Strip. It's a good value, and unlike some other similarly priced properties, the entire hotel, including the rooms, gets high marks for cleanliness. Rooms are contemporary, with fresh bedding, Keurig coffeemakers, mini-fridges, and convenient plugs by the bed and at the work desk. The property is small by Strip standards, with 152 rooms, but has several restaurants on-site, including an Outback Steak. Though the hotel itself is smoke-free, the attached low-key casino with low table limits reeks.
9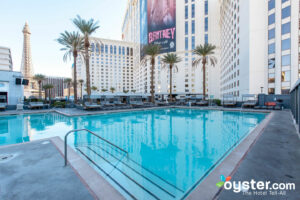 Planet Hollywood Hotel and Casino is a three-and-a-half pearl property with a hip vibe and a convenient central Strip location. Its 2,496 air-conditioned guest rooms have a modern monochrome style plus excellent bathrooms and modern amenities. The casino includes all of the standard Vegas games plus go-go dancers and a clubby soundtrack. Unfortunately, its two pools -- including one for adults only -- get crowded and poolside loungers are limited. However, the FlowRider surf simulator is a hit. Planet Hollywood's 11 restaurants range from chain eateries to an excellent Gordon Ramsay burger joint, and other amenities include a spa and gym. Big-ticket celebrity residencies like Pitbull and Britney Spears are also big draws. Travelers who'd like a more Euro-inspired theme might opt for the equally over-the-top Paris Las Vegas, though its features are slimmer.
10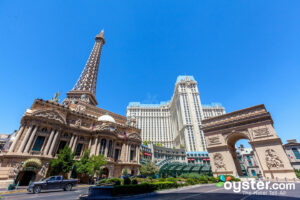 Paris Las Vegas is a four-pearl hotel and casino situated in the heart of the Las Vegas Strip. Its 2,916 spacious rooms have Baroque-inspired decor, plus air-conditioning, coffeemakers, and large flat-screen TVs. The huge property -- including the casino -- is meant to evoke an evening in Paris, complete with an Eiffel Tower that draws visitors from across Vegas. There are 14 restaurants that get mostly positive reviews, including French and Italian options. The huge pool has a laid-back vibe and entertainment includes fire and circus shows. Other amenities include a spa, gym, free Wi-Fi, and parking (for a fee). Travelers wanting an on-Strip stay with a clubbier vibe and fun extras like a Flowrider Wave-in-a-Box surfing pool, it's worth checking out Planet Hollywood Hotel and Casino instead.
11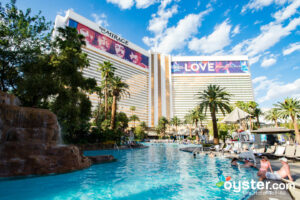 An elder statesman among the Strip's megaresorts, the 3,044-room Mirage relies less on thematics and a booze-fueled party scene for its appeal -- opting instead to emphasize comfortable, well-designed rooms, an enormous pool, diverse dining options, and attentive service. Attractions, from a giant volcano to Cirque du Soleil's "Love" to a wildlife sanctuary, are aimed at a multigenerational clientele.
12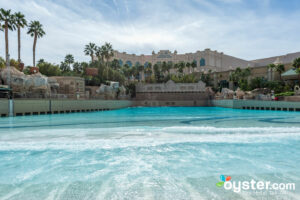 The giant Mandalay Bay offers a ton of features for kids (wave pool, streaming lazy river pool, shark reef aquarium) and adults (lively bars, world-class restaurants, a large spa), but the constant crowds, long lines, and airport noise can make it a slightly less attractive mid-tier luxury option. All of the hotel's 3,211 rooms underwent renovations in 2015 and 2016, resulting in some of the most visually appealing accommodations in Vegas (which is saying a lot). If the Mandalay's slightly cut-off-from-the-Strip location presents a problem, travelers could check rates at the Cosmopolitan, which is in the heart of the Strip (but is not even slightly kid-friendly).
13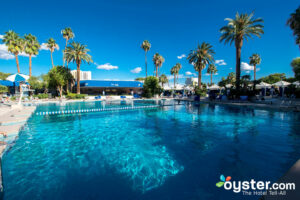 In a city like Vegas, there isn't too much excitement or glamour to be found at Bally's. Its smoky casino and uninspired pool lack the grandiose luxury or campy theme found at other Vegas resorts. And despite its attempts to update the property (including a 2013-2014 overhaul of Jubilee and Resort Tower rooms), the hotel's restaurant and amenities still fall short of their peers. Tack on a hefty daily resort fee and horrendously long check-in lines (though there is an online check-in option), and it seems obvious that almost any hotel in Vegas is a better pick than Bally's. Head next door to the Paris Las Vegas for nicer rooms and amenities at slightly higher nightly rates.
14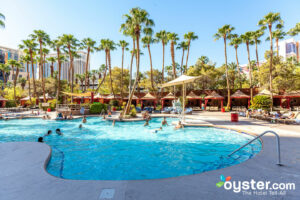 Treasure Island is a three-pearl hotel and casino with a solid location at The Strip's northern end. The property's 2,885 air-conditioned rooms are pleasant enough, but a bit worn, and include flat-screen TVs, mini-fridges, and free Wi-Fi. The popular casino features table games, slots, and a race and sports book, but keep in mind that it's smoky. Tightly packed lounge chairs and cabanas surround the big pool and a live DJ spins pop music. Food-wise, the hotel's restaurants get positive reviews and range from steak to Vietnamese to a buffet. Other amenities include a modern gym, bars, and a spa. The on-site Cirque du Soleil show and Marvel Avengers experience are big draws as well. As an alternative, the Paris Las Vegas offers over-the-top Old-World accents with a slightly more upmarket atmosphere.
15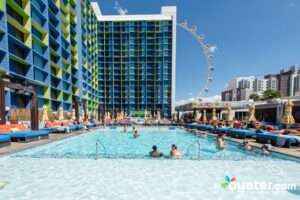 Right in the center of the Las Vegas Strip, The LINQ Hotel & Casino is a 2,640-room, budget-friendly option popular with travelers who just want a cheap place to stay. Formerly known as the Quad and, before that, the Imperial Palace, the property offers a casino, a pool, and numerous bars and lounges on-site for nightlife, plus Guy Fieri's only Las Vegas restaurant. Rooms were renovated as part of the rebranding now sport a clean, modern look, though they're light on amenities (there are no coffeemakers or clocks, for example). Parking and Wi-Fi are free and the central location makes it a good place for those who want to spend more time outside their rooms than in them. It's a good value for this category, and attracts a younger party crowd; families may want to compare rates at the New York New York Hotel & Casino, which has a roller coaster on-site (as opposed to the ferris wheel here).