Hotels for Celebrity Sightings in Las Vegas
With rock concerts, exclusive clubs, and plenty of ways to throw away mountains of disposable income, Las Vegas holds a special place in the hearts of many A-list celebs. The rich and famous know that they can land in Sin City and be treated like royalty whether they're kicking back in a luxurious poolside cabana or downing complimentary bottles of liquor in the club — and when they hit the Strip, they're often not shy about lighting up Vegas with those famous faces of theirs. Here's where you might find your fave celebs entertaining themselves in the entertainment capital of the world.
See All Las Vegas Hotels
1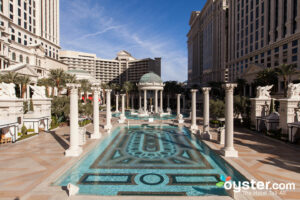 You can't ask for a bigger celeb sighting than this one: Caesars is the hotel of choice for the ultimate international A-lister, Barack Obama. The President slept among the imperial statues at Caesars Palace several times during his presidential campaign. More recently, Obama and his family checked in to a 22,000-square-foot suite with its own private pool while in town for a fundraiser in May 2009. But the hallowed halls of Caesars have witnessed plenty of celebrity shenanigans that were perhaps less squeaky-clean than Barack and Michelle's: J. Lo and Marc Anthony renewed their wedding vows in the Forum Tower Penthouse immediately after its recent renovation -- and don't get us started with the slew of B-lister b-day bashes that have been hosted at Caesars' Pure Nightclub (Khloe Kardashian, Perez Hilton, and Nicky Hilton, to name a few).
2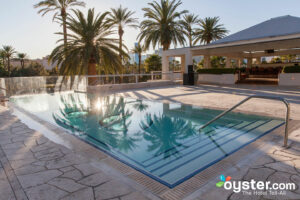 With its rock star theme and recently renovated 4,000-seat concert venue (Joint), celebs and musicians (and their celeb significant others) are always coming through the door -- but the rich and famous aren't known to lay low here. In February 2009, paps went wild when Brad Pitt checked in with his two sons, Pax and Maddox, for a boys' getaway. A month later, Paris Hilton announced that she would be headquartered in the hotel while shooting the second season of her MTV reality-TV show, My New BFF. The hotel's Body English nightclub saw plenty of celebrity action in its day (it has since been replaced by Vanity, which promises to be similarly popular): Pam Anderson made a scene when she scandalously swapped spit with her on-again, off-again rocker of choice, Tommy Lee, and Gossip Girl's Leighton Meester turned heads when she hopped on the stage and belted out her new single one Saturday night. Chris Brown was spotted post-domestic-violence-conviction at the ironically named club, Rehab. And hey, sports fans: the Hard Rock's wild Sunday Rehab pool parties have been known to be crawling with NFL players or Olympians.
3
Once home to the 2002 Real World: Las Vegas cast, the Palms has been a longtime magnet for high-profile, youthful indiscretion. Michael Phelps caught some flack for groping a dancer at one of the hotel's nightclubs after he returned from the Beijing Olympics. Phelps was back at the Palms for New Year's Eve, having dinner and hitting up the Kid Rock concert and after-party. In April, Britney Spears held an after-party for 50 guests in the Sky Villa at Palms Place (where, it happens, Jessica Simpson also owns a condo). Usher has even called the Palms his "second home,".
4
Joaquin Phoenix, after deciding to quit acting and take up rapping, took the stage at the Palazzo's Lavo nightclub and performed three songs while Casey Affleck shot footage for a documentary on Phoenix's journey into the music industry. Also at Lavo, Katy Perry and Benji Madden (Paris Hilton's ex) were spotted canoodling on Valentine's Day after Perry played a set at the Hard Rock Hotel & Casino. (Perry is now engaged to comedian Russell Brand.) In addition, Carrie Underwood celebrated her bachelorette party here, and Lauren Conrad chose it as the venue for her 23rd birthday party.
5
Grand is the operative word. The biggest hotel (by room count) in Las Vegas has the biggest casino in town, many of the best restaurants, a huge range of on-site entertainment options, and an enormous and fun pool complex, perfect for C-list celebrity sightings. Everyone from Audrina Patridge to Kendra Wilkinson and hubby Hank Baskett have been snapped in their bathing-suits while lounging poolside. Jon Gosselin was even spotted lurking by the pool, but he opted to keep his clothes on.
6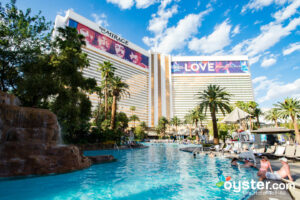 Quentin Tarantino and Fergie threw a joint birthday party at Mirage in 2008. They spent the day by the Bare pool, saw Cirque du Soleil's "Love," then partied at the hotel's Jet nightclub. Josh Duhamel (Fergie's then fiance, now husband), Daryl Hannah, and rapper Nelly were all in attendance for the festivities. More recently, Jet has seen the likes of C-list reality stars such as Pauly D of Jersey Shore fame and Tila Tequila.
7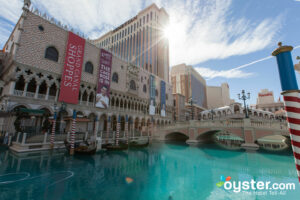 In 2009, Hills star Audrina Patridge hung out with Australian BMX rider Corey Bohan at the Venetian's Tao Beach, a hip pool scene where Kevin Federline and his ex-wife Char Jackson were spotted as well. Tao Nightclub is also a hotbed for celebs like Christina Aguilera, Courtney Love, and Justin Timberlake. Girlfriend Jessica Biel may want to come along for the late-night/early-morning partying next time, as it was rumored that Timberlake got a bit too close to two Vegas go-go dancers!
8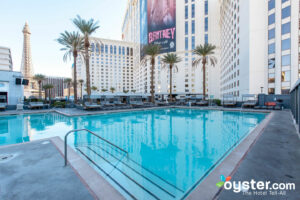 Fans of Playboy bunny Holly Madison should check out Planet Hollywood, where Madison is a permanent resident. She's currently the star of the hotel's popular Peep Show, and much of her show on E!, Holly's World, is filmed at the hotel.