Best Luxury Hotels in London
Steeped in history, with wonderful tourist sites at every turn, London is one of the world's most popular travel locations for good reason. After visiting more than 700 London hotels, we've evaluated each one to determine the best of the best (no easy task, as London is home to some of the most opulent and iconic hotels on the planet). Take a look at our picks for the best luxury hotels in London.
See All London Hotels
1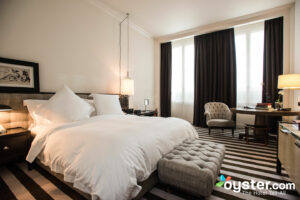 Rosewood London is an ultra-luxurious hotel set in ornate Edwardian mansion, a 10-minute walk from the British Museum and shopping on Oxford Street. The hotel's interiors, featuring a striking marble staircase, antique furniture, and quirky artwork, are immaculate. While the size of the 306 rooms can vary, all are chic and impressive, with lavish marble bathrooms (some with separate soaking tubs), smart TVs, luxury linens, Nespresso machines, and well-stocked minibars. Rosewood's outstanding hotel features include a deluxe spa, a fine-dining restaurant, and a casual brasserie.
2
A tenth the size of the Rosewood, Hotel 41 feels more like an upscale private club than a large hotel. The chic boutique offers flawless hospitality and a central location near Buckingham Palace. The 30 rooms and suites have a black-and-white color palette and marble bathrooms stocked with Penhaligon's toiletries. Deluxe extras include pillow and duvet menus, on-demand butler service, and free snacks that include smoked salmon, quiche, and Haagen Dazs ice cream. Additionally, guests receive free champagne on arrival and free round-the-clock snacks and evening canapes in the plush lounge. Residents also have access to the many dining and lounging options at its sister hotel next door, The Rubens at the Palace. Hotel 41 offers free access to an off-site gym, but travelers wanting an on-site fitness center -- and a spa -- might prefer the Rosewood.
3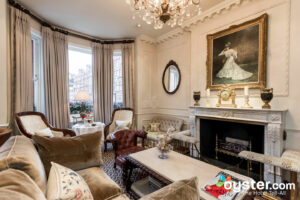 Located in a historical townhouse in upscale Knightsbridge, this exquisite boutique hotel offers the best five-star services in an affluent shopping and residential area. (Egerton House Hotel is a short walk from the famous Harrods Department store, as well as renowned London museums.) The 28 rooms and suites are decorated in a rich, luxurious English style, without being too traditional or stuffy. All are incredibly well-appointed with antique furniture and rare art by prominent painters like Picasso, Matisse, and Chagall, as well as opulent marble bathrooms, Penhaligon's toiletries, and well-stocked minibars (which include vitamins). Champagne is offered on arrival, personalized treats and candles are included in the turndown service, and free still and sparkling spring water are stocked daily in the rooms.
4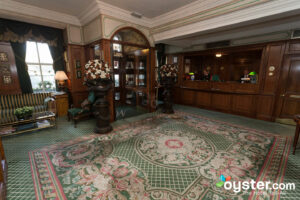 The 56-room Milestone Hotel and Residences' single most defining factor is its truly exceptional level of service: In the words of the hotel itself, their mission is to deliver service that exceeds guests' expectations at every opportunity. From the warm and superbly trained staff to the abundance of luxury boutique amenities, this hotel's mission is to serve. Beautifully themed rooms are simultaneously elegant and creative, incorporating beautiful period furnishings without coming across as dated or stale. All rooms come with plush beds with U.K.-made Savoir mattresses and Egyptian cotton sheets. The lounging and dining areas follow suit with rich mahogany wall paneling and comfortable antique furniture -- a style that feels inspired by that of a quintessential and luxurious English country home. With ornate period design, extremely high standards, excellent service, and a great location, it's no wonder why The Milestone is so renowned.
5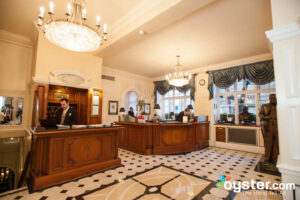 The Goring is a classic English hotel with personalized service and a longstanding royal legacy. This is where the Duchess of Cambridge -- a.k.a. Princess Kate -- stayed the night before her wedding, and overflow from private events at Buckingham Palace is regularly accommodated. The venue's classic Edwardian architecture, well-functioning original antique elevator, and spacious hallways (designed to accommodate voluminous gowns) remind guests of the hotel's history. All 69 rooms are individually styled, with handmade carpets and damask silk wallpaper. Standard rooms lack minibars and coffee/tea facilities, betraying the Goring's aristocratic expectations: A five-star hotel would prefer to provide 24-hour in-room service. As far as intimate luxury hotel experiences go, Hotel 41, Egerton House Hotel, the Milestone, and the Goring are really in the same league.
6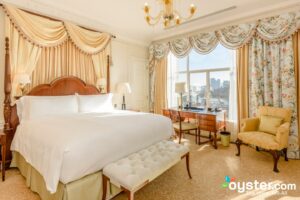 This Covent Garden grande dame is one of London's most famous hotels, with pampering service, sophisticated design, and hot spot restaurants. An impressive roster of celebrity guests has stayed at the hotel since its 1889 opening and its excellent restaurants and bars -- including the famed American bar, once a haunt of Marilyn Monroe -- are destinations unto themselves. The 267 rooms are traditional, sophisticated, and understated, with either Art Decor or Edwardian decor influences, as well as modern tech features, optional butler service, and 24-hour room service. It's hard to find fault with this iconic luxury property.
7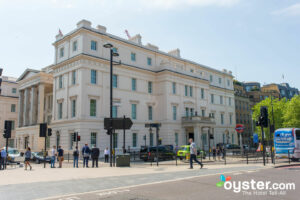 Styled after an early 19th-century luxury residence, the Lanesborough is a lavish tribute to the classic Regency period. Interiors are elegant and stately, with preserved majestic high ceilings, sculpted woodwork, and rich window dressings. The 93 rooms and suites have marble bathrooms, 24-hour butler service, and modern technology like Sony tablets, high-speed Wi-Fi, and unlimited movies on demand. Hotel highlights include fine dining at Celeste restaurant, the Library Bar, and traditional afternoon tea. Luxe spa treatments are available, plus guests have access to a small fitness studio and steam room. All of this comes at a price, however, as rates here start significantly higher than those at the Milestone, the Goring, and even the Savoy. But with the exclusive Hyde Park location, courteous staff, and full luxury experience, it's perhaps worth digging into your pockets.
8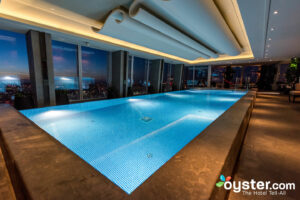 Located inside Renzo Piano's The Shard (the U.K.'s tallest building, completed in 2012) this stellar property is truly bucket list-worthy. The 202 guest rooms have nature-inspired decor and fine furnishings. The litany of amenities and features include Frette linens, Nespresso machines, and marble-clad bathrooms with soaking tubs, flat-screen TVs behind vanity mirrors, and Acqua di Parma products. The center of the action is on the 52nd floor, which has dizzying views from the always-packed cocktail bar, fab infinity pool, and restaurant. Spa-goers may be sad to learn that the brand's posh CHI spa isn't here, and while Shangri-La's gym is opened 24 hours, it has only six cardio machines.
9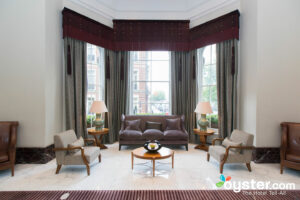 One of the more notable historical hotels in London, the Langham Hotel opened in 1865 as the city's first purpose-built luxury hotel. Since then, the 380-room Victorian property has played host to everyone from Sherlocks Holmes' characters and World War II soldiers to BBC comedy acts and Lady Gaga. The hotel's stately Victorian facade gives way to a opulent entryway with high ceilings, marble columns and floors, rich bouquets of fresh flowers, and a cascading chandelier. The elegant Palm Court, with its grand piano and tufted couches, is another historic landmark, said to be the birthplace of the traditional afternoon tea, which it still serves. The Langham also features a gorgeous spa, a 52-foot swimming pool, and a 24-hour fitness center. But while every inch of the Lanesborough and Shangri-La feel opulent, the Langham's entry-level rooms can feel bland compared to common areas. However, all rooms feature flat-screen TVs with laptop connections, minibars, and electric kettles. Concierge, butler, and 24-hour room services are available.
10
Tucked into one of central London's swankiest neighborhoods, the 107-room Stafford London is a 17th-century townhouse hotel with aristocratic roots. Its main building -- a set of three redbrick townhouses -- was occupied by Lord and Lady Lyttelton and their descendants (relations of Princess Diana) until the mid-19th century. Rooms and suites follow the quintessentially English interior design with dark wood furnishings and homey patterned fabrics, and all units have satellite TVs, Nespresso coffeemakers, and minibars with free soft drinks. The hotel's fine-dining restaurant -- The Game Bird -- serves a pricey breakfast, lunch, and dinner, as well as afternoon tea in elegant and particularly refined surroundings. The hotel's overall mood is high-class and sophisticated, but we gave the Langham the edge for its additional features, including its cocktail bar, indoor pool, and beautiful spa.
11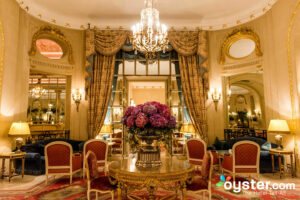 It's hard to miss The Ritz's name in dazzling white marquis lights above the hotel's colonnaded entrance. Walking through the revolving door reveals a property that is nothing short of extravagant: expect grand marble columns, vaulted arches, French doors, chandeliers, overstuffed velvet couches and Louis XVI chairs -- the whole deal. The 136 elegant rooms range from simple to opulent, with well-stocked minibars, fireplaces, and Asprey bath products. Some suites have views of Green Park or Piccadilly and separate drawing rooms. The poshest include a 24-hour butler and a Rolls-Royce airport ride. Some guests have noted a decline in service and tired decor, but overall, this iconic 1906 hotel attracts moneyed business and leisure travelers along with scores of wide-eyed tourists who come to soak up the glamour.
12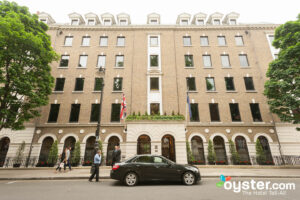 A 41-room boutique hotel with generous amounts of space, COMO The Halkin exudes luxury -- from its distinctive Italian-cum-Asian interior design to its marble bathrooms with deep soaking tubs. Sumptuous and spacious guest rooms literally offer convenience at the touch of a button, as all have wall consoles for calling the butler and other services. Even the location is upscale, as the property stands in the tony Belgravia district and is just a two-minute walk from Buckingham Palace. Guests also have access to the spa at famed sister hotel The Metropolitan, since the Halkin does lack amenities such as a spa and pool.
13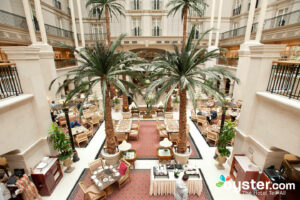 With high Victorian ceilings, marbled archways, and a beautiful white stone-walled central atrium, the 300-room Landmark London delivers in both elegance and period style throughout the common spaces -- particularly in the ultra-sophisticated restaurant and the grand lobby areas. The elegant vibe extends to the on-site spa, which has an indoor pool and fitness center. Even rooms in the entry-level categories are amply sized, and all have flat-screen TVs, minibars, and coffee/tea facilities. Generous white marble bathrooms feature separate soaking tubs and walk-in showers. Rooms pale in comparison to the ones at COMO, which have contemporary decor and wall consoles for calling the butler and guest services.
14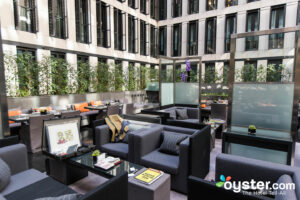 Located right across the street from lovely Hyde Park, Grosvenor House Apartments is one of the most chic and modern luxury properties in London. The 130 stylish units have between one and five bedrooms, and all are equipped with sleek kitchens, spacious dining areas, and top-notch amenities including electric blinds, sound systems, and digital TVs. Prime services such as butlers, concierges, private cars, bespoke grocery shopping, and in-room spa treatments draw business travelers and families alike, but all this luxury (plus the prime location) comes with a price tag to match. Those looking for something more classic may want to compare rates at The Goring or the Egerton House Hotel.
15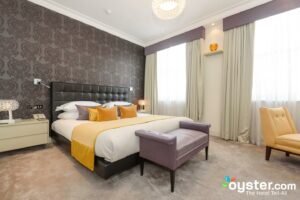 Built at the turn of the 20th century, Taj 51 Buckingham Gate Suites and Residences is a historic, luxury property with a prime Westminster location and 85 stunning suites. This beautifully restored hotel with stunning architecture offers a Michelin-starred restaurant, an opulent afternoon tea service, and a spa with bespoke treatments. Spread over three individually styled Victorian townhouses, suites have kitchens and living rooms as well as butler service. The hotel is well-situated for business travelers, and sits a five-minute walk from Buckingham Palace and other popular tourist sights. However, the atmosphere can be a bit stuffy.