Celebrity Hot Spot Hotels in Los Angeles
A team of Oyster reporters spent weeks exploring 59 top hotels in and around Los Angeles, including Beverly Hills, Hollywood, and Santa Monica. We slept in the beds, lounged by the pools, ate in the restaurants, and even sampled the nightlife, all with an eye toward selecting the most distinguished properties. And while Los Angeles is teeming with celebrities, it can help to know where they go. Here are the places we'd recommend staying in — or at least stopping by — if you want a chance to see a star.
See All Los Angeles Hotels
1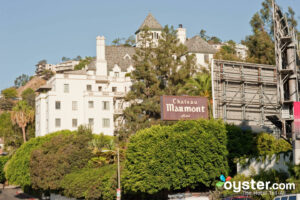 Chateau Marmont, a discreet movie star hideaway since it opened in 1929, attracts celebrities to its popular Bar Marmont, see-and-be-seen restaurant, and private guest bungalows (John Belushi overdosed in one in 1982). An Oyster reporter spotted both Stevie Wonder and Radiohead's Thom Yorke at coveted patio tables. Twilight stars Kristen Stewart and Robert Pattinson spent the night together at the hotel, while Kate Bosworth and True Blood's Alexander Skarsgard were seen kissing on the premises, which is also the site of a rumored bar brawl between Lindsay Lohan and Avril Lavigne. Lohan, of course, can't just have one scandal per hotel: The actress recently got in trouble with the Chateau when she failed to pay a $46,000 bill. And if that's not enough: Jennifer Aniston, John Mayer, and Billy Crudup have been spotted together in the courtyard, Eva Longoria and Christina Applegate were seen on the patio, Sienna Miller and Josh Hartnett have cozied up in the restaurant's living room, and, on one single night, actresses Lindsay Lohan, Charlize Theron, and Mary-Kate Olsen all graced Chateau's halls. Awards season sees the Chateau packed to the gill with celebs. Several Grammy after parties have been hosted here, and the Weinstein Company has held pre-Golden Globe events here in the past, so the hottest nominees can always be counted on to put in an appearance at the Chateau.
2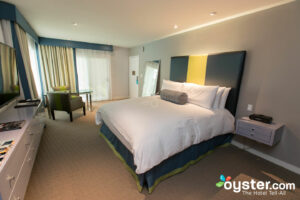 Rock stars have been flocking to the Sunset Marquis since it opened in 1963 as a cheap hotel for musicians playing at the nearby House of Blues, Roxy, and Viper Room. Celebrities keep coming for the location right off the Sunset Strip, a destination bar, and a recording studio in the basement (where Red Hot Chili Peppers, Justin Timberlake, Madonna, Green Day, Lil Wayne and Faith Hill have all recorded). During our two-night stay, we spotted Lars Ulrich of Metallica, Joss Stone, and former Ministry frontman Al Jourgensen. Our waitress told us we just missed Roger Daltrey of The Who. Lil Wayne and Green Day worked in the studio within days or our visit. But it's not just rockers than roam the Sunset Marquis: Uma Thurman and Phillip Seymour Hoffman have both been spotted on the premises. Keanu Reeves and Winona Ryder were seen talking in a corner at the hotel's exclusive Bar 1200, where Posh and David Beckham have been spotted with a group of friends. Bar 1200 is also where Foo Fighters' Dave Grohl met his wife, Jordyn. Tony Romo, Katie Holmes, Jessica Alba, Lauren Conrad, and Ashlee Simpson-Wentz have also been seen at the hotel, and members of U2 and the Rolling Stones have been guests.
3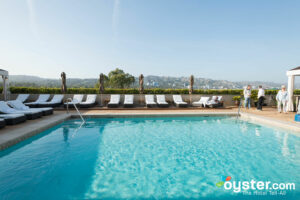 Hidden away in a quiet residential section of Beverly Hills, this hotel has earned a reputation as a place where stars can recover from their plastic surgery in private -- Michael Jackson and Liz Taylor have been among them. A private VIP entrance in the parking garage lets celebrities come and go away from the paparazzi. Angelina Jolie has conducted interviews from the hotel, Tom Cruise and Katie Holmes celebrated her birthday here, and part of Jennifer Lopez's Jenny from the Block video was filmed on site, as were scenes in the Julia Roberts movie Full Frontal. Jennifer Aniston and Adam Sandler were rumored to have filmed scenes from their 2011 film Just Go With It at the hotel, and Penélope Cruz was honored for her performance in Nine at a luncheon here with Melanie Griffith, Debi Mazar and Patricia Arquette in attendance.
4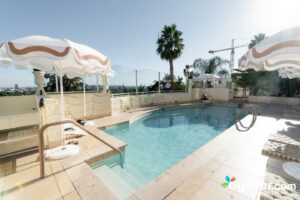 A 2005 renovation turned the run-down Sunset Tower, a hot spot during Hollywood's golden age and at one time the home of Howard Hughes, back into a sparkling Art Deco gem -- and put it back on the A-list map. Among its many reported devotees are Jennifer Aniston, Sean Penn, Johnny Depp, James Franco, Scarlett Johansson, Chris Pine, Renée Zellweger, and Andy Samberg. Vanity Fair has held its Oscar bashes at the hotel for the last four years, hosting stars like Kristen Wiig, Emma Stone, Zach Galifianakis, Katie Holmes and (then hubby) Tom Cruise, Jessica Simpson, Reese Witherspoon, Will and Jada Pinkett Smith, Gerard Butler, Jennifer Aniston, and John Mayer. Aniston, Madonna, Lily Allen, Penélope Cruz, Ashley Olsen, Justin Bartha, Chris Pine, and Anne Hathaway have all been seen dining at the hotel's restaurant.
5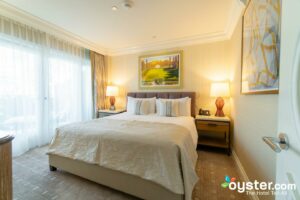 Most celebs come to this elegant and dignified 1912 hotel with 12 acres of gardens to hide away in one of the secluded bungalows. Famous guests of yesteryear include Marilyn Monroe, Elizabeth Taylor, and John Lennon and Yoko Ono. But head to the Polo Lounge and you might see Hollywood execs closing a deal, or spot Paris Hilton, as we did. President Obama also made a stop here on his 2008 campaign trail, while everyone's favorite royals -- Will and Kate -- stayed here during their US tour following their nuptials. Lindsay Lohan, Jessica Alba, Britney Spears, Jennifer Aniston, and John Mayer have also been spotted here recently. Other stars who have been spotted at the Polo Lounge include Nicole Kidman, Johnny Depp, Vince Vaughn, and Nicolas Cage.
6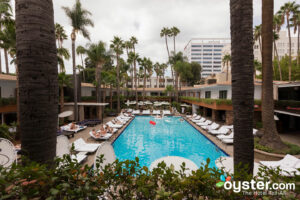 Sitting on the Hollywood Walk of Fame, this hotel founded in the 1920s by celebrities, Charlie Chaplin and Greta Garbo among them, is now best-known as a bad-boy party scene -- especially at the elite club Teddy's. Miley Cyrus and Liam Hemsworth have become fairly regular attendees to the raunchy shows at Teddy's, sometimes accompanied by Kelly Osbourne. Joe Jonas and Demi Lovato were also spotted at the club, the latter often in the company of the Kardashian girls. Jessica Biel threw Justin Timberlake a birthday party at the hotel in early 2009, Jay-Z and Beyonce held a late-night afterparty here, and Khloe Kardashian attended a 2009 Labor Day pool party. Jake Gyllenhaal, Jeremy Piven, Mischa Barton, Kate Bosworth, Penelope Cruz, and Orlando Bloom are reported to be fans as well. In July 2010, The Hill series finale party was held poolside at the hotel. While infamous ex-castmate Spencer Pratt was banned from the party and the hotel, he had a friend book a room for him and underwent numerous disguises in the hopes of gaining entry to the party (which he did not). Ryan Phillippe, Brody Jenner, Frankie Delgado and JC Chasez come to party at Teddy's, as have Cameron Diaz, Hayden Panettiere, Zachary Quinto, and High School Musical's Zac Efron and Vanessa Hudgens.
7
Just across the street from Rodeo Drive shopping, the Beverly Wilshire -- the Pretty Woman hotel -- attracts stars with its glamour and classy service. The family reception after Michael Jackson's memorial service was held at the hotel. Plenty of celebs come through the door for benefits and parties. Russell Brand and Jennifer Lawrence were both spotted arriving at the hotel in 2012. Gwyneth Paltrow, Jay-Z, Katie Holmes, and Governor Arnold Schwarzenegger among them in 2009. On a less classy note, Chris Brown and Rihanna reportedly shacked up here during their post-arrest reconciliation. Justin Timberlake reportedly got rough with a photographer when he stayed here with Jessica Biel. Many episodes of HBO's Entourage have been filmed here, and fans of old Hollywood will love that Elvis Presley, Warren Beatty, and John Lennon all stayed here back in the day.
8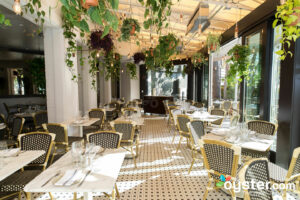 Secluded bungalows and high hedges give the Fairmont the private feel that celebrities love. We saw fashion consultant Tim Gunn (from reality show Project Runway, which filmed at the hotel) during our stay. The reality show Denise Richards: It's Complicated filmed here too (she moved into the hotel at the beginning of season two). Through the years, the hotel has played host to JFK, Greta Garbo, Hugh Hefner, Anthony Hopkins, Paul Newman, Steven Spielberg, and Britney Spears (is there a hotel that Britney has not stayed in?). In a season five episode of Entourage, the hotel stood in for a Hawaiian resort.
9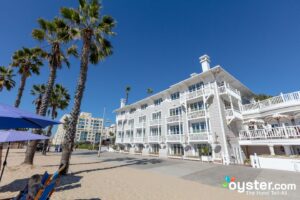 There are few high-end L.A. hotels directly on the beach, making the luxe Shutters a magnet for celebs who want to lie on the sand and soak up the sun. We walked right by Dave Chappelle during our stay, and we weren't surprised, as there probably aren't many West Coast A-Listers who haven't stopped by. Sarah Michelle Gellar and Megan Fox were both seen here in 2009, and Ben Affleck, Julia Roberts, Britney Spears have been spotted on site. Other celebs who've been spotted at Shutters: Pamela Anderson, Al Pacino, Brad Pitt, and Angelina Jolie.
10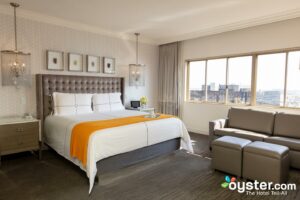 Stars flock to this hotel for its chic Penthouse restaurant and bar with 360-degree ocean views, cabanas, and billowing white curtains. The hotel keeps close track of who's stayed, and while the list includes too many to name, we can't resist calling out Ben Affleck, Larry David, Jessica Biel, Giada De Laurentiis, Lindsay Lohan, Eli and Peyton Manning, Sarah Jessica Parker, Luke and Owen Wilson, Barbara Streisand, Arianna Huffington, and the McDreamy Patrick Dempsey.
11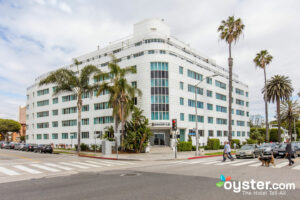 This stylish 71-room hotel overlooking the ocean has long been luring celebs with its secluded pool and poolside lounge, where DJs host shows every weekend, and the new rooftop bar Suite 700 is enhancing its A-list appeal. Madonna, Tom Cruise, and Diane Keaton have reportedly frequented this iconic 1939 property. In 2009, Rashida Jones and Andy Samberg hosted a Fourth of July party here. Hotel staff told us that Sean Penn, Bill Clinton, and Bill Murray have also been guests.
12 This 63-room boutique hotel provides celebs (and guests) with an intimate, B&B-like setting in the heart of Santa Monica. Private evening parties can bring in crowds of A-listers (singer couple Gwen Stefani and Gavin Rossdale attended one such event during our stay, on the eve of Stefani's 40th birthday), though the festivities are calmer and more sophisticated than the swanky Miami Beach-style gatherings at Shangri La or The Huntley. Past guests have reportedly included Ashley Olsen, Ewan MacGregor, Brendan Fraser, and Governor Arnold Schwarzenegger and Maria Shriver.
13
This 2008 hotel is a celeb hub, attracting the rich and famous to its restaurants from Spanish chef Jose Andres. Jennifer Lopez and Marc Anthony, Hugh Jackman, Sarah Jessica Parker and best friends Sheryl Crow and Courteney Cox Arquette have all been seen enjoying a meal at The Bazaar, while Nicky Hilton attended a pre-Grammy party held at the hotel.