When it comes to over-the-top opulence, Macau hotels are right on up there with the legendary luxury resorts of Las Vegas. See our picks for Macau's best-in-class luxury hotels.
See All Macau Hotels
Despite its location in the glitzy Galaxy Macau complex on Macau's Vegas-like Cotai strip, this swanky resort has an atmosphere that is opulent and serene. The hotel's 256 rooms are all large and seriously high-end suites with private relaxation plunge pools. (Villas open to outdoor pools with whirlpools.) All rooms feature bathrobes, slippers, minibars, espresso machines, and bathrooms with two-person Japanese wooden tubs and high-tech toilets. Banyan Tree's features are superlative: the Grand Resort Deck (shared with five other hotels) with the world's longest sky-top water ride, a luxurious spa considered the best in Macau, and a sky-high health club. Those wanting a blow-the-budget stay with a more party vibe will prefer Wynn Macau.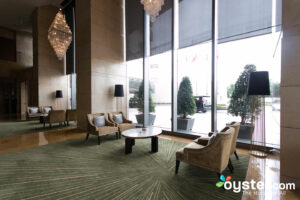 Mandarin Oriental Macau is an elegant high-rise hotel connected to the equally exclusive One Central Macau, a shopping mall with Cartier, Tom Ford, and Louis Vuitton shops. Decorated in shades of cream, gray, and warm wood tones, Mandarin's 213 rooms have a soft and elegant feel that's slightly less glitzy than what's found in the common areas. Starting at 431 square feet, they're not as big as Banyan Tree's suites and villas (which start at 1,075 square feet), but they're still generously sized, and all include minibars, Nespresso machines, free Wi-Fi, and big on-demand flat-screen LCD TVs. The light marble bathrooms are especially luxurious, with double sinks, walk-in showers, separate soaking tubs, and flat-screen TVs. Common features are up to the chain's high standards: a chic Asian restaurant and bar with a romantic vibe, a posh spa, and a fitness center that is a step above most city hotel gyms.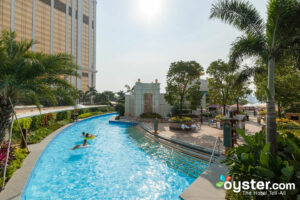 JW Marriott Hotel Macau is one of the six hotels (including Banyan Tree) that make up the multibillion-dillar Galaxy Macau complex in the ritzy Cotai strip development. As such, guests get free access to the complex's huge resort deck featuring an artificial beach, river ride, and splash parks. An excellent kids' club helps make this one of the more family-friendly picks in Macau, but couples might prefer the more serene and romantic atmospheres of Banyan Tree and Mandarin. Each of JW Marriott's 1,000-plus rooms is stylishly decorated and stocked with upscale amenities like Nespresso machines, 52-inch flat-screen TVs, and Bose Bluetooth speakers.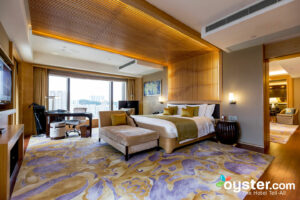 The Galaxy Hotel is a ritzy, high-end resort set in the two-billion-dollar Galaxy Macau complex. At 1,500 rooms and suites, it's certainly one of the larger hotels in the area and it offers easy access to a wealth of facilities that include numerous restaurants and the Grand Resort Deck featuring a man-made beach, wave pool, and lazy river. Entry-level rooms here are smaller than JW Marriott's (Galaxy's start at 385 square feet versus JW's 485 square feet), but all rooms provide minibars with free beer and soft drinks (per-stay in regular rooms, replenished daily in suites). Rooms' subtle Asian style combines patterned rugs, velvet seating, and low-level lighting to an upscale and inviting effect. Huge double-glazed windows also make the most of the views, which are particularly stunning from higher floors. There's no spa here, like Banyan Tree, Mandarin, and JW, but the rates are relatively reasonable considering just how much the complex has to offer. Note that both check-ins here and at JW Marriott can be prone to long lines.
Hotel Okura Macau is a luxury Japanese-style hotel with a calming vibe and uncluttered interiors. Like Banyan Tree, JW, and Galaxy, Okura is housed in the multibillion-dollar Galaxy Macau complex. Okura's standout feature is undeniably the Grand Resort Deck -- an 18-acre space shared with the complex's other hotels. This family-friendly spot has a wave pool, waterslides, splash parks, and the longest elevated lazy river in the world. There's even an artificial beach (made from 350 tons of sand) and a quieter, mosaic-lined heated swimming pool, with three whirlpools and sunbeds. The 488 rooms at Okura are stylish and spacious (starting at 500 square feet), and all have flat-screen TVs, well-stocked minibars, and soaking tubs with integrated TVs. However, travelers looking for a little more pizzazz may prefer the Galaxy Hotel.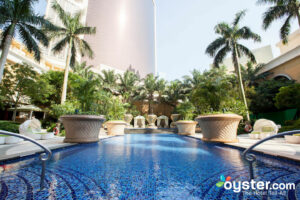 With over 1,000 rooms, Wynn Macau is a striking Vegas-style hotel on the Macau Peninsula near other high-end hotels and casinos. From choreographed fountain displays to the lavish, theatrical interiors, this property feels very Las Vegas, and has top-of-the-line perks, like two Michelin-rated restaurants, an outdoor pool in a tropical garden, and not one but two luxury spas. All of Wynn's 1,000-plus rooms are spacious, and even the most basic has a 560-square-feet floor plan. Standard amenities include large flat-screen TVs, minibars, touch-control technology systems, and signature Wynn beds topped with Egyptian cotton. Private butler service is also available in certain categories. The lavish room aesthetic won't appeal to everyone, however; the suites in particular feel a bit unintentionally retro.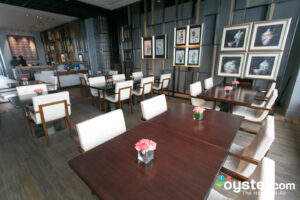 First impressions are everything, especially in modern-mad Macau. With its futuristic glass exterior, soaring ceilings, and abundance of polished marble, Grand Hyatt Macau is a contemporary hotel that sparkles both inside and out. This is a massive property, with 800 rooms spread across two towers and all manner of public spaces, including two posh restaurants and a large lobby lounge. Grand Hyatt's outdoor infinity pool can't compare to Galaxy Macau's pool deck, but the hotel also has a 24-hour fitness center, spa, and tennis court. Rooms are bright, modern, and minimalist, and feature sleek bathrooms with separate tubs and rainfall showers. Guests staying in Club Rooms have access to the exclusive Grand Club, which has an attractive outdoor patio plus free breakfast and all-day refreshments. The hotel is part of the City of Dreams complex, a lifestyle destination that's essentially a mall, with entertainment, dining, and drinking just downstairs. It's a bit far from most of the Macau action, though the hotel does provide free shuttle service to city center and airport.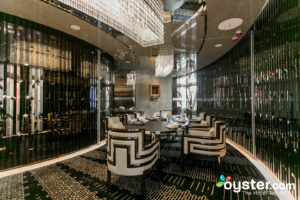 Located inside of Macau's tallest and most iconic building, Grand Lisboa is luxury hotel occupying a 47-floor tower that emerges from one of the largest LED domes in the world. A fittingly go-big-or-go-home style governs everything here, and the hotel has a casino, live dance shows, and a variety of dining options including three Michelin-star restaurants plus a beautiful outdoor swimming pool, a salon, and spa. Rooms are spacious and Wynn-level lavish (or over-the-top, to some) and include amenities like free minibars and Hermes toiletries.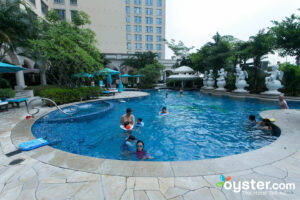 Set in the historic quarter of Macau, the luxury Sofitel Macau at Ponte 16 provides a bit of glitz in an authentic (read: not purpose-built) setting. The riverfront location means superb views from the hotel's poolside terrace and a couple of its restaurants. The property has easy access to the city's tourist attractions, but some guests find the surroundings sketchy. The 408 rooms have floor-to-ceiling windows, many with river views. Amenities include free Wi-Fi, minibars, and flat-screen TVs with pay-per-view movies; while there are no fancy high-tech features like at the Wynn Macau, rooms include signature Sofitel fabrics of French-made linens and designer towels. Bathrooms are large with separate tubs and walk-in showers, plus L'Occitane products (upgraded rooms have Hermes toiletries -- standard at Grand Lisboa). Sofitel's pool doesn't have much on Grand Lisboa's beautiful outdoor pool with waterfall and city views, but it is a good size and the hotel's health and spa facilities are above average.