Best All-Inclusive Resorts in Funchal, Madeira
Take a look at the best all-inclusive resorts in Funchal.
See All Funchal Hotels
1
Funchal is known for its steep hills, but this 317-room, upper-middle-range all-inclusive is in a walkable area with access to the oceanfront promenade. The hotel's exterior resembles a cruise liner, and the large outdoor pool, kiddy pool, and massive deck all face the ocean. The spa's saltwater pool has romantic cave-style designs and the spacious gym offers spin classes. The hotel stands out as one of the only all-inclusive options in Funchal (and the best); in addition to the main buffet restaurant with live cooking stations, there are Japanese, Italian, and Madeiran theme restaurants. Bars offer live entertainment. Rooms are modest with simple (but comfy) design and all have full or partial sea views from balconies; some suites have kitchens. The Melia Madeira Mare Resort & Spa offers more modern rooms, but doesn't have all-inclusive rates.
2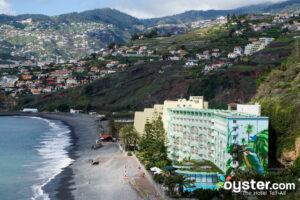 The Pestana Bay Ocean Aparthotel is an mid-range all-inclusive property set right on a popular stretch of Praia Formosa. Although not strictly apartments, all 217 rooms have kitchenettes and balconies, most with superb sea views. The decor is bold, but dated. Complaints typically focus on the very crowded buffet restaurant, though the hotel provides surprising extras like cocktail hours and free shuttles into Funchal. Pool and spa facilities are adequate, with plentiful loungers and a poolside whirlpool tub. There's also a grassy playground and a game room. Self-catering apartments with better child-friendly facilities (including a kids' pool, club, and entertainment) can be found at the Suite Hotel Eden Mar, where rates tend to be lower.
3
The Jardins d'Ajuda Suite Hotel is one of Funchal's larger two-and-a-half-pearl hotels, with an outdoor pool in well-kept gardens. It has a decent location on the outskirts of the Lido neighborhood, and some of the cheapest three-pearl hotel rates in the city. It's impressively clean, though the once-classic decor is tired and dated, even for Madeira. The rooms (there are 227) have old-fashioned patterned fabrics and small, old TVs, and there's no in-room Wi-Fi. The hotel appeals to more mature couples and groups who are less concerned about the basic amenities and lack of style, as well as a few families taking advantage of the bargain rates. For the area and features on hand, it's hard to top for affordability -- The Raga is the closest competition.