Best Kid-Friendly Hotels in Funchal, Madeira
Take a look at the best kid-friendly hotels in Funchal.
See All Funchal Hotels
1
The Cliff Bay (Porto Bay) is a luxury hotel with a striking cliff-side setting overlooking the Atlantic, a bit more than a mile from Funchal's city center. It's home to Madeira's only Michelin-star restaurant, two swimming pools (one freshwater, one saltwater, and a kiddy pool), and a luxe spa. The 200 rooms are pleasant, bright, and spacious, and most have balconies with superb ocean views. The resort as whole is well-oiled with plenty of polish, if not a huge amount of character. For that, travelers might want to check out the 18th-century Quinta Jardins do Lago -- far from the sea but set within lush botanical gardens.
2
The Suite Hotel Eden Mar in Porto Bay isn't Funchal's most exciting property, but its no-fuss approach seems to be one of the reasons it's so popular with repeat guests. For a three-pearl, mid-size hotel (146 rooms), there's a good choice of facilities, and the beautiful hillside gardens are a highlight. Plus, as part of the Vila Porto Mare resort, guests also have access to facilities including a spa and tennis courts at two sister hotels. The relaxed vibe and quieter setting away from the city center appeal to young families and more mature guests. Rooms have at least partial sea views and amenities like air-conditioning and a kitchenette, but lack character. It's worth comparing rates at the Pestana Carlton Madeira, which has similar features and is closer to the center.
3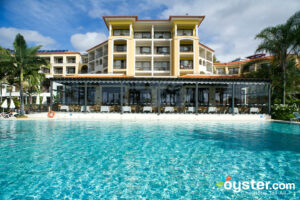 The upper-middle-range, 198-room Porto Mare features a plethora of on-site facilities and dining options, as it sits in the center of the Vila Porto Mare resort complex. The hotel is close to Lido Promenade and free shuttles run into Funchal's old town multiple times a day, but the closest beach is roughly a 30-minute walk away. Though there are ample restaurants and shops nearby, guests may be content to stay at the hotel, as there are an array of pools -- both indoors and outdoors -- a kids' club, and sports facilities. Earth-tone rooms have flat-screen TVs, docking stations, and mini-fridges, while suites add kitchenettes. Some areas are looking a bit dated, but overall, it provides a solid stay for couples and families. Couples may prefer the more modern and stylish Pestana Promenade Ocean Resort Hotel.
4
Travelers are drawn to this mid-range, 99-room hotel for two key reasons: the beautiful sea-facing gardens and the warm, comfortable atmosphere. Together with the Suite Hotel Eden Mare and Porto Mare Hotel, The Residence belongs to the Vila Porto Mare resort. The relaxed vibe and non-city center location appeals to more mature couples, and the high number of time-share holders and returning guests gives it a communal vibe. Facilities across the development include four restaurants and a spa. There's no pool at The Residence itself but it shares use of the resort's four pools. Spacious studios and apartments all have kitchenettes, plus direct access to the gardens or a sea view. For a slightly chicer stay in a similar setting, the Melia Madeira Mare Resort & Spa has comparable rates.
5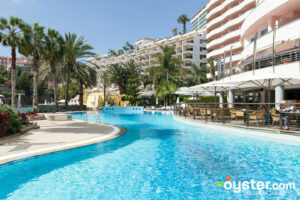 The 174-room Royal Savoy Hotel is an upscale resort-style property overlooking the sea, located a 15-minute walk from Marina Funchal. Rooms might feel a little old-fashioned for some, but all have balconies with at least partial sea views, and suites feature kitchenettes. Two pools and decent health facilities are a draw, though some guests are turned off by the hotel's time-share aspect. The on-site restaurant serves a free breakfast buffet, as well as lunch and dinner, plus there's a piano bar with live music. Travelers might also want to check out the clifftop Belmond Reid's Palace nearby, which is a little classier and features more impressive panoramas -- for around the same price.
6
The Vidamar Resort Madeira is a sleek, contemporary, upscale resort set on a cliff that overlooks the Atlantic Ocean. Clever design means that superb views can be enjoyed from numerous vantage points, including in the 300 bright, minimalist guest rooms. Three swimming pools are rarely crowded and the spa is particularly stylish. Dining options are aplenty and a half-board rate is standard, and though there's a sushi restaurant the buffet choices can get dull. Vidamar is certainly one of the chicer options on the island, but it's a 10-minute drive to the sands of Praia Formosa. For traditional luxury and more history check out Belmond Reid's Palace, just up the coast.
7
Hotel Baia Azul is a four-pearl property located a 10-minute walk outside the center of Funchal. While the hotel has always had a fabulous, walkable waterside location directly on the promenade, it didn't reach its full potential until undergoing a complete makeover and reopening in 2016. Now, the 218-room resort is a gorgeous, bright property with top style to boot. Expect spacious and modern rooms with mini-fridges, kettles, glass showers, and balconies with views. Features include an indoor and outdoor pool, small gym, restaurant with good breakfast buffet and terrace seating, well-priced bar, and spa options, but be prepared to pay extra for the safe inside your room and fresh towels. The beachfront here is pebbled, so if you are looking for sand, check out the nearby Golden Residence Apartment Hotel in the same price point.
8
Funchal is known for its steep hills, but this 317-room, upper-middle-range all-inclusive is in a walkable area with access to the oceanfront promenade. The hotel's exterior resembles a cruise liner, and the large outdoor pool, kiddy pool, and massive deck all face the ocean. The spa's saltwater pool has romantic cave-style designs and the spacious gym offers spin classes. The hotel stands out as one of the only all-inclusive options in Funchal (and the best); in addition to the main buffet restaurant with live cooking stations, there are Japanese, Italian, and Madeiran theme restaurants. Bars offer live entertainment. Rooms are modest with simple (but comfy) design and all have full or partial sea views from balconies; some suites have kitchens. The Melia Madeira Mare Resort & Spa offers more modern rooms, but doesn't have all-inclusive rates.
9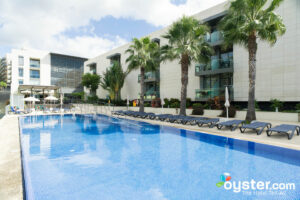 Golden Residence Apartment Hotel is a four-pearl resort located on the outskirts of Funchal. The property has attractive, modern decor and boasts stunning ocean views from its perch high above the water. All 142 units have flat-screen TVs, mini-fridges, kettles, and private balconies, but beds are two twin mattresses pushed together, and bathrooms lack toiletries. Suites and Apartments add living rooms and kitchenettes. The rooftop terrace and garden promenade are among the resort's top features, and there's an outdoor pool, a spa, a gym, and free breakfast. No direct beach access and a hike into town are drawbacks. Though dated by comparison, travelers seeking a beachfront hotel may wish to consider Pestana Bay Ocean Aparthotel.
10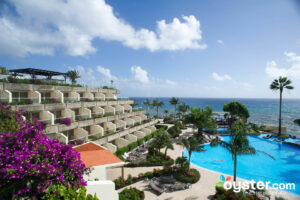 The 286-room Pestana Carlton Madeira is an upper-middle-range resort complex overlooking the Atlantic on the western side of Funchal. Along with some impressive dining and drinking options, the property has outstanding leisure facilities that include a total of four swimming pools. The addition of spa, child-friendly facilities, and direct access to the sea make this property appealing to a wide swath of travelers. Rooms are spacious with most offering sweeping sea views, though the style is a bit plain. All in all, guests get a lot for relatively low rates, though the same could be said for the Pestana Casino Park Hotel close by, which occupies an iconic building nearby and has similar features.
11
The three-pearl Orca Praia Hotel cuts a dramatic figure, seemingly hewn out of the cliffside that tumbles down to a beach with black volcanic sand. Inside, the 124 long and narrow rooms -- which get wider the farther down you go -- have large, furnished terraces looking out over the bay, but no air-conditioning or fridges. A steep sloping path passes through a garden dense with desert plants and leads to the beachfront pool, however, the incline may be difficult for those with mobility issues. A spa offers massages, a hydrotherapy tub, and steam room, while the restaurant serves local and international cuisine. There's not a ton in the immediate surrounding, so travelers looking to be closer to town might want to consider Enotel Lido Madeira.
12
The mid-range Hotel Girassol islocated a seven-minute walk from the beach and 30-minute walk to the historical center of town. Common areas received much-needed refurbishments in 2016, but the 134 rooms still have some dated furnishings and lack air-conditioning. However, they're comfortable and come with flat-screen TVs, kettles, and furnished balconies. All rates include a free continental breakfast at the buffet restaurant, and there are three bars on-site. Facilities include a pleasant pool area, two saunas, massage room, and tiny gym. It's worth checking out the slightly pricier Pestana Carlton Madeira, which has a plethora of kid-friendly features and air-conditioned rooms.
13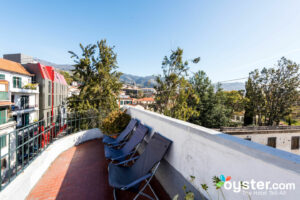 Apartamentos Sao Paulo e Alegria is a bargain option nestled in a quiet and historic area of Funchal, outside Lido. This lower-middle-range, family-owned property feels more like a guest house, and has 31 contemporary apartment-style units spread among three beautiful buildings with views over the neighborhood's narrow cobblestone streets. Expect gorgeous parquet wood floors, antique furniture, flat-screen TVs, and kitchenettes, but no air-conditioning; some rooms add balconies. On-site, there are two outdoor terraces, a small breakfast room, cafe serving snacks and drinks, and a small tropical garden with a barbecue area and hammocks. Babysitting, parking, and in-room massages are available for a fee, while Wi-Fi is free throughout. Travelers willing to pay more can snag rooftop pool views at Hotel Madeira.
14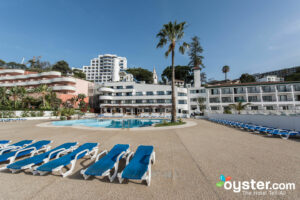 The two-and-a-half-pearl Madeira Regency Club is a strong budget option for apartment-style accommodations -- but walking to the town center is a bit of a hike. The hotel's 96 units are large and bright, with decently equipped kitchens and furnished terraces, but the decor is tired, and they could use a revamp. Standard amenities include AC, flat-screen TVs, mini-fridges, microwaves, coffeemakers, and safes, but Wi-Fi is only available in the property's public spaces. Features include a sizable saltwater pool and deck with views of the Atlantic, and a fitness area with a squash court and sauna. Buffet meals are served in the hotel's full-service restaurant, but the food gets mixed reviews. Guests looking to stay closer to the center of Funchal might want to try the Pestana Bay Ocean Aparthotel.